15
April
TWENTYTEN
0104 HRS
Spent a lot of time thinking lately.
Been a while since I shared some thoughts about what I'm going through. The last I did it was probably the time I quit my bank job (a year back) and I wrote a whole long entry sharing honestly on what exactly was I facing and feeling. Speaking of which, I'm really grateful to a bunch of readers who have emailed me, shared their thoughts, gave words of encouragement, and even opened up to share about what they were facing – be it past experiences or a dilemma they were going through back then. Felt like there was some form of reciprocity and it was very heartwarming indeed. Apart from my family, Ethan, my buddies/girlfriends who were are my huge pillars of support, I have to give great thanks to this group of readers too. You won't believe how encouraged, assured and grateful I felt then with those simple words of care, encouragement albeit we don't personally know each other. :')
I'm not feeling my best today and I've a sudden urge to pour out all my thoughts. Truth to be told, I don't think I'm good at expressing myself and I always have a hard time penning down my thoughts so I'm just going to try my best. Too many thoughts running through my mind now and I'm expecting this entry to be really long and wordy, so you might want to give it a miss if you aren't up for reading an emotional essay on a weekend. Just needed a space to share and I guess there's no other better than here.
*
So I quit my bank job a year ago as mentioned earlier. Back then, I was already blogging for years and was also modelling for Love, Bonito (LB) for a good 4-5 years (since I was 18 years old). I then decided to focus on doing these two things after ending my full time job. There were a few groups of reactions I received from people back then. The first group was neutral, but was surprised that I could make a living out of these two jobs. The second group really envied what I was doing and the last, was skeptical about this being a career.
I concentrated on blogging & modelling for a couple of months. Shortly after, I began to feel worried about the path I was taking, and I spent some time trying to figure out what was I exactly bothered about. Then, I realised that it's all about the uncertainty of this whole 'career/work' thing that I was juggling – Blog & Modelling for LB. So to the last group of people, you hit the spot - it's all about the ambiguity, insecurity and uncertainty of my career that I'm writing about today.

BLOGGING
Blogging wise, I think it's still somehow new in our generation and I'm not exactly confident (yet) to consider it as a career. We all know who to look at when it comes to identifying a successful blogger, who can make a living out of blogging. We can definitely identify Wendy aka Xiaxue as one. I personally think that she is witty and has great credibility and influence in the social media, Singapore or even extended countries. Wendy is one of the few admirable, impressive figures who can make a living solely out on blogging.
If you really go in-depth about blogging/social media, you will know that there are many different types of blogs/platforms – controversial, food, beauty, fashion, lifestyle etc and more or less, you can clearly place our blogs in the respective categories. Wendy belongs to the controversial + lifestyle category in which she has sustained her blog for such a long time. Her manner of articulation, expressiveness, openness, wittiness are traits which not everybody possess (and I clearly don't). To me, those are unique character traits and the keys to the sustainability of her blog and popularity. I sometimes do admire people like Wendy herself and Mr Brown because they are able to provide varied content in ways that are witty, interesting, entertaining without the need of divulging too much of their personal matters and yet keep people interested. Those to me, are considered sustainable-successful blogs which the public won't get sick of reading.
In my perspective, another kind of sustainable successful blogs would be those in the category of Beauty/ Food/ Fashion. There is a potential progression because of the ability to make their blogs appear like an online 'magazine'. Thus, these bloggers have the chance in the near future to also get others to provide content, to help churn out (latest & credible) reviews/articles frequently and make it a widely read platform. With the influence of the internet, these bloggers can definitely make a living using their blogs as advertising platforms.
Whereas for my blog, it clearly belongs to the lifestyle category and if you've been following, you know it's all about the things I do, the food I eat, the products I use and the places I visit. I personally think it's a lil harder to sustain as a career wise if I do move on to the next phase of life.. Yes, I'm planning and I definitely want kids!
The blog has been a great one till date, keeping track of my day to day activities and happenings etc. I love it that I've a space to share about what I do and it's really nice to know that there are people out there who are interested to find out more about my perceived boring life.
Then one day, I started to look at people around me and a few thoughts came surfacing on my mind. A lil far-fetched to some, but here's what I thought about… In my circle of friends, most of them are attached, and quite a couple of them are already married with kids. In Ethan's circle of friends, basically all except him and a couple of guys aren't married, the majority are married with kids. By looking at my friends, I came to see how married life (especially with kids) would be. As you might already know, my dear girlfriend, Haslinda, is of my age and married to Yi Xiong with a lil adorable baby girl named Evangeline. They are one of the youngest couples around to start a family and through them, I could see that having a kid changed their life completely. In a good way, of course. I then also realised the amount of time/ commitment and sacrifices that being a parent will have to make.

A random photo: With my dearest girlfriend & her family ♥
Haslinda and Yixiong both hold full time jobs. In having a kid, I could feel their need of wanting to rush home after work to pick up lil Evan at her granny's place before heading back home. And because it's understandable that kids have to be taught and brought up properly since young, they need to tuck Evan in bed latest by 10pm. So for weekdays, you can imagine how rush it would be to be doing this after work, factoring in the fact that one may have to work late some times and they probably wouldn't have much time to head out for dinner appointments with friends etc. Just with these considerations, you know for sure that once you are off the shelves, commitments fall in and you probably wouldn't have the luxury of time to go out with friends as often. And I suppose all of us will eventually reach that phase of life and thinking of which, I'm not sure if I've much 'day-to-day' activities to share given that things would be quite repetitive and life should be a quite monotonous by then.. I'm not trying to say that it's a bad thing because at the end of the day, knowing that you have your partner and your lil kiddo(s), I believe it'll all be worth it.
I am still looking forward to share the next phase of my life in my blog, still hoping to share special journey, my life with readers like you, who have grown up with me. However, a lifestyle blog is hard to upkeep as i am constantly wondering if my entries would be interesting enough and if they would keep my readers. Eventually, I would want to get married and have kids. Would I be then able to sustain this blog with constant updates? Sigh, just hope to share my thoughts out loud.
*
MODELLING FOR LB
The LB team was definitely one of the closest groups of people I've had around over the last 5+ years as I would see them almost every week for shoots. I have to say it was truly a blessing to be part of the team! I really enjoyed working with them because I personally love fashion and I'll get ridiculously crazy over clothes/accessories since I was 15. So you can imagine how happy I was modelling for them. I was literally lusting over the gorgeous pieces during shoots and it felt as though I was shopping while working which made 'work' very, very enjoyable.
There came a time, last October to be exact, I decided that I needed to do something else apart from blogging + modelling for LB. After deliberating, I figured that I should do something that I like, and also something that is of relation to blogging/modelling so as to maximize what I have. So that's how Klarra started. I personally thought it was the best 'something' back then that could complement the other two 'jobs' I was holding in terms of time, commitment, flexibility of work, understanding of processes and of course, passion. In fact a couple of years ago, I really like the whole idea of being able to share the love of fashion by starting an online shop, sharing what I like with others and that to me, it's quite a fulfilling thing to do. The only reason that held me back then was because I was very involved in modelling for LB and the owners grew to be my dear treasured friends. So I dismissed that thought and just continued doing what I was doing until another thought came across my mind.. how long can I be modelling for?
Modelling to me, is a short lived job. It's best at our prime years like 17- 25 years old, but if you think about it, modelling is not exactly cut out for most of us after unless one is recognized, well-maintained etc. My point is, it's not practical here, at least not for me. The most I can model for LB is probably a couple more years and by then, I'm quite sure it won't be appropriate of me to be posing in front of the camera. So if I knew modelling will be a short-lived thing, I should embark on something more sustainable to replace my modelling side of 'job' before I move on to the next phase of my life.
It wasn't an easy decision.. On one hand, fashion is really something that I like so starting Klarra seemed the best then. On the other hand, the LB owners are my friends and it doesn't seem nice to start something that is similar.. So I actually deliberated over my options for months and finally, I thought I should at least give it a shot. Back then, the best way I could think of to handle the keenness and uneasiness to start was to tell the LB owners honestly. That to me was the least I need to do to give our friendship respect. So I conveyed my thoughts/intention to them, they really understood and I started Klarra.
I began working on Klarra from scratch – went asking around, sourcing etc, and that was what I felt I ought to do though some people thought I knew where exactly do they get their goods and when I said I don't, some actually asked me to get help from LB as they are veterans in the industry. But nah, that would be so insensitive and it will be completely against my conscience. Call me traditional or not business-minded enough, but that would be so wrong if I do it that way. Anyway, before I know it, I've been working on Klarra for 3 months, 6 months and still counting. My days were pretty much maximized then – blogging, Klarra and modelling for LB and Klarra.
So the entire time I was working on Klarra & modelling for LB, I felt really uneasy. But, I just couldn't pin point what was the uneasiness all about! I took awhile to figure out what was the issue was and realised that it was the conflict of interest between these two commitments.
During my time with LB, I didn't ask much about the operations side of work, neither do I ask about sources etc. The only thing I was mainly exposed to were their designs, as I would wear them for the shoots. Therefore when Klarra started, I really had limited resources. There were only a few suppliers that I chanced upon whom I could get goods from. I went sourcing and noticed that there were obviously quite a number of LB replicas from suppliers (be it past designs or coincidentally, new designs) and for some reasons, I felt that it was a very wrong thing to do if I do take designs similar to LB. I was in a difficult position and tried to source for other designs that were different. But there were just not many options. Because of that, some avid online shoppers probably felt that I'm trying to compete with LB but that was never the case.. To be honest, I don't think I've the capability to compete given their scale of business.
I actually mentioned to Vel before about this 'guilty feeling' that has bothered me for quite some time. About how I might end up taking similar products as LB, due to limited resources in the market. She understood where I was coming from and said 'that's how fashion is'. I guess it meant that following trends will result in having similar designs from the source of supply. But then again, I just can't help to feel bad about bringing in similar past-LB designs to Klarra to sell, and I felt worst if I'd be selling designs that I knew were upcoming at LB. For that period, I was facing a personal war inside me, knowing that I've a full-time partner then (Selene) in the business and I've to be responsible, fair and I can't be that selfish to hinder operations just because I personally felt bad about something else. Furthermore, I really don't see a point in doing something if I can't fully go out all the way because at the end of the day, it's not just about us too. I've my family members who I need to support and thinking that I might not being able to provide my parents with a stable flow of money each month, is something that I can't help but feel really, really bad and sad about. I know my parents are very supportive since the start, giving me their utmost trust/faith and with that, I really think I can't just do things the way they were.
So I knew I just had to do something about it, make the best out of the situations and do it in the best way possible. And so I made a decision to stop modelling for LB.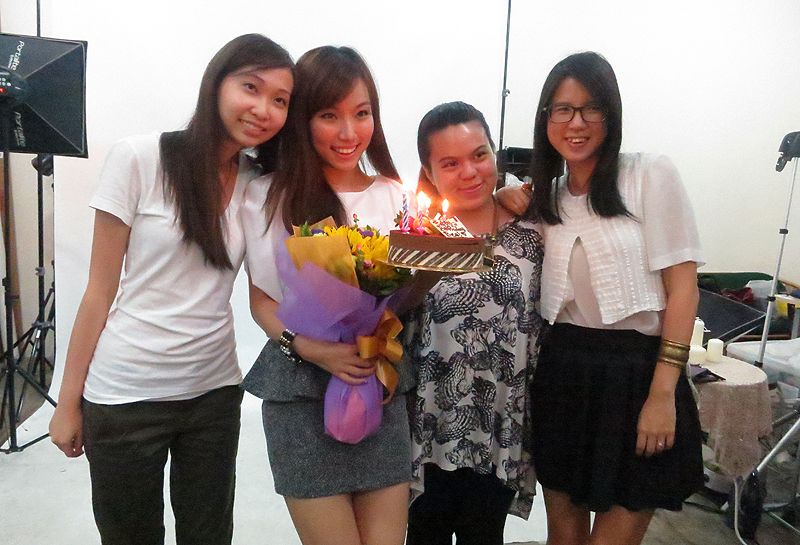 October 2012, last shoot with LB.
I was honest with the LB owners – Rach, Vel and Jie and shared with them how I was feeling and what I planned to do. The 3 of them have been dear friends to me and the relationship with them all was much more than just pure work – it's friendship. That made it even harder to tell them my decision but I'm really glad I did. Nonetheless, I'm very thankful that they completely comprehended my situation in which we ended the working relationship in a very amicable note too. Till date, I'm grateful for the exposure that they have showered me with and I'll never forget that.
So it was a new beginning. I started focusing on Klarra and it wasn't a very easy route as well. Many people were curious and came asking why I quit modelling for LB. Most of the time, the first thing that people asked me when they knew I started Klarra was, 'Does LB know about it?'. Of course they do! I'm not very good at hiding things and moreover, I have no intention to hide.
Apart from being questioned about my departure from LB, I got to know that a handful of people think I'm trying to follow the footsteps of LB. Frankly speaking, there are many online shops out there but due to my close association with the brand, people tend to compare what I'm doing with LB/owners. I do have my own values and principles that I strongly believe in, and hence, these assumptions that these people make can be quite hurtful at times.
Initially, I tried to dismiss these negative thoughts and feedback. It wasn't easy. I know a bunch of loyal LB fans tried to put me down at times because they probably think I'm doing some sort of a betrayal thing, trying to be LB-wannabe, leveraging on the attention I got from LB, or thinking that I used their resources to start something or take a short cut…. Nah. If i really wish to do that, I would have left LB 2-3 years ago (that would be my prime age) to start an online shop, why wait till 5 years later right?
Wanted to share and give a proper closure here in my blog when I left LB 6 months ago but didn't know how to put my thoughts down in words and I felt that perhaps sharing wasn't necessary. But till date, I realised I was still being asked about the reason why I left LB's modelling and it's a little tiring to revisit and 'feel' this whole thing again and again. I really don't expect everybody to comprehend my situation and yeah, I probably got some haters when they knew I started Klarra, but doing things with conscience is so much more than important than anything else.
Because of my association with LB, people got confused. Some actually thought that I own LB with the ladies, while others thought Klarra is LB's subsidiary. I've a lot of incidents whereby people came asking me if I can help them to save items from LB, if I can get discounts for them in LB etc, about LB's life and processes. Don't get me wrong, I'm very proud to be part of LB and hence, I'm very happy to share about LB and their success. It's just not a very nice feeling to know that most don't bother about finding out what I do and just reaching out to me just to get something/info. Apart from that, there was also a handful who constantly compare Klarra with LB and they tend to give negative feedback about Klarra just because Klarra didn't seem to match certain standards or just coincidentally, have designs similar to LB. To me, that's a lil inappropriate because it's a fact that Klarra is of a much much much smaller scale business as compared to LB, and I'm making the best out of the resources I've.
Sad to say, I feel lost because I think my identity is ambiguous nowadays. I feel that Klarra is too small for myself to be considered as an recognizable owner for a brand, or some might not even consider Klarra as a brand. Not sure if I should think that way, but these difficulties do stall my confidence in growing Klarra at times. Most known me as LB's model all these years and ever since I've quit, what do people see me as? As I am building Klarra up, will people begin to see me as someone other than "the face of LB"? Building an identity is tough. But, losing myself along the way is one of the saddest things and I hate to feel that way.. I'm trying…
Well, nevertheless, I'm thankful for a core group of people, friends and family who knew me well, who really understood the reasons why I left and started Klarra. Some emailed me giving me encouragements and I thought those were really sweet/amazing because they actually spot-on for the reasons why I did what I did..
*
I've been working on Klarra for a year now and it has been very fulfilling till date despite the difficulties. I've been working really hard on it and yes, I'm going to persevere. I guess it takes time to gain a new identity and I'm going to keep trying, to explore, to find a direction – one which I really want to have and do with full zest.
Feeling much better after typing this long essay. Thank you for reading today and I really appreciate those kind souls out there comprehending how I feel. Some may judge and I guess I can't do anything much about it. For now, I'm just going to focus on Klarra and make the best out of everything.
Given that now I am managing Klarra solely, I'm also aiming to bring in my other interests into Klarra and right now, I've concluded to add on this new line for Klarra. This line may be quite unexpected to most but it has been on my mind for the longest time. I was waiting for the right time and I think there's no such thing as the best time for putting an idea to action, so I'm just going to S.T.A.R.T. Well, I mean start planning.
I'm thinking and I'm planning to start a BABIES & KIDS' LINE UNDER KLARRA!

Though not sure if it's going to work out but I've truckload of interest and faith and I LOVE KIDS, so I'm going to do it! In fact, I already have a few child models in mind! *Excited*
Showing you my list of potential kid models:

Lil Evangeline

My nephew and niece ;)

Eugene's baby nephew
Well, I've not seek permission from their parents but I definitely will when the time comes, heh. Guess I'll start spending some time out and perhaps also introduce a maternity/plus-size line to make it a more complete experience. I really, really can't wait to embark on the Babies & Kids' line for a start.