1
April
TWENTYTEN
1004 HRS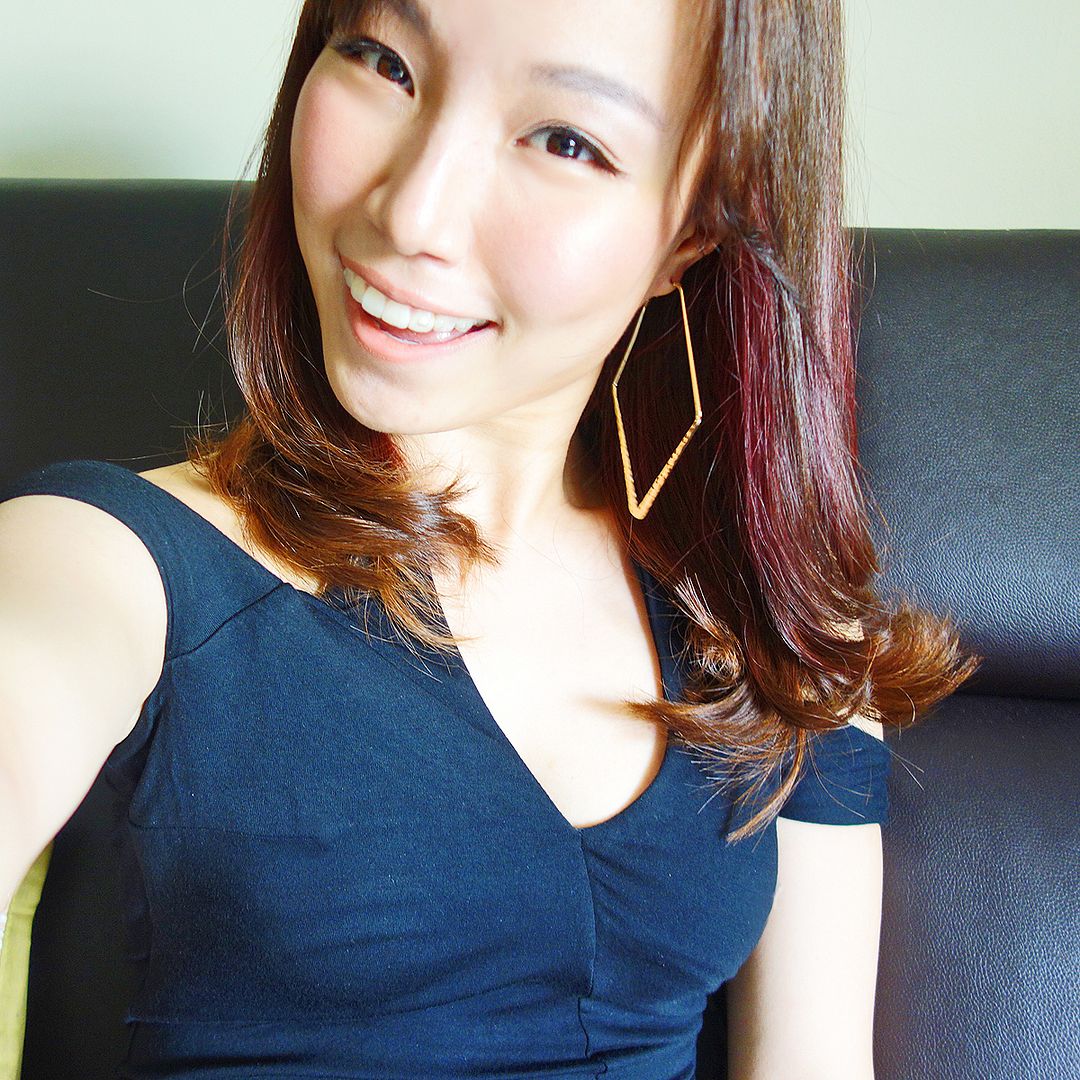 Can't believe it but I actually completed a full 3-day juice cleanse by Beauty Cleanse and it feels awesome!
I've heard of a juice cleanse programme a while back but didn't think of trying until recently. If you are wondering what/how's a juice cleanse like, it's basically about nourishing your body with life-infusing nutrients by drinking gluten-free juices made from fresh, raw (unpasteurized), organic fruits and vegetables. To make sure that you don't get hungry easily and that you get enough nutrients, the 3-day (or 5-day) juice cleanse consists of 6 bottles of cold-pressed juices. Besides providing nutrients, these juices will help to flush out accumulated toxins and shed off excess weight from our bodies – leaving us feeling lighter, cleaner and more energized. This can be exceptionally good for us because by getting rid of these toxins in our bodies, it will help us to achieve better health, radiant skin and promote the renewal of body, spirit and mind.
So I was really pretty serious about starting my juice cleanse (definitely in need of this given the amount of my favourite trufflefries intake, sheesh) and I went to do a little research. Based on reviews and recommendations, I decided to start my juice cleanse with Beauty Cleanse. Not too sure if you have heard of Cherie Calbom, but she is a famous nutritionist consultant and juice expert to many international celebrities, notable people, companies in the States. She is also the author of 23 books Life/health/juice cleanse books! From what I know, Beauty Cleanse's juices are all nutritionally designed by Cherie Calbom, so I was quite excited to begin my juice cleanse with them! Last but not least, Beauty Cleanse uses The Norwalk Juice Presser which essentially retains all the important vitamins and minerals, making sure one enjoys the benefits of a juice cleanse effectively.

Everything can be easily arranged via Beauty Cleanse's website and I just had to decide on the dates and type (detox, weight loss, 3-day or 5-day). Was really happy know that delivery was fuss-free and the bottles of juices were delivered right to my doorstep the night before the start date!

Took this only on the second day so this picture shows 2/3 of the juice set. One reason why I chose Beauty Cleanse was because I had the option of including supplements as part of the juice cleanse – more below!
As mentioned earlier, the juice cleanse consists of 6 bottles a day and the blends will be repeated each day. Here are the various interesting blends:
1. Carrot Blend (carrots, celery, cucumber)
2. Light Green Blend (apple, cucumber, celery, kale, ginger)
3. Beetroot Apple Blend (beetroot, red cabbage, apple, celery, ginger)
4. Dark Green Blend (celery, cucumber, mint, romaine)
5. Honey Lemon (cayenne peppers, lemon, honey)
6. Cashew Nut Milk (cashew nuts, cinnamon, honey)
To be honest, I thought the blends tasted pretty good. I always think healthy food/drinks will be tasteless but it was a pleasant surprise to know that these juices were so easy to drink. The only blend I didn't quite like was the Dark Green Blend – it tasted a little too raw for my liking. But the rest of the blends were smooth, tasty and if I have to pick, my top three favourite blends will be the Carrot Blend, Honey Lemon and Cashew Nut Milk (best!).
I wouldn't exactly say going on a juice cleanse was a very easy task for me because I'm quite a foodie and I do look forward to exploring food joints, going on brunch/meal dates etc. So as you can imagine, it was quite a tough challenge for me to stay away from solid food for 72 hours! To make it more manageable for myself, I arranged the juice cleanse dates carefully and scheduled/pushed away my meetings/outings to other days except for that three particular days. I suppose by not going out, I wouldn't feel hungry at the sight/smell of food and that this will prevent me from even thinking of breaking my juice cleanse. And to be honest, that certainly helped – I was starting to feel hungry at the end of the second day and but that kinda forced me to head to bed early (enforcing good habits heh).
Moving on to the supplements, the juice set came with: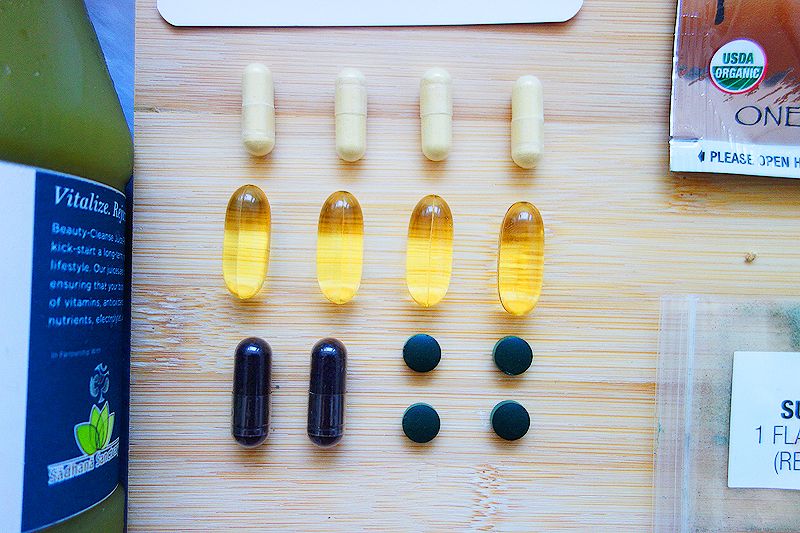 The supplements served as additional benefits for the body and I took them in the morning after my first bottle of juice. The only thing I thought you should note in advance would be the Colosan Powder. A juice cleanse guide was sent to me before the cleanse started and the Colosan Powder was advised to be taken at the start of the day. This powder basically acts like a laxative and I actually went toilet for at least 4 times a day. A thorough cleanse indeed!
How my 3-day routine was like:


9.30am: Started off with warm lemon water first, drinking half of the Carrot Blend with one tablespoon of Colosan Powder *laxative effect*, followed by more warm lemon water and finishing up the entire carrot blend.
11.30am: Started sipping on the Light Green Blend (was advised to sip throughout the day and not drink the whole bottle at one go)
1.30 pm: Beetroot Apple Blend
3.30pm: Dark Green Blend
6.30pm: Spicy Lemonade
9.30pm: Cashew nut milk (advised to drink it one hour before bedtime)
Reading the juice cleanse guide, it's important to start the day with Carrot Blend (where you will add the colosan powder and shake/mix them together) and always end with Cashew Nut Milk. I repeated these steps for consecutive three days after. More about my experience below ;)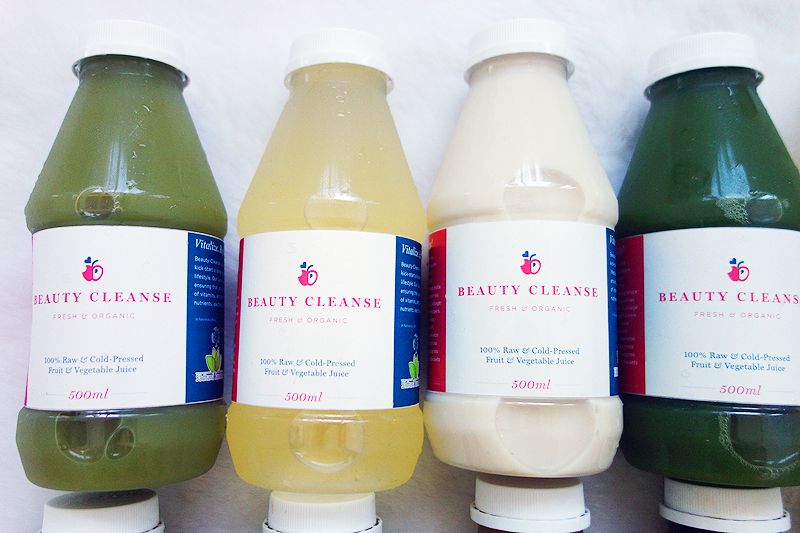 DAY ONE: These juices were needed to be kept refrigerated and perhaps I was drinking these cold juices the entire day, I actually felt pretty cold (more so in an air-conditioned room) and I had to bring a jacket along with me when I headed out. I thought I was going to feel hungry around lunch but I was surprised that I wasn't. And again, I was expecting myself to be hungry during dinner time but I didn't too. I didn't feel hungry at all for the entire day and that was definitely a first for me. Didn't feel uncomfortable, lethargic, restless nor dizzy. I've been having constipation problem for the longest time and I was actually really happy that I managed to make quite a few runs to the bathroom due to the Colosan Laxative powder! Glad that the first day passed by smoothly and I felt good, somewhat healthier and lighter.
DAY TWO: I get bloated easily so I try not to drink anything two hours before my sleep. But to adhere to the juice cleanse routine, I had my Cashew Nut Milk an hour or so before bedtime so I think that got me a little bloated. Went to seek help from the experts at Beauty Cleanse and I was told that one of the main causes was mostly likely due to my previous diet (high salt intake etc). Solutions going forward were firstly, to drink a glass of warm water before meals, secondly to incorporate celery into daily diet as it contains sodium and potassium needed for water balance. Not forgetting, drinking some peppermint, camomile tea after meals or taking Probiotic supplements Acidophilus at night would help. So I made myself some hot camomile tea during tea break in hopes to ease off the bloat I felt for the day. Happy to have many more runs to the bathroom due to my Colosan Powder intake in the morning. Phew, good thing I kept the three days free from meetings and stayed in the office.
By evening time, I was starting to feel hungry but it wasn't that bad and I rested early so weird cravings won't surface on my mind.
DAY THREE: The hot tea on the previous day definitely helped – I felt much less bloated. Besides that, it was pretty amazing how two days of juices and toilet runs can make one feel so much healthier and lighter! I was feeling great physically and mentally knowing that I didn't give in to my temptations for the past two days and that I was on the final day of the cleanse. And when the night came, I'm done with the 3-day cleanse. Whoop!
Not only did I feel that the body system was cleansed, I definitely felt great, much lighter, healthier which I haven't exactly felt for a while. Surprisingly, I felt quite energetic although I didn't have any solid food for the past three days and somehow, I wasn't thinking about food too. Instead, my body was getting quite used to the juice cleanse. Happy to know that I managed to follow through the juice cleanse and very glad that I did this!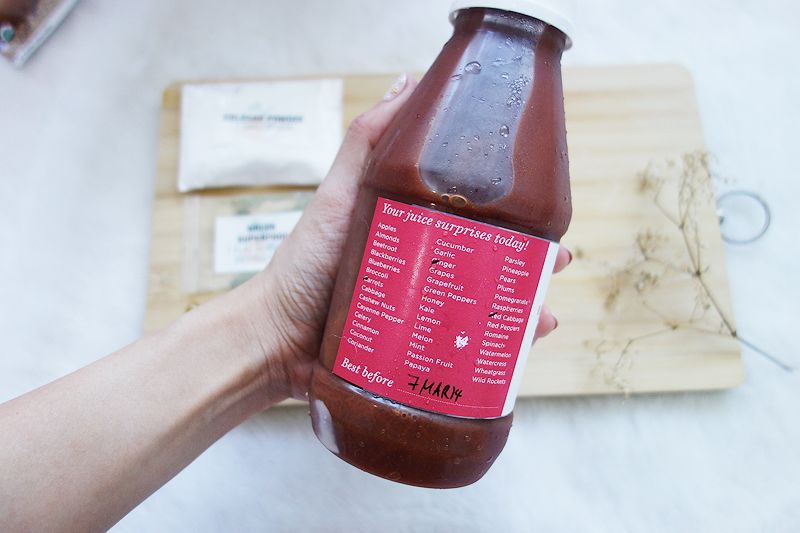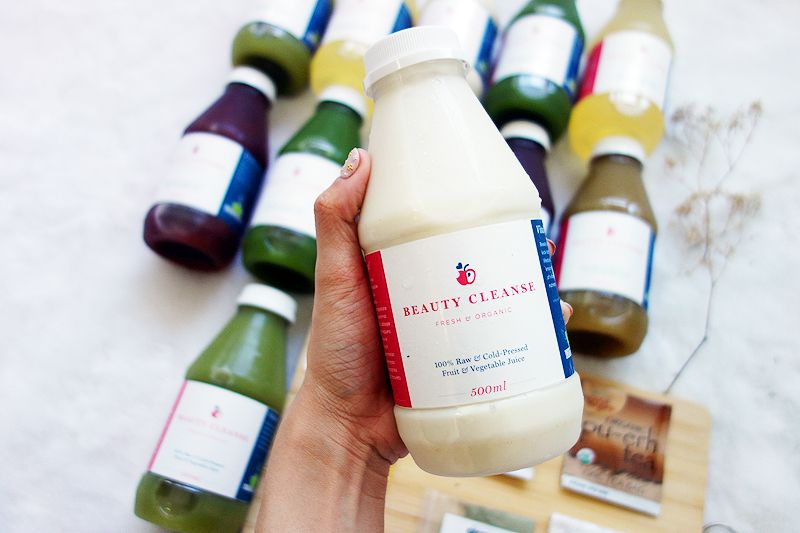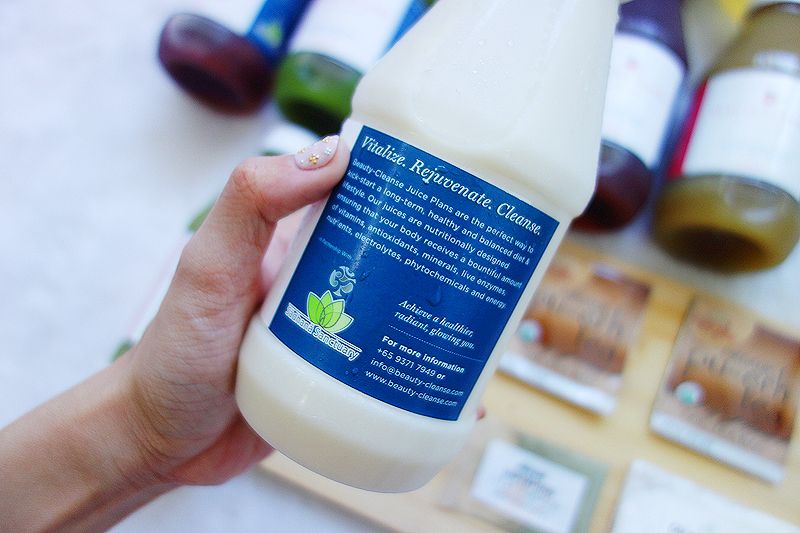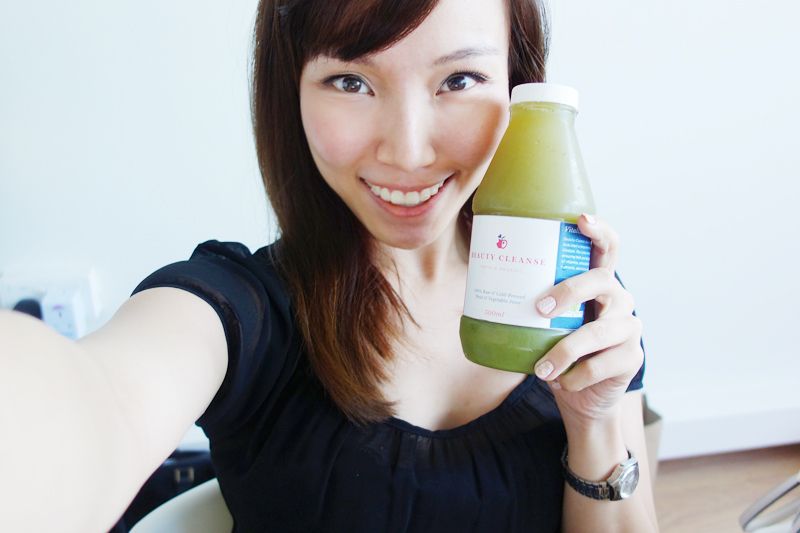 As advised by Beauty Cleanse, I should consume raw food for the first few days after the cleanse as this will provide the body with vital minerals, vitamins, enzymes, nutrients and more while preparing the digestion system to deal with cooked food again. The body system was probably just getting used to cleanse and so it might cause one to feel nauseous, to have stomach cramps etc if I were to break the juice cleanse immediately by taking in red meat etc. So as to ensure the body gradually gets back to the normal daily meals intake, I was told to avoid red meat, dairy products or fried food. Instead, have more steamed fish, brown rice and fruits etc. It was definitely an eat-clean week ;D

Just thought of sharing the experience as I personally felt that I benefited from the 3-day program. Service was a grade-A because it was very personalized and the team was very attentive too. Beauty Cleanse has a few different types of juice cleanse programmes – for weight loss, for detoxing etc and I did the detoxing 3-day program ;)
If you are keen, you can find out more at Beauty Cleanse's website!