6
November
TWENTYTWELVE
1211 HRS
*Waves from Genting*

Am currently in Genting together with the ReelityTV's crew, bloggermates, a couple of readers and we will be here for the next 5 days. Probably the longest stay in Genting but this time we came here with a purpose and we will be filming a gameshow for Resort World Genting! Filming begins only tomorrow morning and I've a feeling that one of our challenges would be the thrilling rides. Not really a great fan of those rides especially the Free Fall Ride, but let's see how it goes tomorrow. ;)
Pardon to those who sent me an email, been having back-to-back events and haven't had time to sit down to do my emails. Will do so whenever I've time so please be patient with me ;))
***
When it comes to online shopping, it's no doubt who are the bigger players in the market. One such local brand is none other than Hollyhoque (pronounced as 'Holly-Hock') and I'm sure you are familiar with its name. I personally got to know of Hollyhoque a couple of years ago, and they are known for its sweet, feminine and casual style. They are very well-received, recognized amongst the teens/young adults and with a surge in popularity, they have also invested their hardwork and time in opening their first ever brick-and-motar store. Congratulations Hollyhoque ;)
Just last week, I paid a visit down to one of our most popular shopping districts – Far East Plaza, to specially check out Hollyhoque's fashion boutique. The entire boutique is designed in a whimsical theme, very cozy and spacious at well. The boutique houses an extensive range of in-house label designs and you can certainly expect to shop from a range of classic favourites, together with brand new designs that might not be even released online! As always, one great thing about shopping at brick-and-motar stores is that we customers get to have a feel of the pieces, and at the same time, having the option to try them on before making our purchases. Definitely help to minimize post purchase dissonance!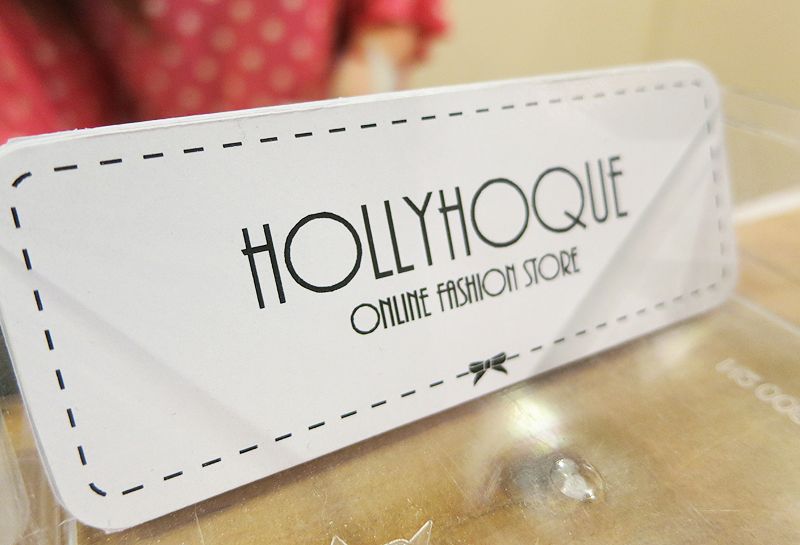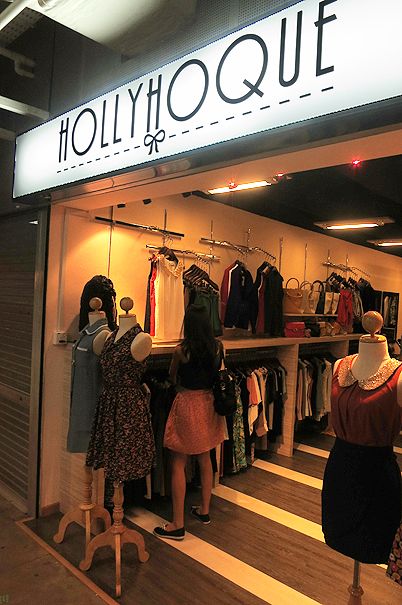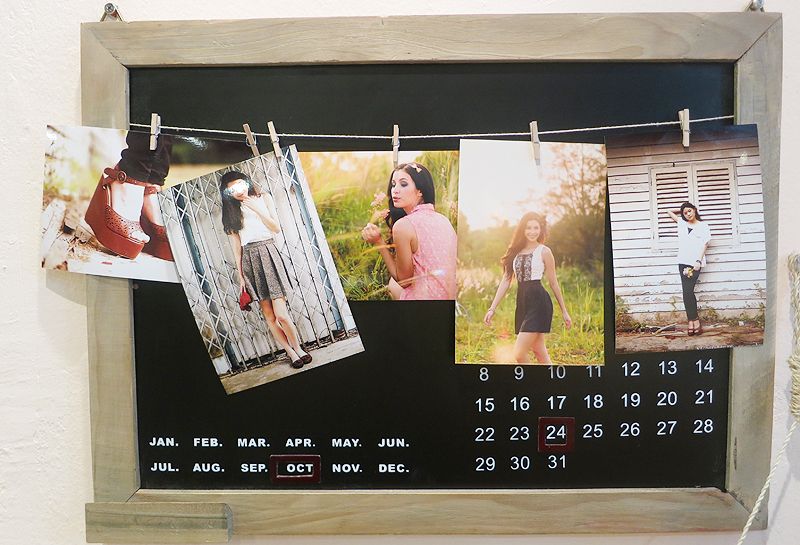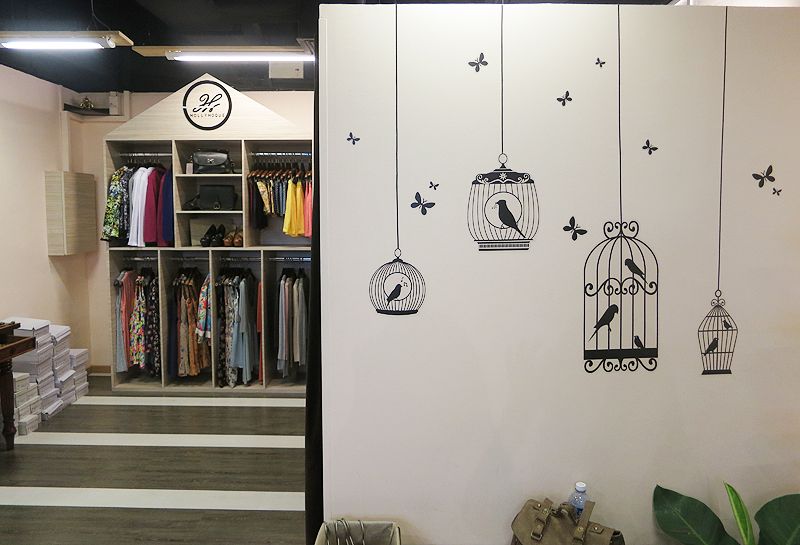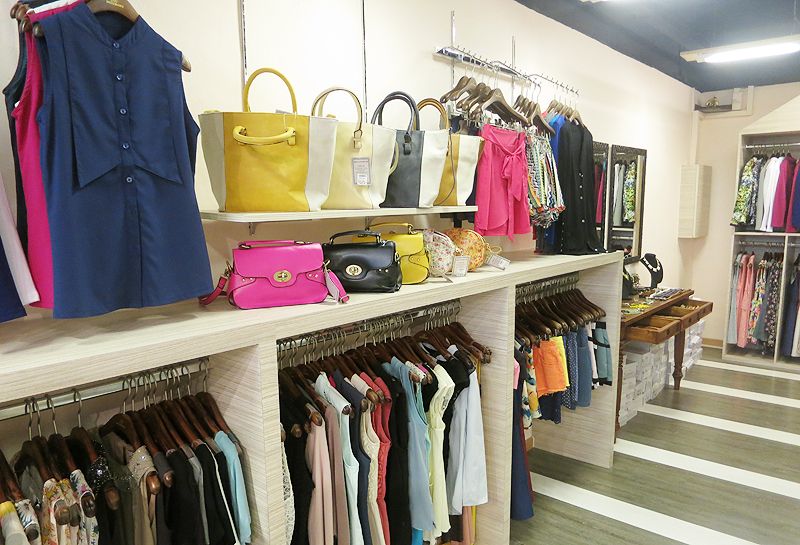 They have an array of accessories available for sale, such as bags, necklaces, bracelets etc.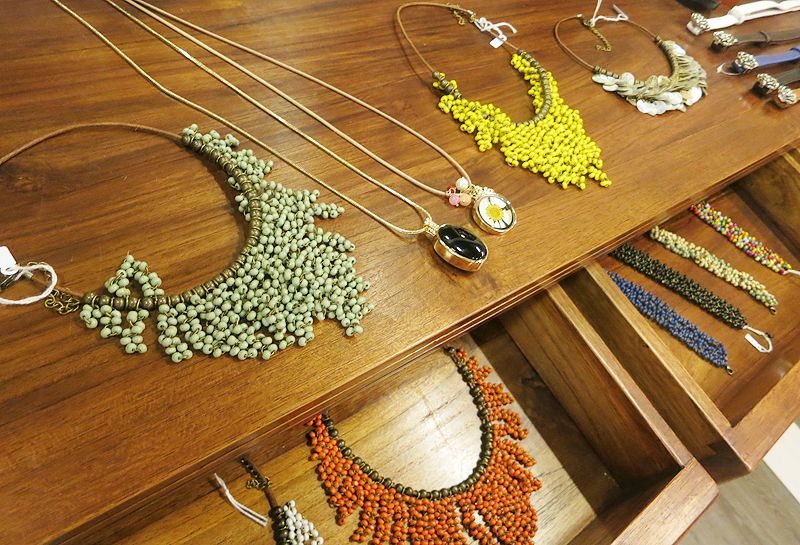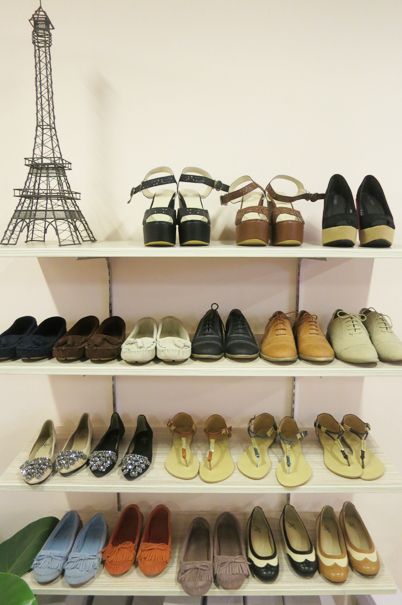 A collection of self-manufactured shoes to complete your outfits too. Guess which pair I took home? ;)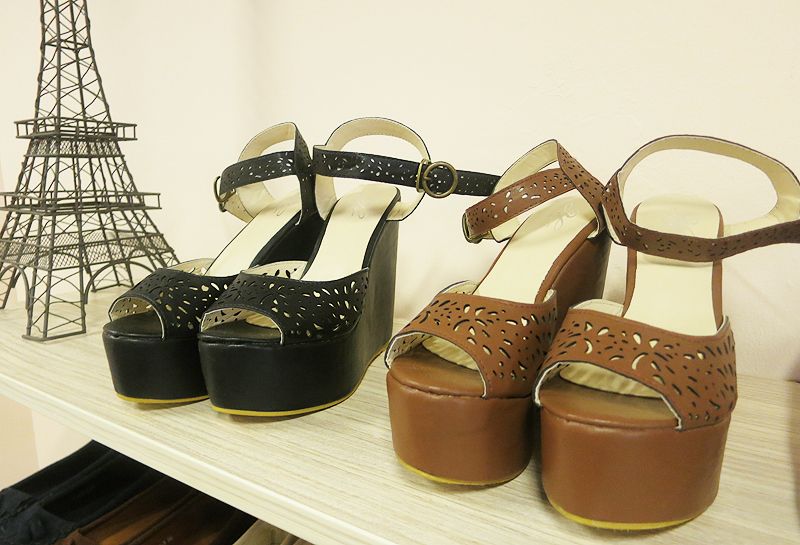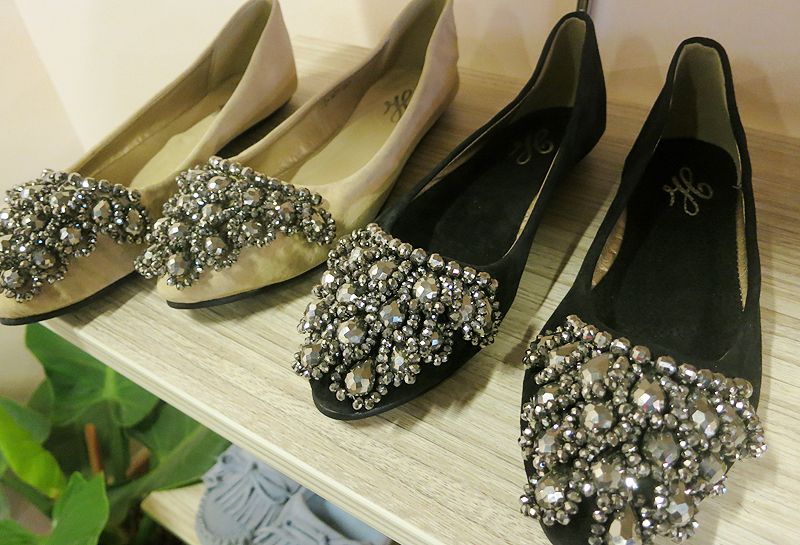 One of my favourite pumps ;)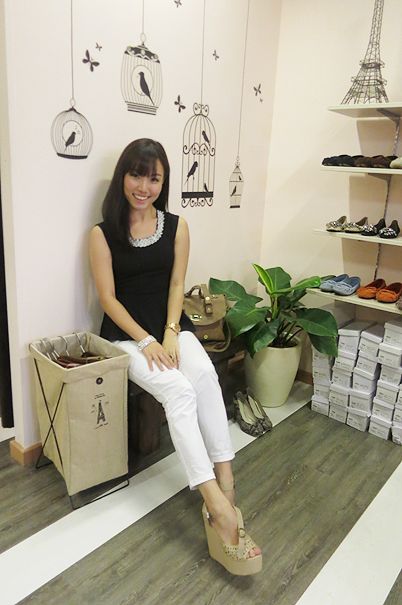 Took home this pair of wedges, love the design and its platform! ;)

Another Hollyhoque dress that I bagged home. Love every thing about this effortless boho chic T-shirt dress, its prints, its design, its cut and it's currently one of my favourite dresses in the wardrobe. This piece is still in stores, and this design comes in a sleeveless style as well. Feel free to try it out at their boutique and grab it before it goes OOS ;)
Glad to see that our very own local fashion brand has taken its business to a whole new level, creating an even more wholesome experience for their customers. Do support them and check out their store for more exclusive and upcoming designs ;)
To all readers, just quote my name/blog to any of our staff when making payment and you are entitled to 10% discount store-wide at the boutique only. Valid til 4th December. Happy shopping ladies!
HOLLYHOQUE
14 Scotts Rd, Far East Plaza, #01-31
Singapore 228213
***
Some random updates on the go.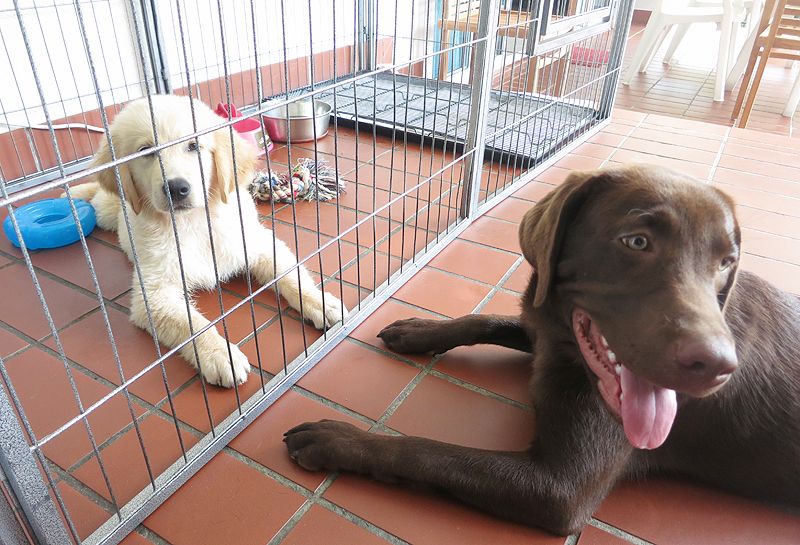 Ethan's family just got another new pup, a pure goldie named Carefree and look at how cute he is! For some reasons, Carefree and Trigger are always fighting and the little one is extremely aggressive (so he's kept in the cage as you can see above, although he should be let out to play in the day) Carefree is currently housed in this small cage first because he's still young, and Trigger is housed at another area with a bigger cage. But I heard from the housekeeper that Trigger has a new routine task ever since Carefree arrived – which is to walk over to Carefree's cage to accompany him first thing in the morning whenever he's let out of the cage when the housekeeper wakes up. Aww, that really warms my heart to hear and although I can see that they are always rough with each other, but the big boy (now 21kg) is constantly looking out for carefree. :)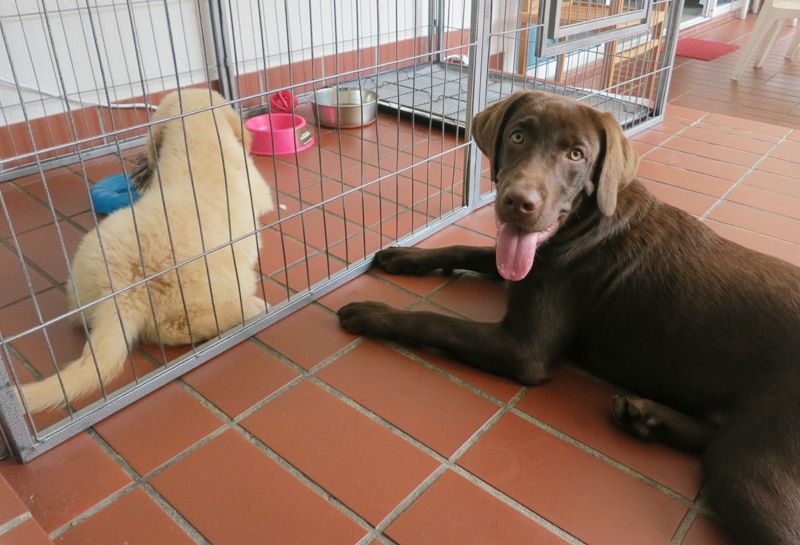 Hello you big boy ;)
*
Attended ELLE'S Halloween Party on actual day, 31st October, courtesy of Sue Jean from Mediacorp. It was a Canon-sponsored event and I was there on a task actually, to sort of teach attendees some of my favourite poses for the night! I must say I had a good time that night, especially with the company of my dearest friends and I got to meet the Hot & Sexy Jean Danker who hosted the event. Good times pals!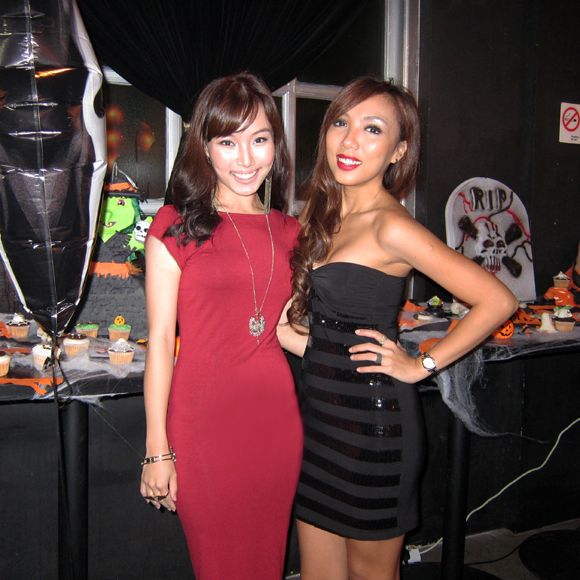 Am excited that our first batch of self-manufactured designs has arrived! Couldn't wait and wore one of our designs out for that night, it comes in sizes and colours so do stay tuned to Klarra for the launch of it! Love this elegant bodycon piece. ;)
Had the opportunity to attend another event hosted my Mediacorp for i-weekly just two days ago, and it was a beauty workshop hosted for the public, partnering with brands like Panasonic, New Look etc.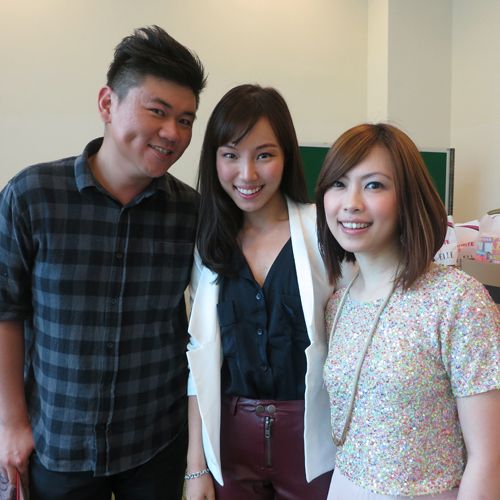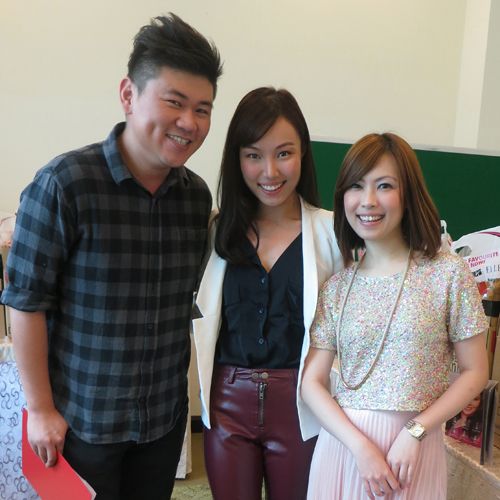 Met two of our very own local gifted Deejays from Yes933 radio station, Jiahui & Cruz Teng ;)
Will be updating more on the above events again, and see you back here soon again!