9
September
TWENTYTWELVE
1209 HRS
Spent yesterday morning catching up with Lister & Crystal over brunch at Arbite and so glad to see them both. Understand that weekends are exceptionally precious especially when one is working five days a week and have a family to tend to. Really appreciate them taking time out to meet despite having two 5-months twin kiddos at home.
So we headed over to Arbite, partly because it's convenient for all of us (near our cribs actually) and also because I've been raving about it to them – I personally love Arbite's all-day breakfast sets as well as desserts. Not the first time I blogged about this place and I guess you have probably read this a couple of times.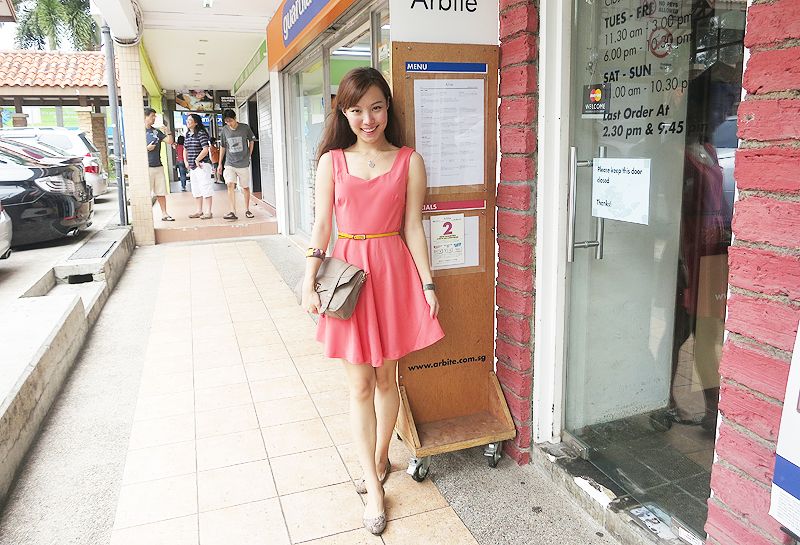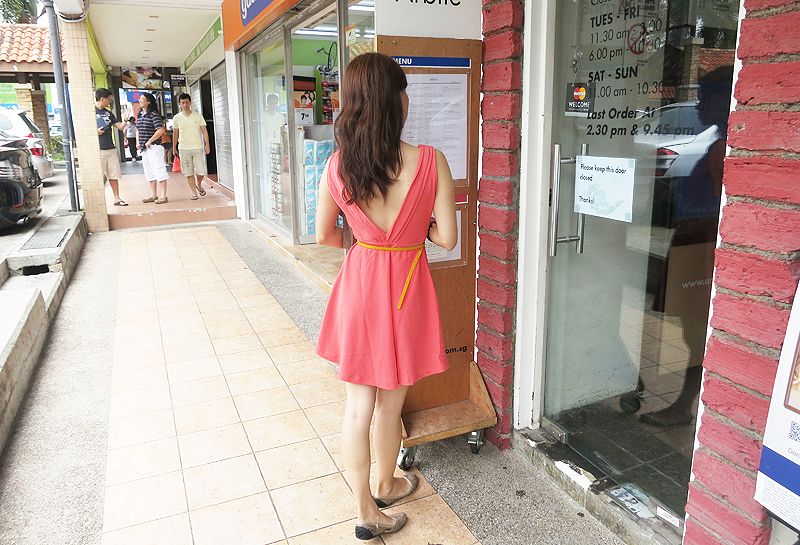 V-low back coral dress from Fash Mob.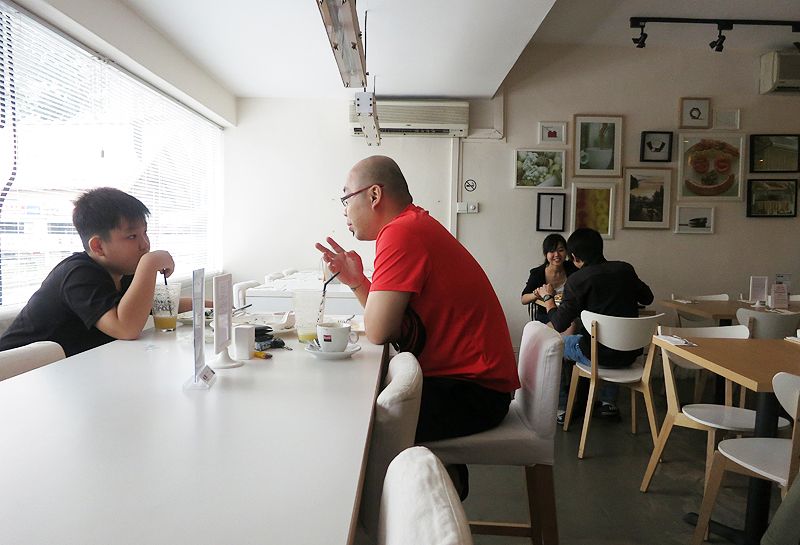 Sea Salt Caramel Banana Pancakes – I love. ;)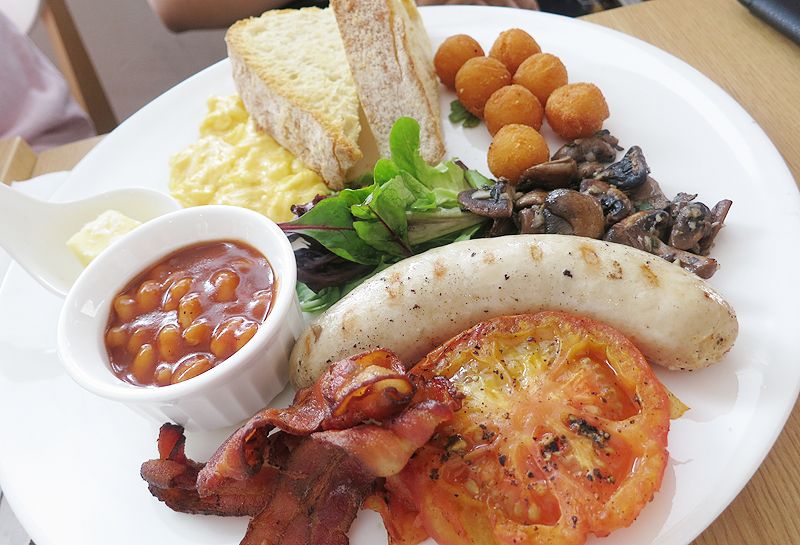 Love their Signature Breakfast set too. Crystal said the scrambled eggs (watery kind) was good.

Ethan and I each ordered Eggs Benny. They used to serve this dish on muffin tops but it was changed to Focaccia bread when I was there yesterday. First time seeing this combination, and it has a sweeter overall flavour plus a softer texture too. Tasted pretty good as well.

My Wfie's Chocolate Cake – Love this!

Thanks for the Picture, Lister!

ARBITE
66A Serangoon Garden Way,
Singapore 555962
Tel: 62870430
OPENING HOURS:
Tue – Fri, 1130 am – 10.30 pm
Sat – Sun 1100 am – 10.30 pm
***
Thanks to Rachel from Ocean Health – Therapeutic Dematologic Formula, a couple of us together with our plus-one(s) were invited to do a Chemical Peel at an aesthetic clinic. Visited one of the partnering clinics, Calvin Chan Aesthetic Clinic, on an afternoon last weekday and got Gabby along as my plus-one to try out the treatment.
Here's a shot Gabby experiencing the treatment. Realised I didn't have any pictures taken because Gabby was whisked away to do her mask and the rest of us got so carried away talking to the doctor. Heh
I always thought that both Chemical Peel and Laser treat the same problem/have the same fix – brightening up dull skin, minimizing pores but until recently, I clarified with another aesthetic doctor and realised the difference in the end results.
Laser (which I previously blogged about) is for brightening of dull skin, minimizing pores. Usually you repeat 4-6 times of the Laser treatment to see optimal results but maybe because machines are involved, results are pretty distinctive after every session. Whereas for Chemical Peel, it aims to sooth out those lil bumps on the face by causing the dead skin to slough off. For this, they will increase the percentage of chemical as each session passes, (we tried the minimal chemical percentage on this session- 20%, and if we continue, they will increase the dosage along the way, and gradually increase to a maximum of 70% chemical content).
Anyway, for this particular treatment, my face did feel slightly smoother after the session although result wasn't exactly apparent. Was told that we should see skin flaking out after a day or two- which means the chemical peel is working on the skin, but for this time, I didn't experience any flaking though. Not too sure why again, but perhaps I need a slightly higher dosage of chemical content for it to work on my skin. Based on my understanding, it's normal (given that numbing cream isn't used nor is it using any machine) and perhaps only after a few sessions before we can see a noticeable difference. Will probably share more if I do it again and if I think it's effective. ;)

With Dr Calvin Chan & Rachel ;)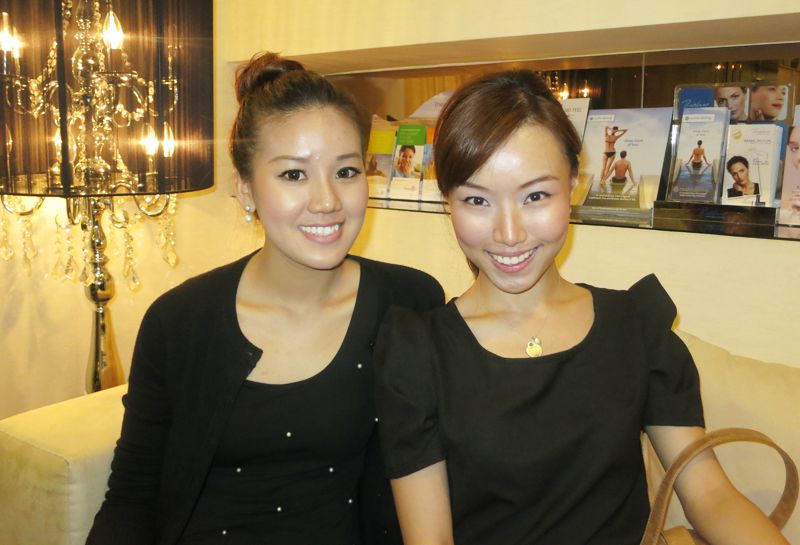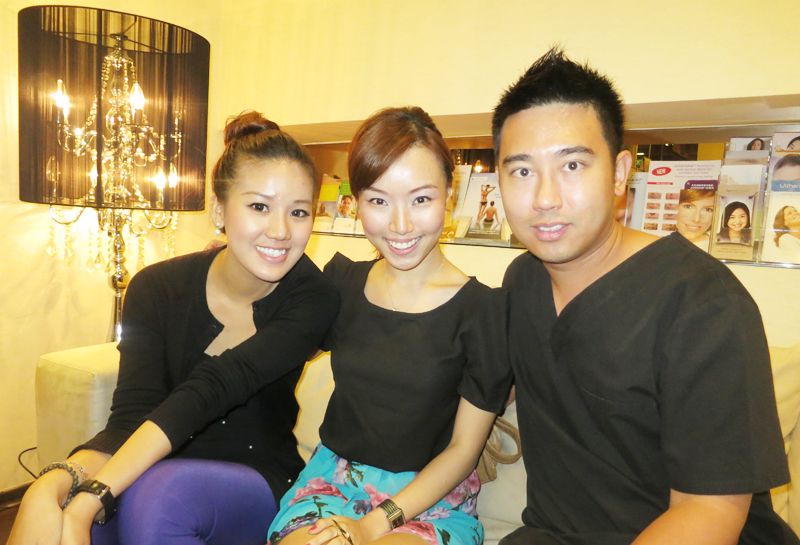 Was told that it was perfectly fine to apply Make-up after and I tidied up a bit before meeting Linny for dinner.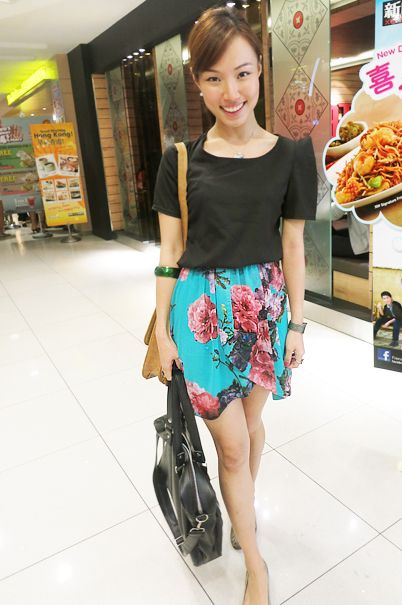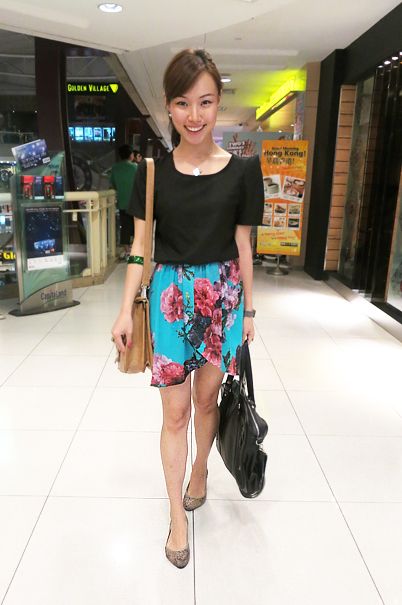 Flora overlapped skirt from Fash Mob.

We kept the night simple and went the newly renovated Hong Kong Cafe at Plaza Singapura. We ordered this Papaya Soup Bee Hoon which Linny was pretty sold the previous time she went and it was so good! The soup was sweet and tasty, definitely a must-have if you are craving for something soupy. ;)