13
October
TWENTYELEVEN
0310 HRS

With Yina at Salon VIm!
As you can guess… I visited my usual Salon Vim and got myself a haircut, colour and treatment recently!
It's really just amazing how different you feel upon stepping into the Salon and when you leave after doing the necessary.
The good feeling – a fresh new look at its optimal condition, that is just what ALL of us deserve totally from time to time and I am sure,
the confidence level goes up the next moment by a lil notch everytime you do your hair.
Maybe it's just me or so, but I just don't want to go right straight home after trips to Salon Vim and would want to be out with the new hair,
because going home would be unfair and a waste to the pretty hair, GEEZ.
The only thing i have not tried all these years is to cut the hair short SHORT,
still rather unwilling to give it a try yet cuz my hair takes forever to grow.
So i kinda ran of out ideas on what to do with my hair each time I visit the Salon,
BUT it will always be a good thing to have a salon I dedicate myself to,
simply because I will just go to my usual stylist, John, at Salon Vim and say:
"John, just do whatever you want, I trust you"
And i really do! heh, probably to be safe than sorry, i will keep him updated with what am I doing for that period (eg. career wise),
so that he knows when to play loud and when to play tame with the hairstyle.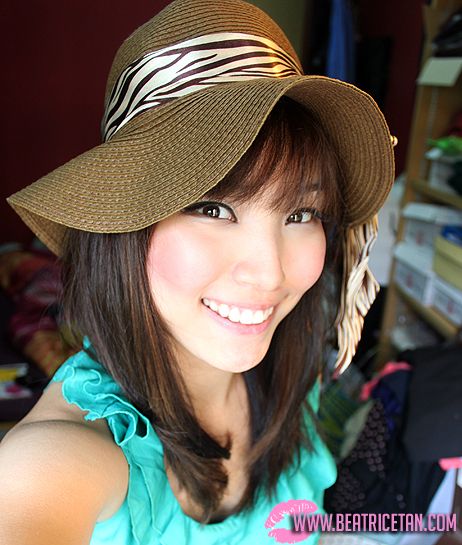 This recent hair colour that he did for me was something new in terms of techniques.
Glad to be using Loreal Professional's INOA colour – Ammonia Free No odour!! and I wanted something like an uber dark brown tone for my hair time.
The colour that John did for me faded a bit already, but you can refer to THIS post to see the dark toned hair colour.
What was special about the recent dye that I like was that John didn't just give me a dark colour and that's it,
in fact, he helped play with colours to enhance the visual texture of the hair by giving me a slightly lighter toned highlight on the hair.
Well, we can't improve our hair that dramaticallyin a short while, so might as well get a better dye to help make the hair healthier as time goes by!
This way, you will never be deemed as belonging in the ultra bad hair category for any moment in time after your salon trip.
So the latest technique he tried on my hair was called the TIME MASTER. Sounds really long lasting.
Won't want to bore you with the terms, so it's basically the combination of two similar colour tones,
and the way how it is highlighted accordingly to your head shape.
I suppose for this, you need the right hairstylist who has been through training to do it well,
and I am sure John has already tried and tested (i'm one of them) heh, so i assure you..
YOUR HAIR IS SAFE IN HIS HANDS. hehehe.
Decided to camwhoreeee a few more shots (actually a lot more with different hats but i chose these few, well…we are all the same!!) with the new hair!!
This new technique of hair dye is suppose to interpret WILD yet CONTROLLED hair.
Yes i can see that it makes the hair tame and neater even with highlights!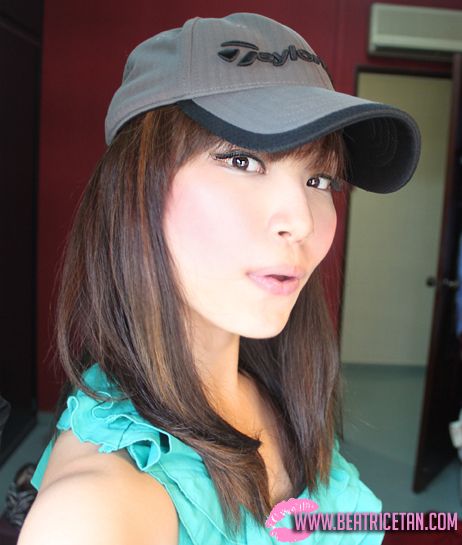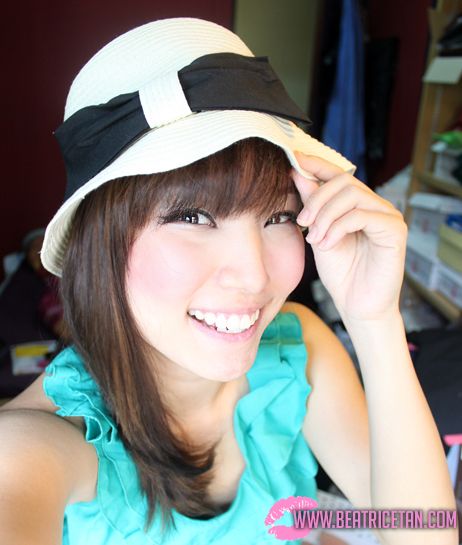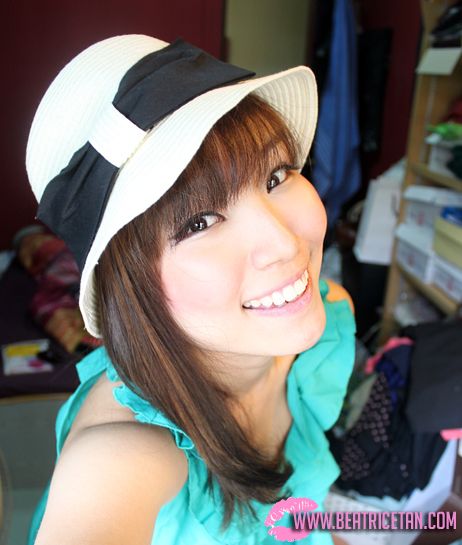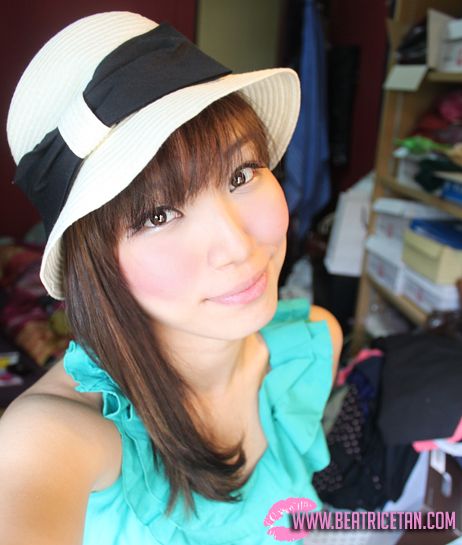 How do you like my new watermark? :p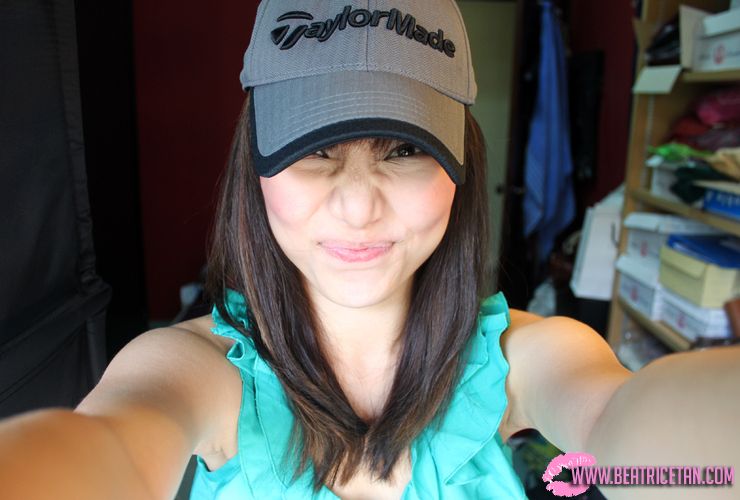 If you are interested to try out my dedicated stylist John @ Salon Vim:
SALON VIM BY CHEZ VOUS
313 @ SOMERSET ORCHARD ROAD
#04-07/08/09
Singapore, 238895
TEL: 68847757 / 68847767
Book an appointment and quote my blog for 10% discount for all hair services!
***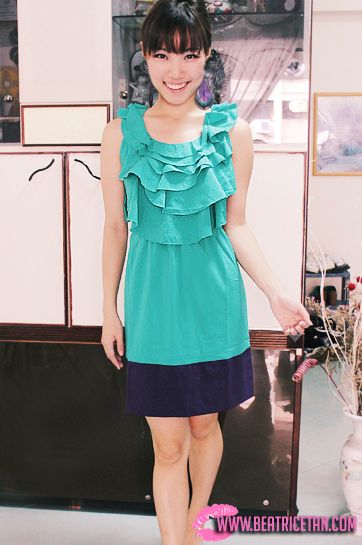 *And if you are wondering where is this lovely green dress from (i wore this in all the self-pic above!),
you would love to check it out from DOT (Yi Xiao Dian)!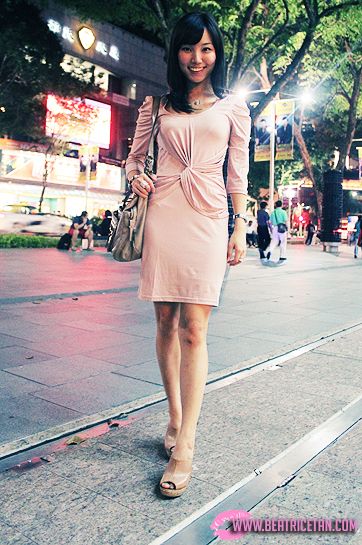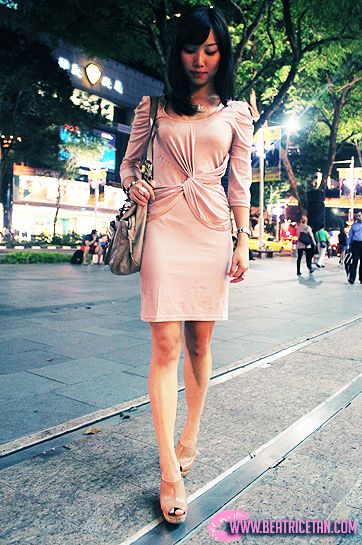 *I simply love dresses like this, simple and not too complicated with design,
yet very comfortable on the skin, yet another piece by DOT (Yi Xiao Dian)!
***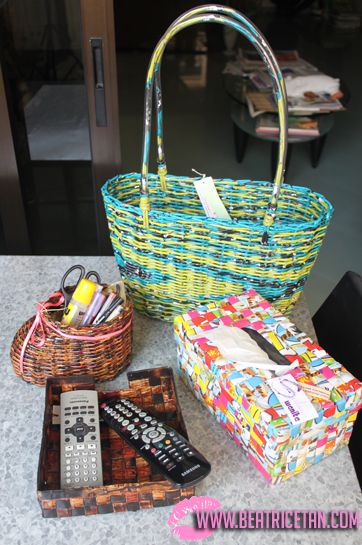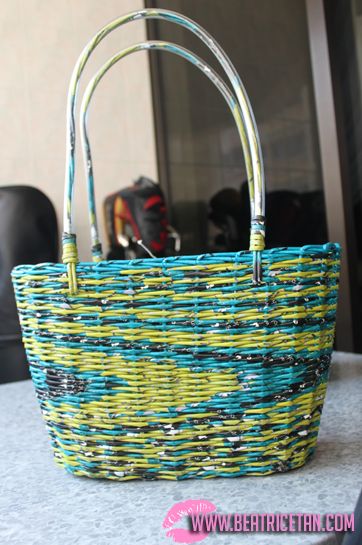 Got myself some items from my friend's shop to support her for charity causes!
Quite amazed by the handcrafts, given that these are done up carefully in details by unfortunate women using old magazines,
and the quality is terrific! Very durable, especially the bag, and I am sure it can last long.
Definitely a good buy for my household!
Got these items: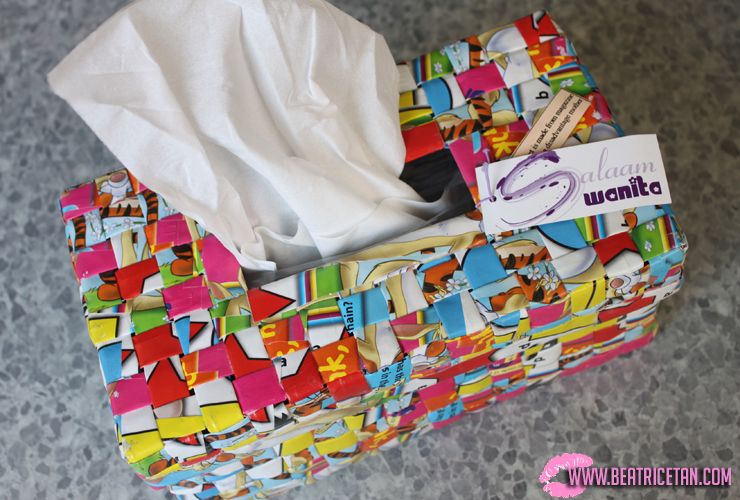 Tissue box.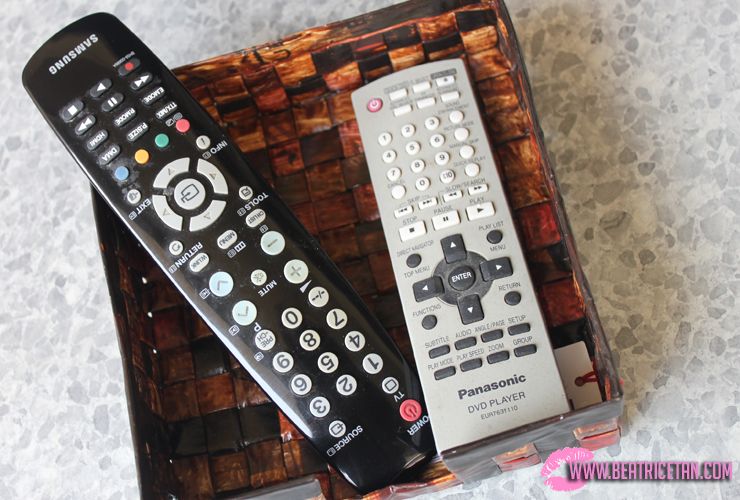 Holder for Remote or anything in fact.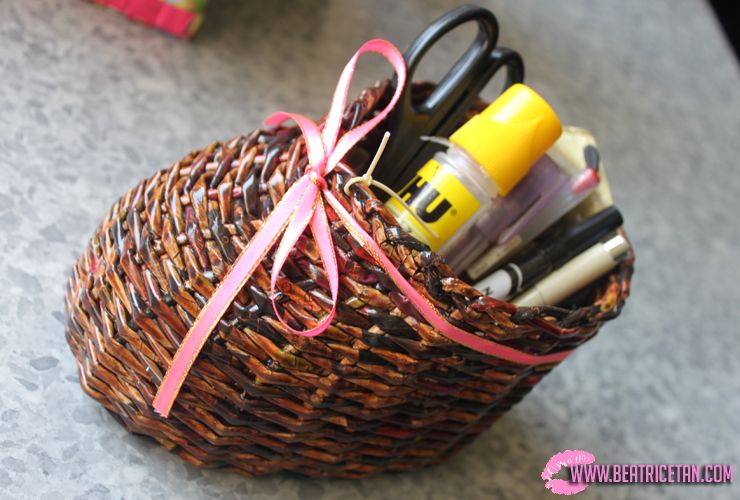 And a shoe shape holder for my stationary as well!
They will only be selling for a limited period, and I think it's done up well and classy,
do pop over to their page for more details. You can message them there if you are interested to get any item!
Do show some kindness and support them at their page by liking too. ;)
***
And oh yes, i have just gotten tickets for myself and the girlfriends for this upcoming Hip Hop Party at Marina Barrage - the O.N.O Hip Hop Hooray!
Heard that it's gonna be really exciting as they will be featuring 8 well-recognized Hip Hop deejays in the local/international scene, such as:

DJ Andrew Chow,
DJ Andrew Tee
DJ KoFlow
DJ J Styles
DJ Ollie Des
DJ Titus
DJ Xarin Garuda
DJ Krumbs
It's gonna be one amazing big-scale event and yes!! I am actually gonna be there to support my friend as well, DJ KRUMBS!
Got to know him through my hall (hostel) back in NUS, and he was already deejaying for quite a while,
very talented guy i must say.
Come join the party!
Details are as follow:
Date: 22nd October 2011, Saturday
Location: Marina Barrage (we will be facing Flyer and the CBD area, party under the stars!)
Time: 8pm doors open (9pm, DJ starts)
Tickets:
$30 inclusive of 2 standard drinks (advance)
$40 inclusive of 2 standard drinks (at the door)
Tickets are currently out on sale HERE.
No worries if you want to drink and party all night, just make sure you don't drive!!
Got to know that they have shuttle bus services at half hour interval,
round trip form Barrage to Marina Bay MRT Station (when MRT is still open),
and after that, it will be from Barrage to MBS Convention Center Bus Stop.
ALL COVERED!
Got the tickets too though its outdoor, cuz rain or shine, they promise to keep you partying!
You can check out more at their site HERE.
Or you can see their facebook page as well and fine out more,
at the same time, they have this "Guess the Deejay" contest going on, and we can all win something!!
Too bad I'm not the 500th ticket holder (500th purchase), if not i will get to win a PUMA apparel worth $150!
See ya there!! ;)