23
September
TWENTYELEVEN
0109 HRS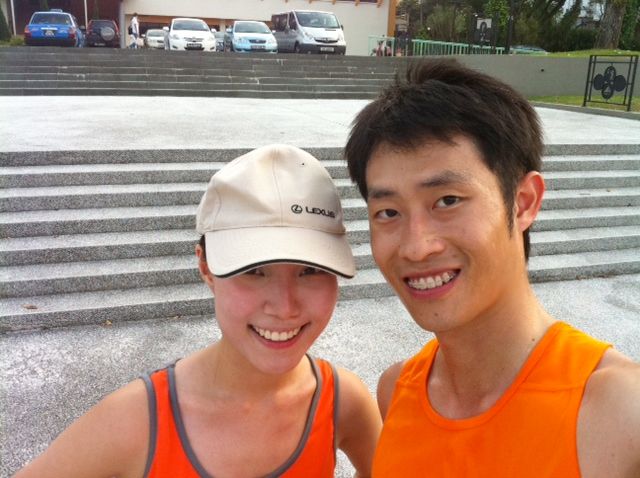 Hurhur and myself took some time off one evening last week to run, and he needed to train for his upcoming IPPT as well.
And goodness! it was no joke to resume back running after I stopped a couple of months back, and my stamina deteriorated, like completely.
I tried to push myself for this random run, and the max i could do was 11 minutes before I totally stopped to take a break. boohoo.
In my opinion, it is the most dreadful part trying to regain back your momentum, but i must endure!
As long as the momentum is back, I know it would be much better but for now, i suppose i will hang on to the fact that,
"no matter how much you dread it before you start running, you will feel GREAT after the run"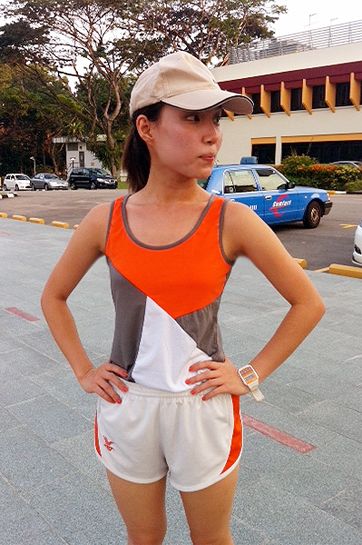 * I got this top from Frockettes that I thought would be versatile, and can be a sports wear or a casual outdoor wear. But i like it sporty!
And an outfit of the day – Comfortable, simple and fuss free.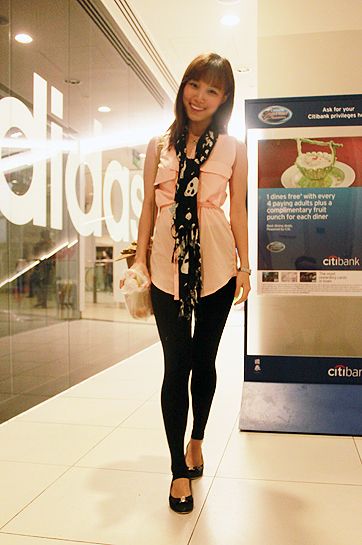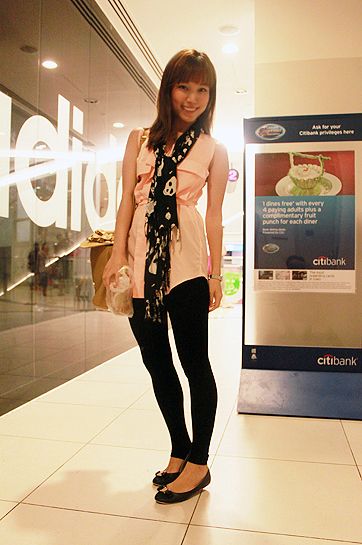 *This long tunic collar top like from Frockettes is absolutely up for many styles. It can be easily paired with a leggings and you are good to go!
Match it up with the pumps, accessorize it with a scarf and it is one look that you can be most comfortable in.
***
As continued with the previous entry,
this is day two of my Krabi Escape!
One thing about Cha Wan Resort is that the breakfast is not the standard buffet selection you get in most hotel/resort stays,
but it has a breakfast menu that comes with three different sets of breaky- American, Continental, Local, and you would need to place the breakfast order the night before.
No worries if you happened to forget about it, you can just head to the restaurant in the morning and order still, just that you probably have to wait a lil for it to be served.
Well, the special thing about placing the breakfast order the night before is that you can specify the timing you want it to be served, and where as well!
Yes, either at the restaurant or YOUR BALCONY! woohooo!
Loved this service of theirs and it was an amazing feeling to be greeted with a table of food early morning when you opened your front door..

This was exactly what we were greeted on the first morning.
A set of continental and a set of American breakfast.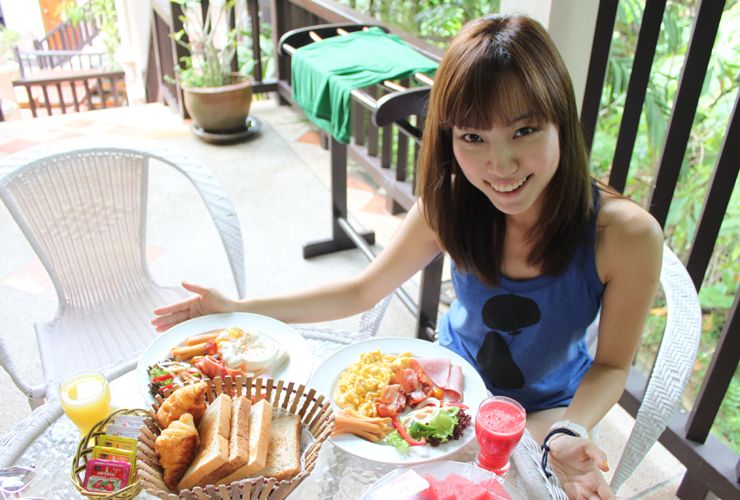 happy happy me! Love breakfast at balcony <3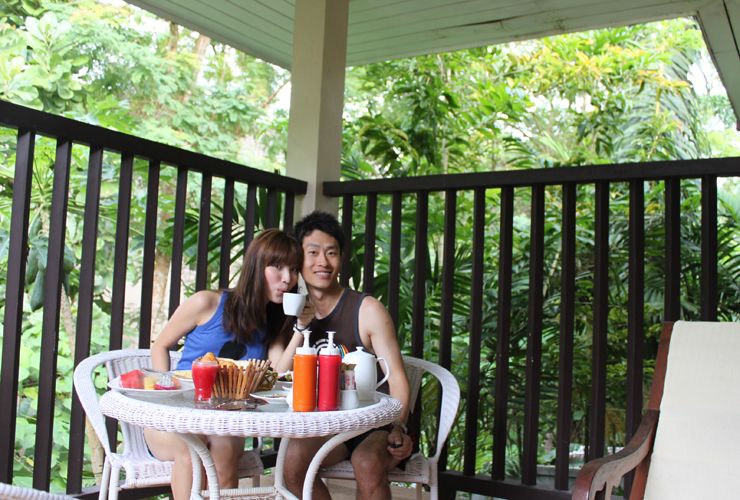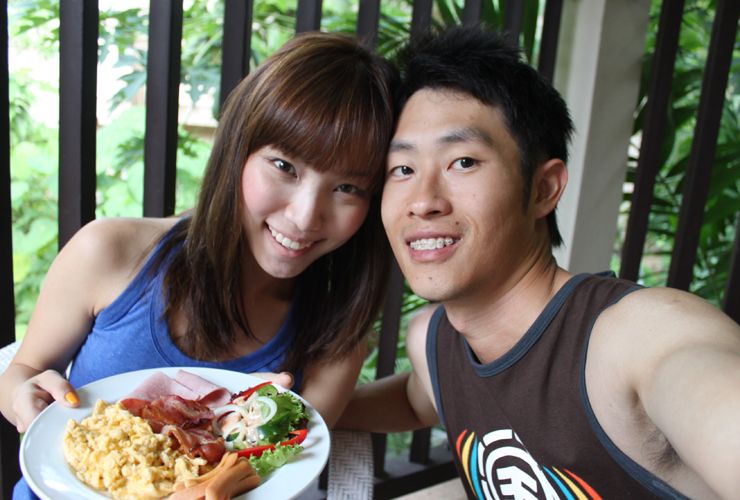 <3
We were actually prepared to head out prior to breakfast, as we had an arrangement with the Tour Agency for a Full-day of activities!
Like i have mentioned in the previous entry, we booked a tour on day one after consulting this agency along the road outside,
and i must say that I was rather impressed by their arrangement and the price that we paid was rather worth while (after bargaining though :p).
Will definitely go back to them if i visit krabi again!
The agency is called:
AONANG APRIL TRAVEL & TOUR
159/29 (Next to Krabi Resort) Moo 2, Aonang, Muang, Krabi, 81000
Tel: +6675 638347, +6675 661270, +6686 7438329
Email: aonang_april@hotmail.com
Look for ARPORN Kongmag ( We called her ar-porn)
They do not only do tour, but remember I said my friend mentioned it was a fixed rate of 600 baht (taxi) for airport transfer?
We got a slightly cheaper rate, and paid 500 baht (Taxi- actually Arporn drove us to the airport hahaha) when we left the resort for airport.
So if you are thinking of going to the airport from your resort in Aonang, you might want to contact her too!
Her command of english is rather good, so no worries about communication.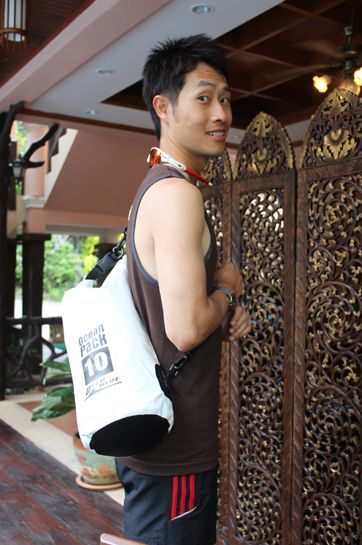 Waiting for the tour bus to arrive after breakfast.
Hurhur got this cool ocean park waterproof bag on Day 1 and he loves it the minute he saw it.
It comes in many different loud colours, and in sizes (litres).
But he didn't think that it was a need, so we actually took our time to check out the different shops,
and I think we visited about 10 shops or more to compare prices (muahaha), and the best price we could get after bargaining is 400 baht (SGD$16) for the 10 litres bag.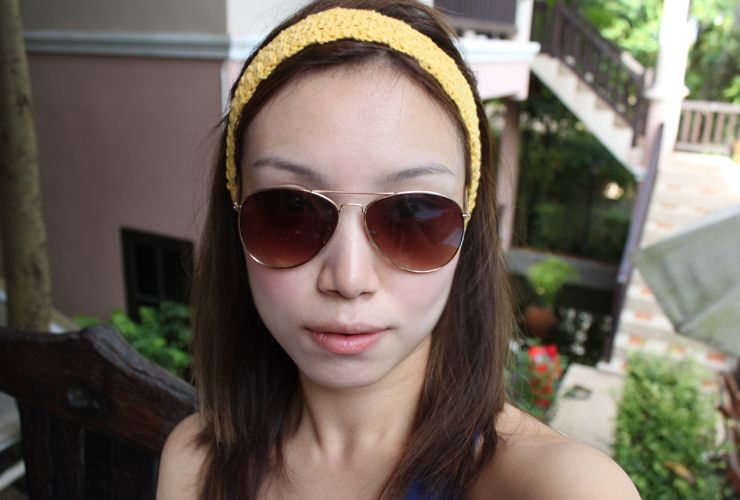 Hello morning.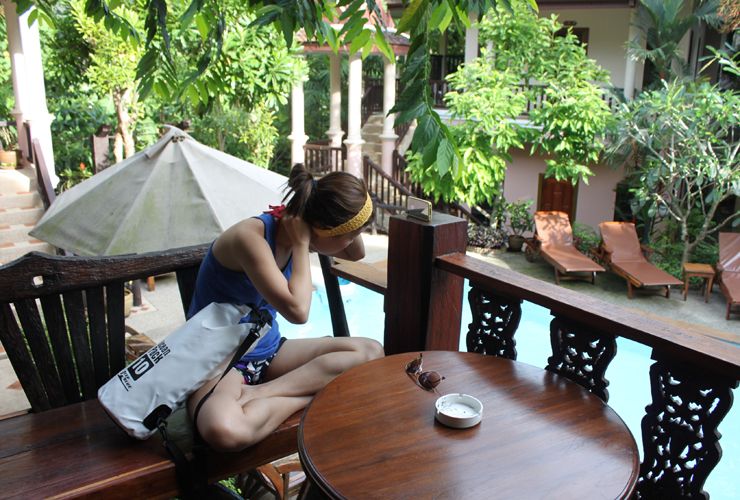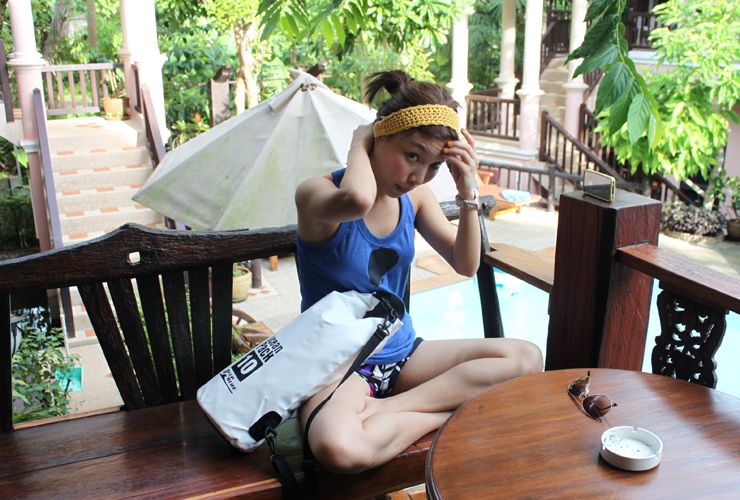 Trying to tie my hair with my lil camera, pasted a mirror screen protector on the BACK of my iphone cuz i think the front would make the screen difficult to see.
And hurhur thinks i'm trying to be funny!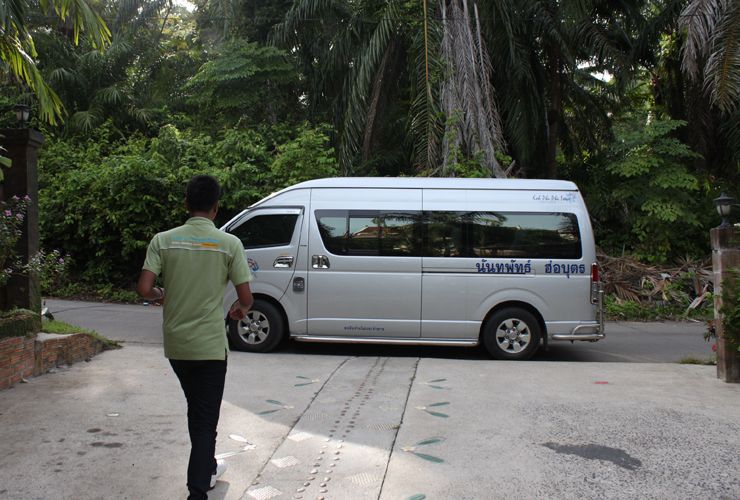 Our bus came at around 9am in the morning and went round the different resorts to pick people up.

Stopped by an area for toilet break!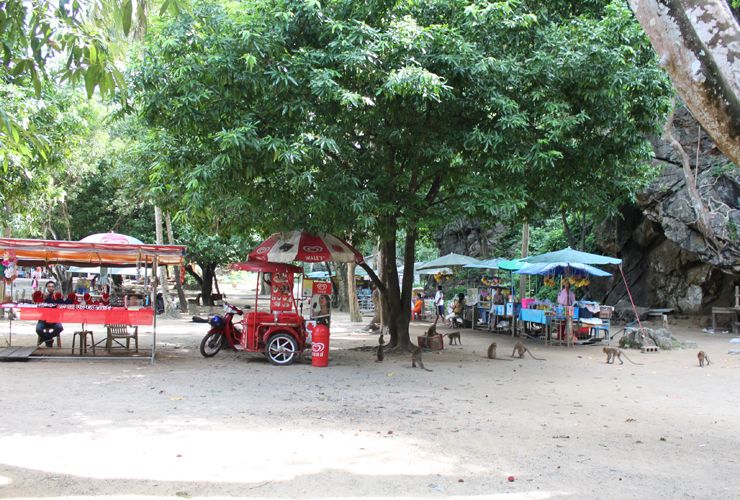 After travelling for about one half hour, here was our first destination, monkey cave & temple.

the temple on our right.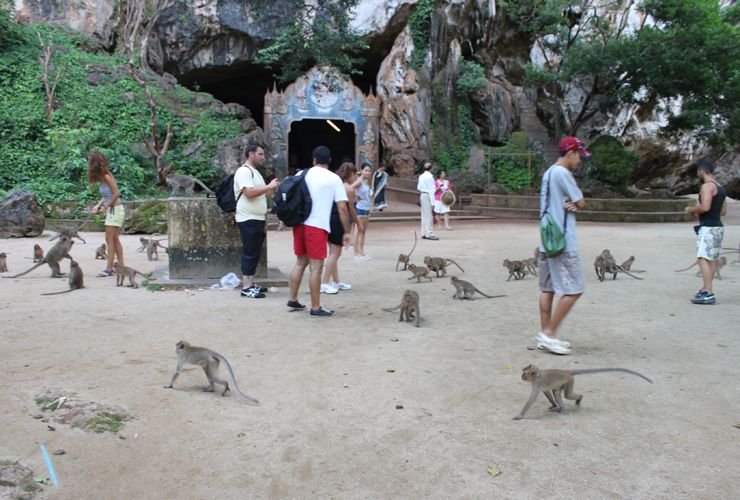 It was quite awesome, there were so so sooo many monkeys just running around you just like that.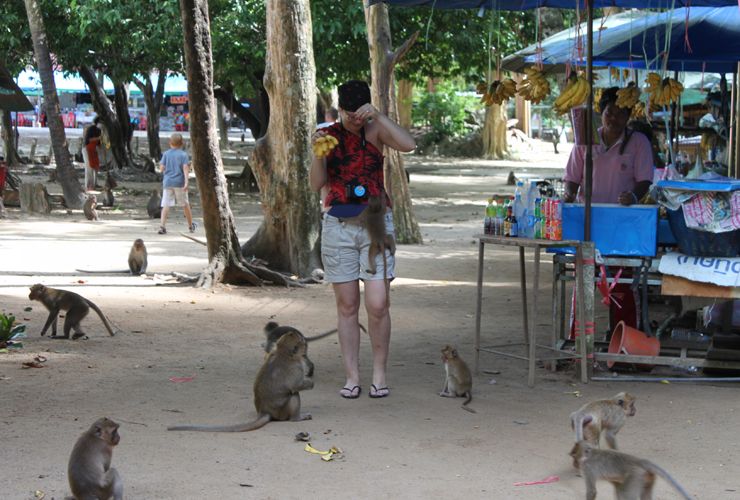 And i must say these monkey were completely aggressive and not a single fear for anything, eg. humans.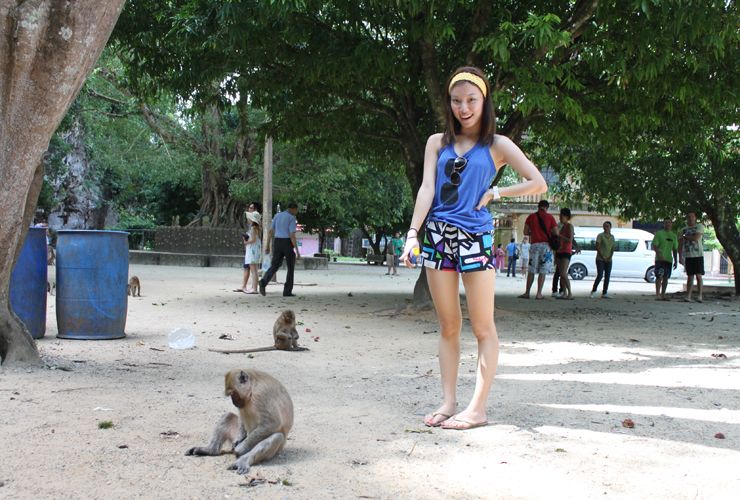 spotted one rubbing his….

cute!
hurhur and i decided not to spend on monkey food to feed them because the monkeys will totally crowd around you and climb on you after spotting food on your hands.
so we spent the time watching monkeys and at the same time, applying sunblock to prepare ourselves for the next activity.
But there was this really drama one that came jumping up on hurhur's leg and climbed to his body then hands upon hearing the opening of the sunblock cap,
and just bit on it refusing to let go!!!
Gosh, it was quite a frightful sight and hurhur had to threw the sunblock to the ground before he climbed back down to know that it was not food.

managed to capture a shot of that cuz it was truly hilarious albeit scary.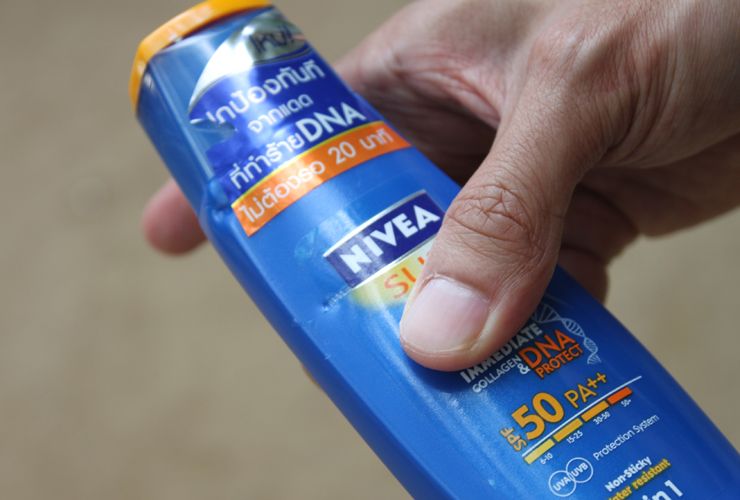 just within seconds- the teeth mark!
I think everyone ought to visit the monkey cave if you go to Krabi to probably have a close-up experience with the mammals!! heh ;p
We signed up for two activities – white water rafting and ATV for this tour,
and monkey cave was a threw in for the entire tour group.
I was so excited for the next activity which was White water rafting as it was my very first time!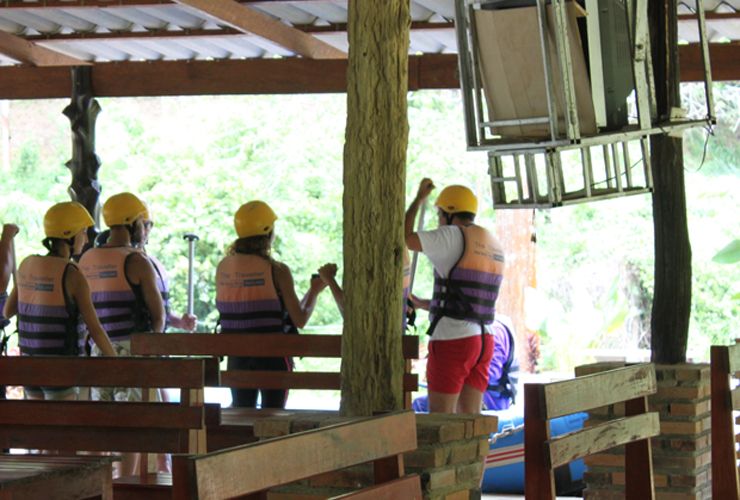 This was the only picture i could get because i need to keep my camera after for the afternoon. :(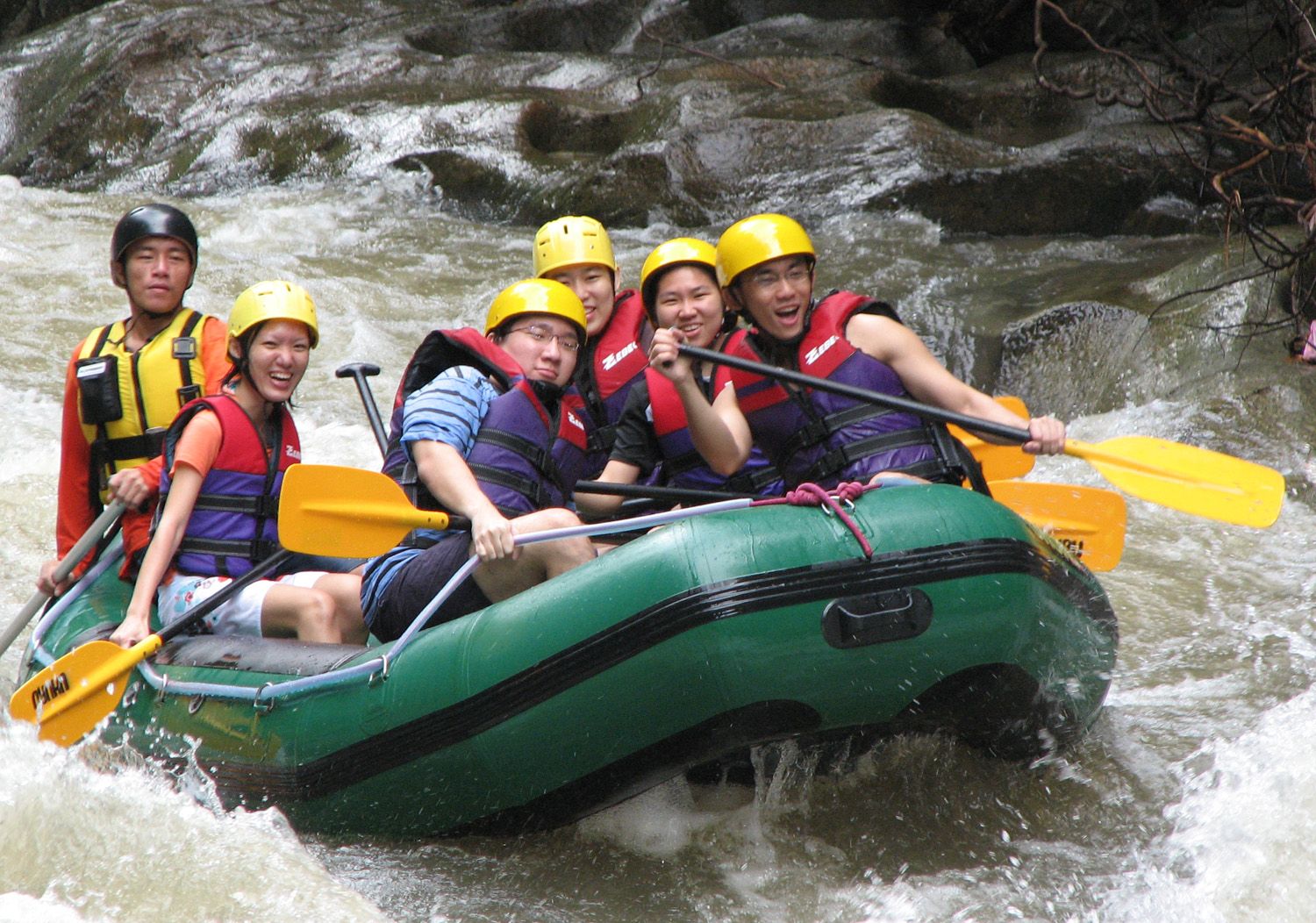 White water rafting is like this!
Hurhur and I coincidentally met two fellow Singaporean friends during this tour,
and we grouped together for this activity, and of course, an experienced coach at the back to guide us.
It was fun, but probably i was seated at the back so It didn't feel as challenging as I expected it to be,
and the distance we signed up for (5KM) was a lil short, lasted for about 20 minutes or so.
You can choose to go for the longer distance (10km) but that would be at an additional charge definitely.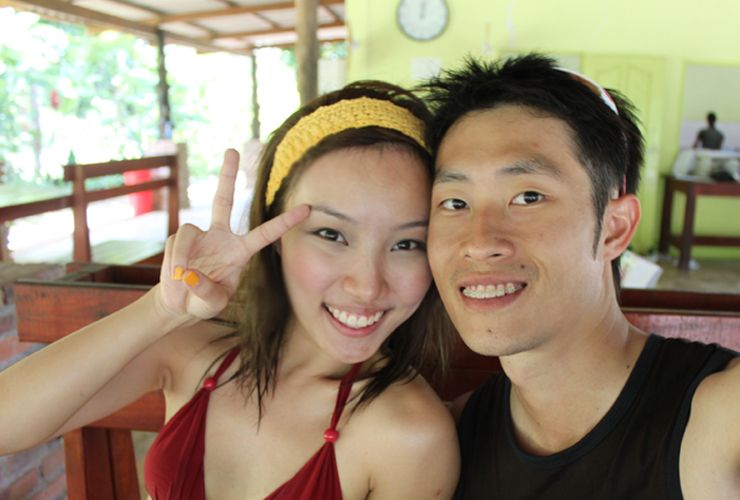 Cool, lunch was next and we didn't know that we had included in the tour package!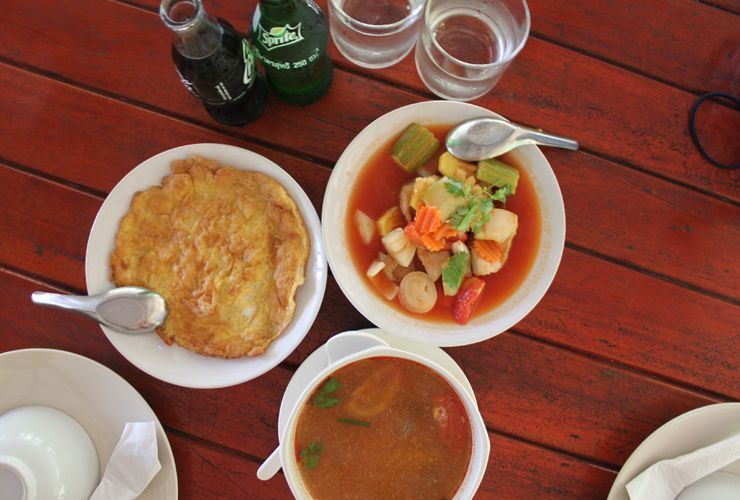 All cooked instantly, and the whole portion just for us two. – Fried eggs, sweet and sour chicken, tom yum soup.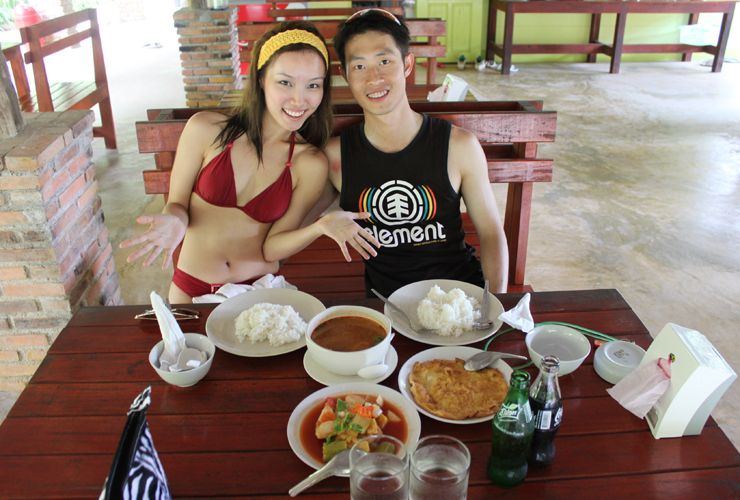 YUMZ!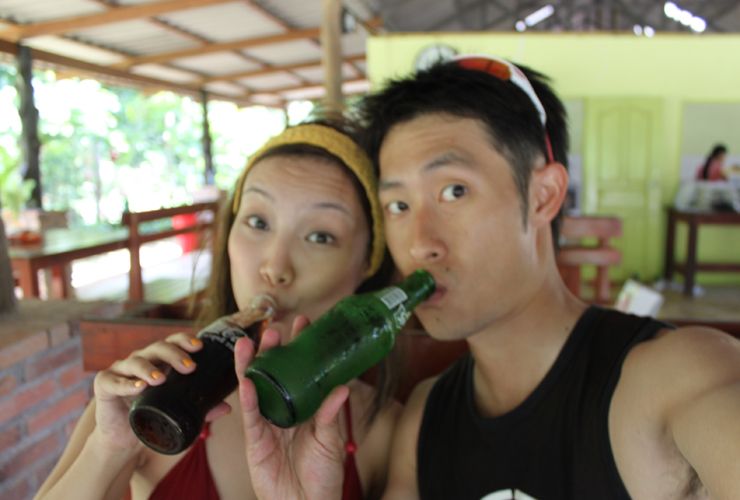 We had lunch first because part of our tour group signed up for elephant ride and went for it.
By the time they came back for lunch, we headed off for our next activity -ATV, and it would be my FAVOURITE activity outta the whole trip!
ABSOLUTELY FUN & THRILLING!
Same again, no cameras allowed (yes they wanna sell us the pictures taken and printed, and we bought them anyways for keepsake).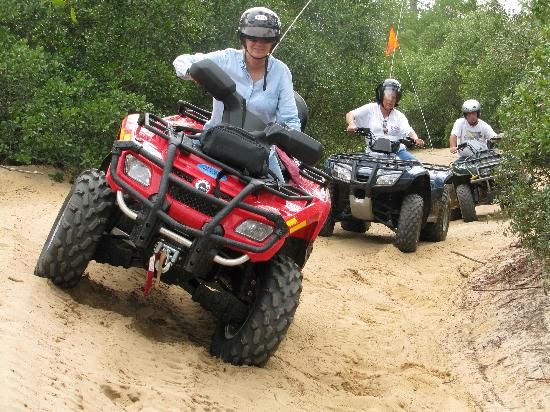 and ATV is this!
UBER FUN, and i love it!!
If you are not afraid of getting sticky, a lil wet, muddy, i would really recommend you guys to try this there!
It is exactly like the picture above, you would ride one each and explore the forest!
ATV was the most expensive activity outta all in fact.
Arporn provided us with the price, for just 2 hour of ATV cost 3300 bhat (SGD 140) per pax, best price was 2800 baht (SGD 110)/
Hurhur and i chose to do white water rafting (5KM) + 1 hour of ATV, and managed to bargain the price to 2200 baht (sgd 93) per pax for these two activities!
We both felt that it was worth the money, given the activities and the transport, meals etc.
We reached back Aonang around evening 6pm, and instead of thai food today,
it would be Italian food since the whole place is filled with italian restaurants and we wanted to buy pamper ourselves too.


We settled for this restaurant which looked pretty popular after observing for both day 1 and 2.
Can't remember the name of it but the above picture shows the place.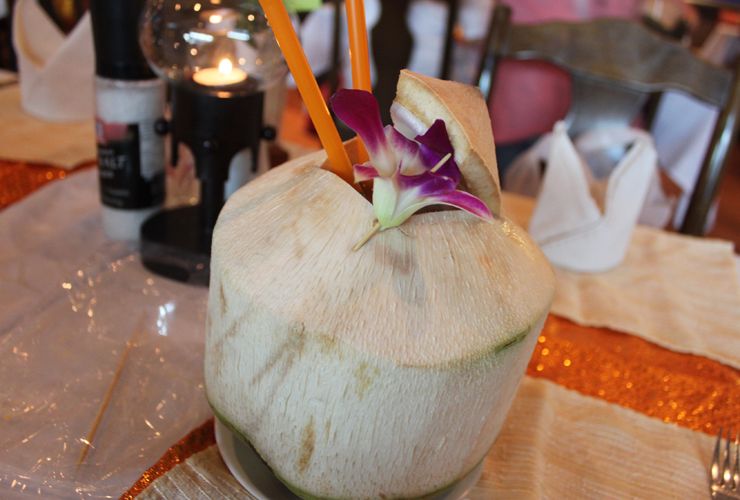 refreshing coconut to share.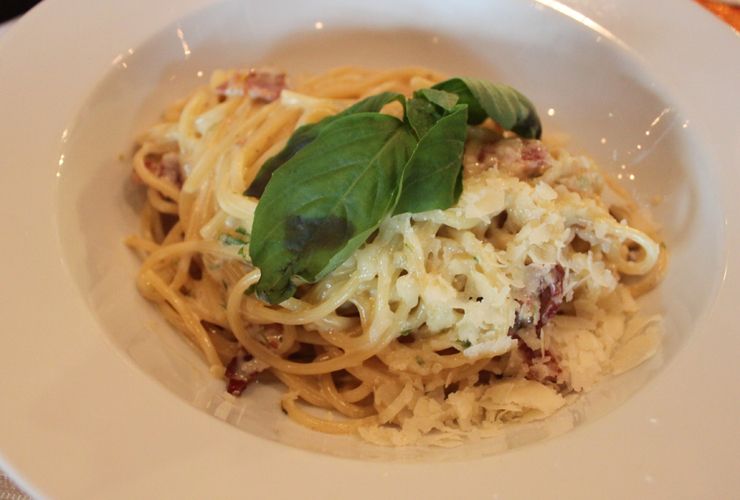 carbonara for me, and it was goooood!!
definitely as good as what you can find in those known italian restaurants in Singapore.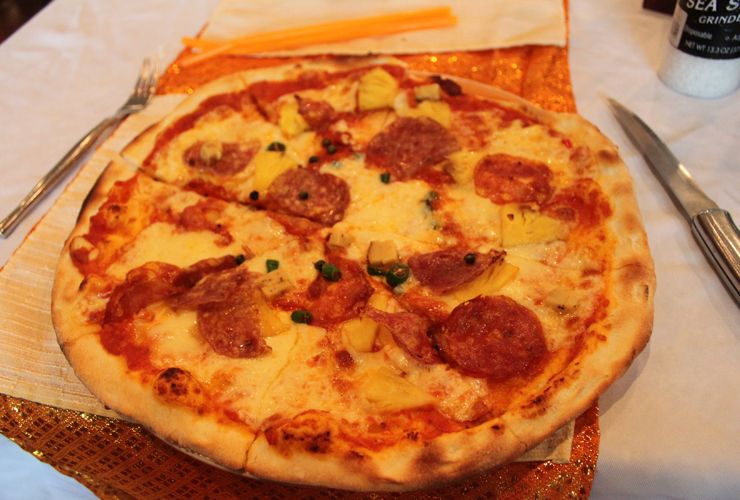 A pizza which was equally delicious.
The entire bill amounted to 430 bhat (SGD 18), and tell me, where can you find such delectable food at this great price in Singapore?!
Definitely worth the money once again, and you truly feel so pampered and eat like a king there. ;p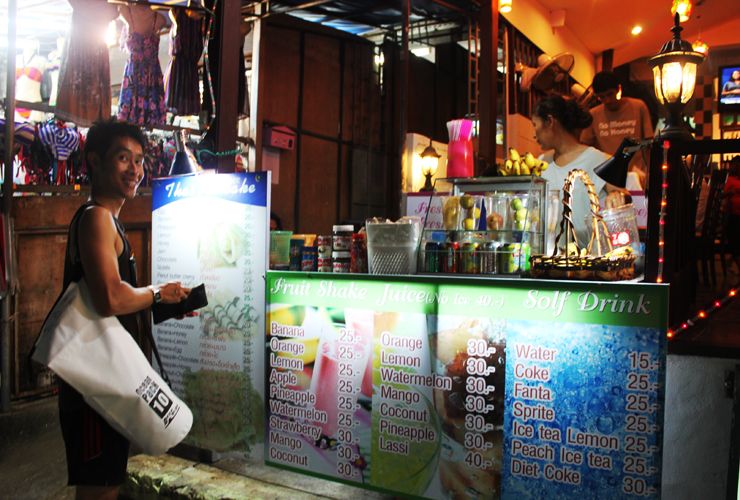 We tried out a fruit smoothie stall, and boy…… the mango smoothie that we ordered, used ONE WHOLE ENTIRE FRESH MANGO to blend it.
oh dear oh dear..I really love krabi.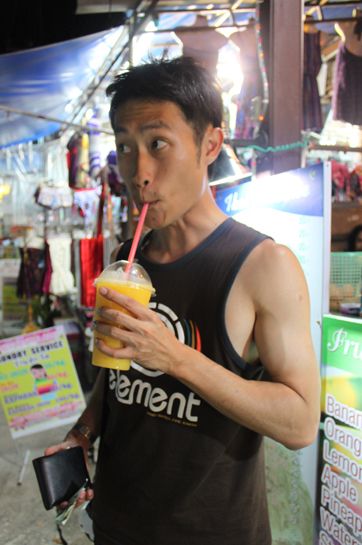 Love it love it love it!!

Passed by these people who sell the paper latern by the roadside at night for 100 baht (SGD 4.50) and we decided to get one to try for the first time.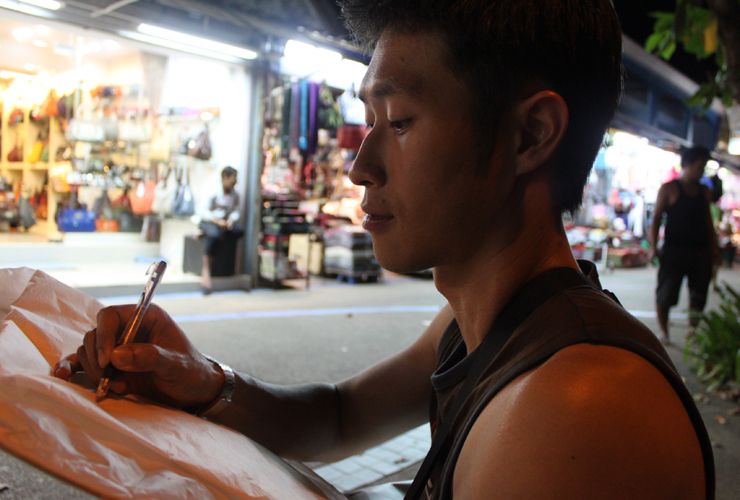 Not gonna tell you what we wrote!! :p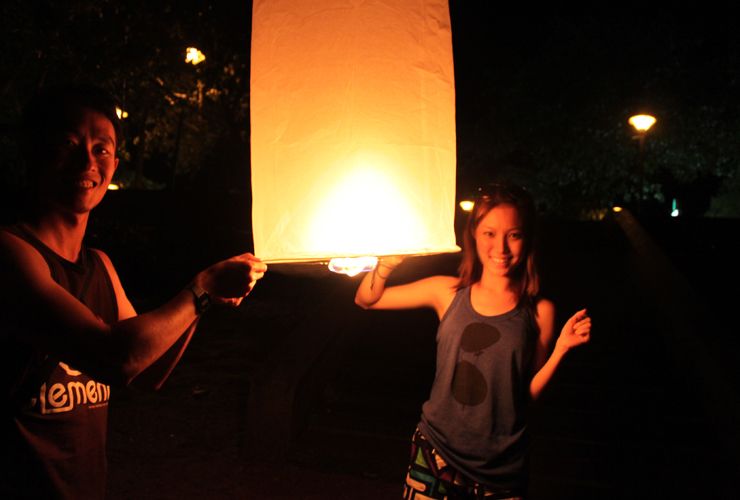 And a new experience ;)
heh, and one thing i will do in Thailand apart from massage is to get a hair wash at the end of the day,
Influenced hurhur on our previous thailand trip, and he likes it too! So we both went searching for a salon to get our hair washed for the tiring day.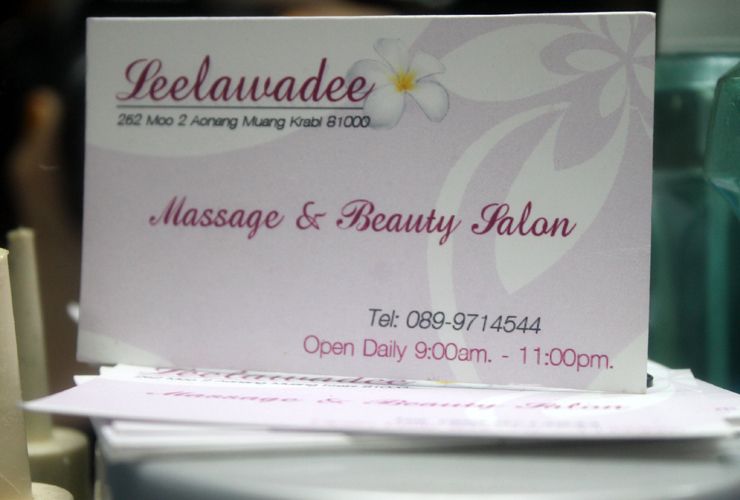 Found it!
Hurhur and i got our hair washed at 100 bhat (SGD 4.50) and 200 baht (SGD 9) respectively.
That sums up the second day and I would do a final entry on krabi in the next post.
Till then, hope you enjoyed this post! :)