23
September
TWENTYTWELVE
1009 HRS
SPONSORED POST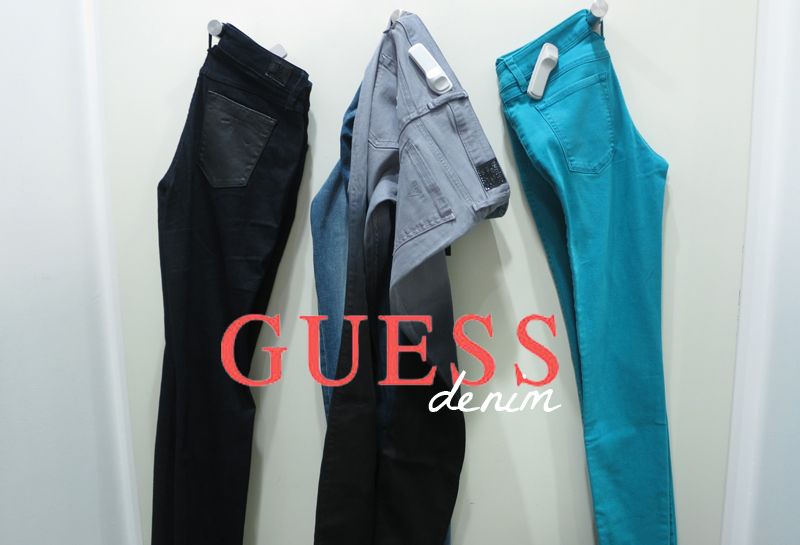 You probably seen me less in Jeans because I find it extremely difficult to find the perfect jeans for my legs.
In my personal opinion, when it comes to wearing bottoms, it's largely dependent on the body proportions of a person. From what I know, the ideal body proportions – in particularly leg-to-body ratio, should be about 3:2, which based on research, legs being 40% longer than the body. And what I realised is that with the ideal body proportions (which I deem it as long legs), one would usually wear bottoms beautifully.
Anyway, what I'm trying to say is that how I wish my body proportions are the ideal but no, it's probably 5:5. So in terms of body proportions, high waisted bottoms and shorter tops (tuck-out tunics do not suit me) are probably better suited for myself. In my personal opinion, most jeans nowadays from everywhere are mainly hipster – low cut, so it's not exactly very easy for me to find the perfect fit. So as expected, I'd go extremely crazy whenever I chance upon a place with wide range of jeans, because that would mean they have more than enough choices for people who are of different body proportions. And one such place that I recently stepped my foot is, is none other than GUESS.
It's definitely useful to own a pair of jeans (especially for travel purposes eg. cold countries etc) and usually the bigger brands are the ones who carry the wide range of jeans with different cuttings etc. With that said, GUESS is for sure, the first place you should start when you are shopping for a pair of jeans. Reason is very straight-forward – GUESS was one of the pioneers that created designer jeans. They certainly have countless years of experience in jeans design/cuts than anyone else in the industry.

"During the 1980s Guess was one of the most popular brands of jeans. The company was one of the first companies to create designer jeans."

Here are 2 main points on what I personally like about GUESS Denim:
1. GUESS Denim is all handcrafted - consistency in designs is maintained albeit slight difference in every pair, which means every pair of GUESS Jeans is UNIQUE.
2. Different fit by GUESS and that's how I found mine (read on to know!)
- Power Skinny (Best Seller), Legging Fit, Low Rise, Ultra Skinny Leg
- Brittney Skinny, Slim Fit, Medium Rise, Skinny Leg
- Brittney Petite Skinny, Petite Fit , Medium Rise, Skinny Leg
- Sofia Skinny Curvy, Curvy Fit, Medium Rise, Skinny Leg
- Daredevil boot, Slim fit, Low Rise, Boot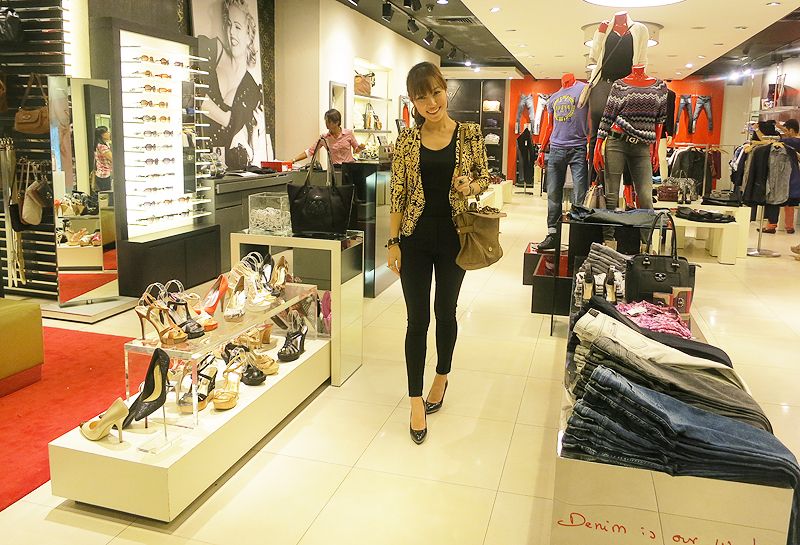 Arrived at the store @ Takashimaya.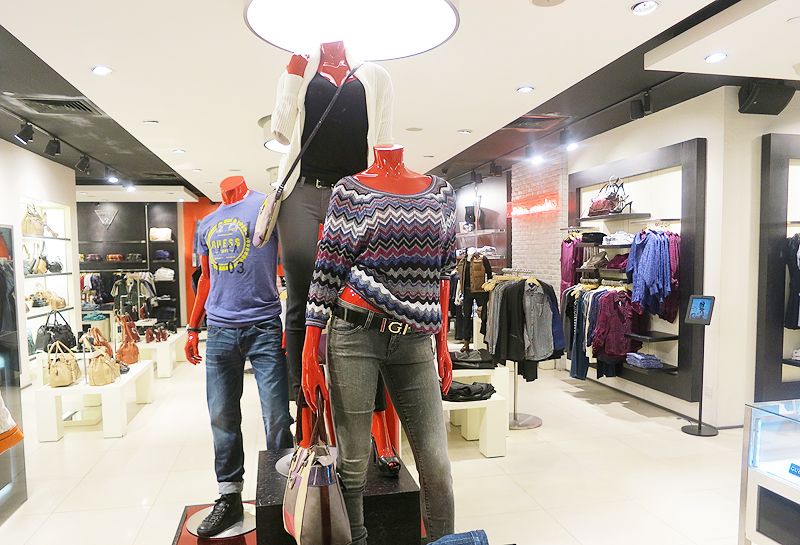 Touring around the store, and my dear buddy said that posing with the mannequin is a cool thing to do.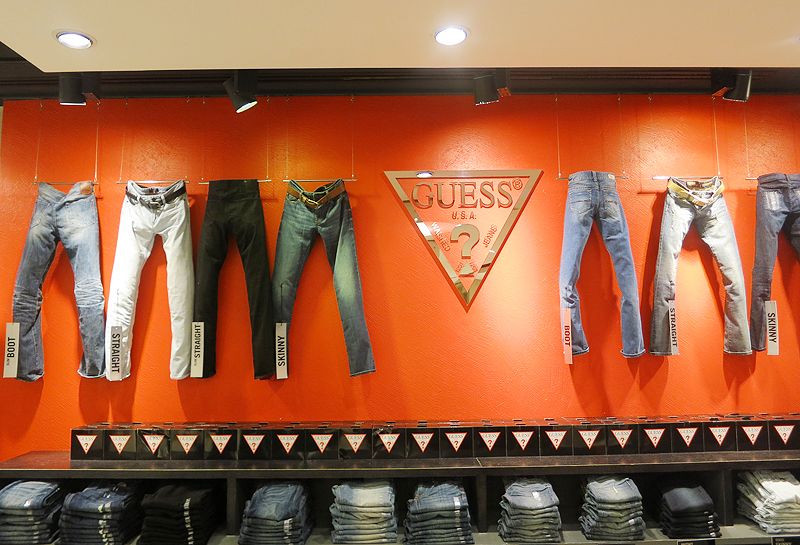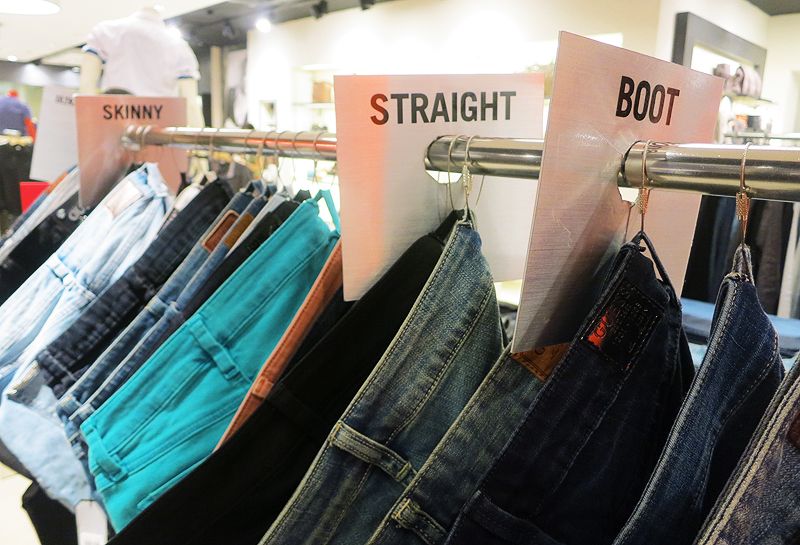 The range of jeans they have.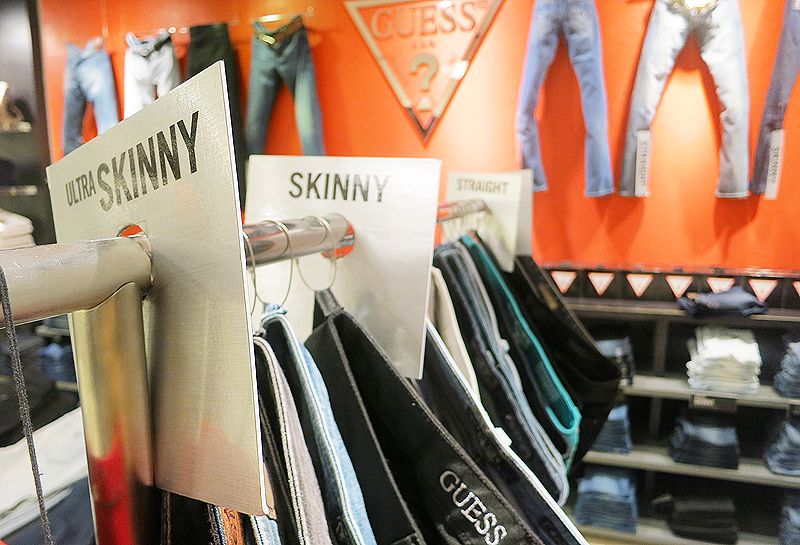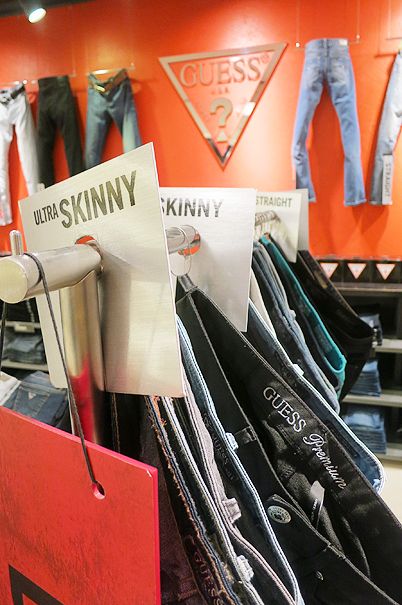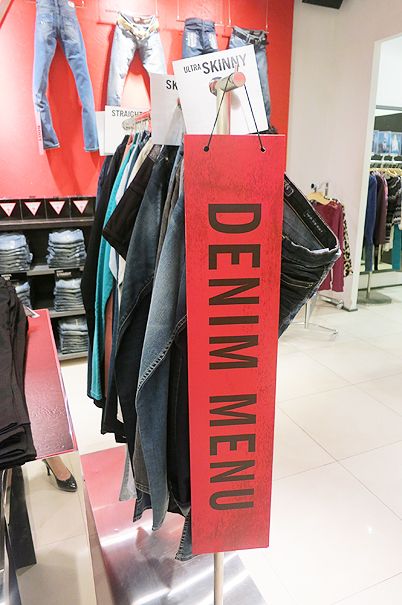 I thought the Denim Menu was catchy.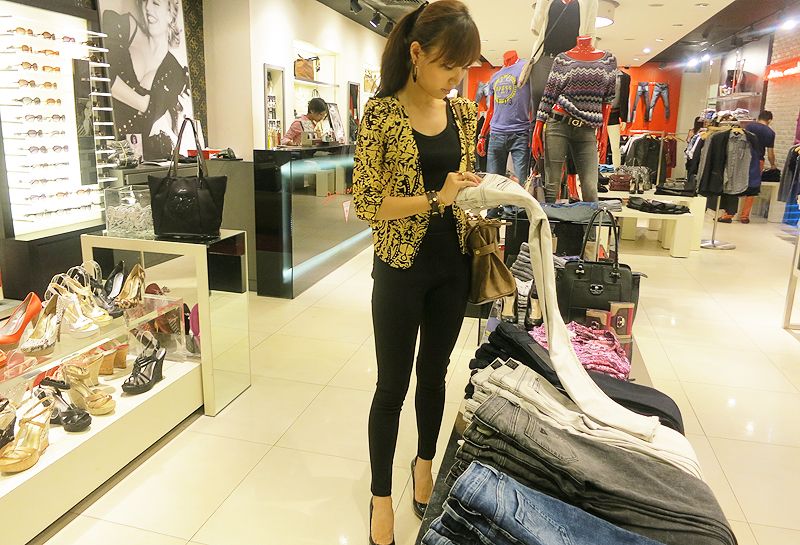 There were TOO many to choose from and I swear I had a hard time picking my favourite.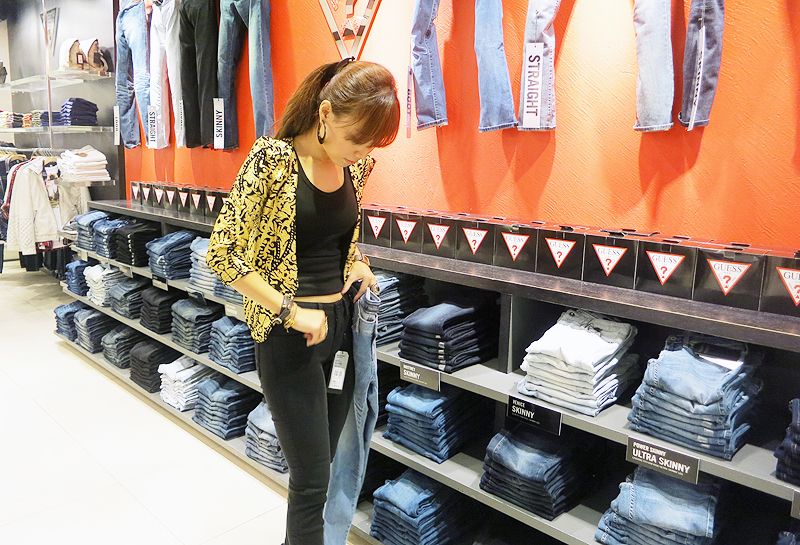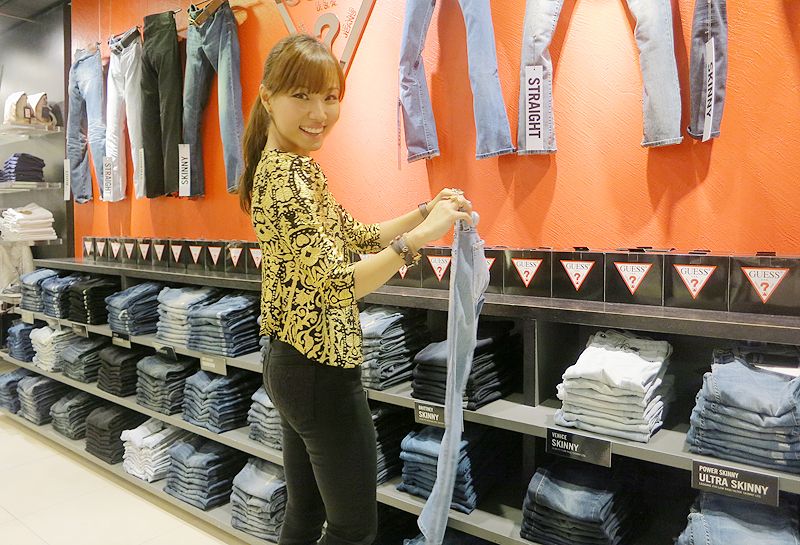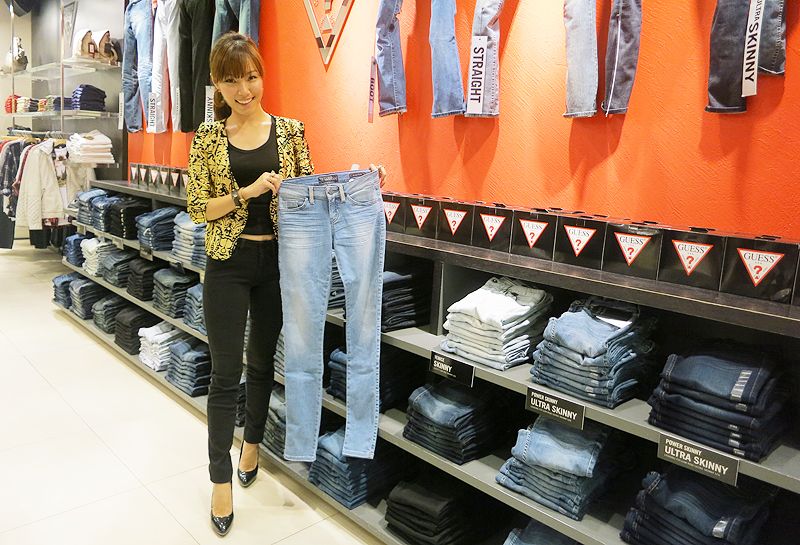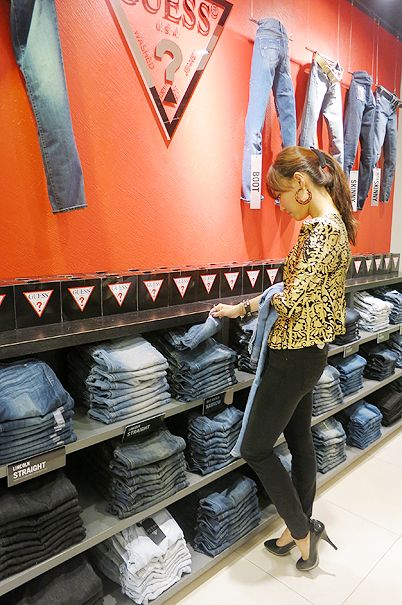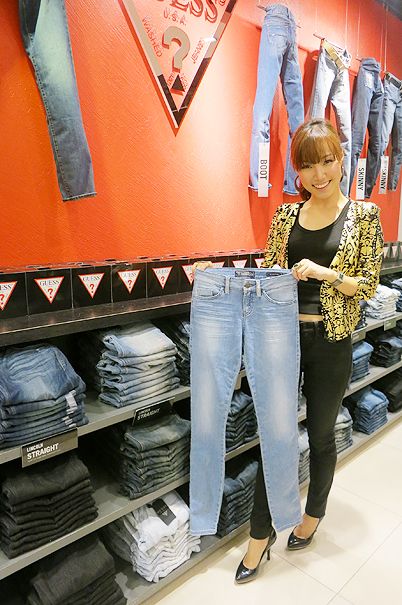 GUESS was very kind to assign a denim specialist to aid me in finding my perfect fit, and I spent about an hour trying on gazillion pairs of jeans which I felt bad for troubling him. But he was extremely patient with me and not sure if it's a good thing (or not), but I ended up finding 4 pairs of jeans that I really like. No doubt my friends call me a shopaholic and that I go crazy in store once I've found something I like. heh. Here's my trying process.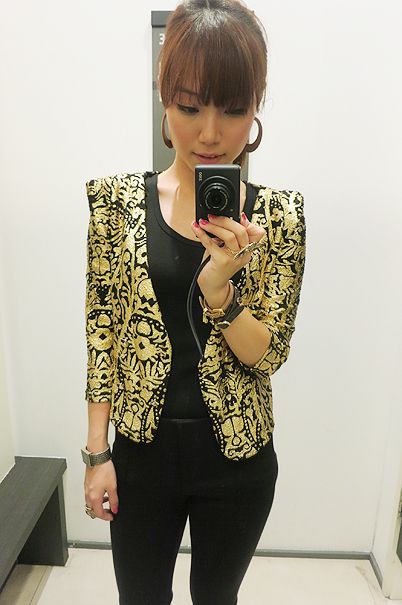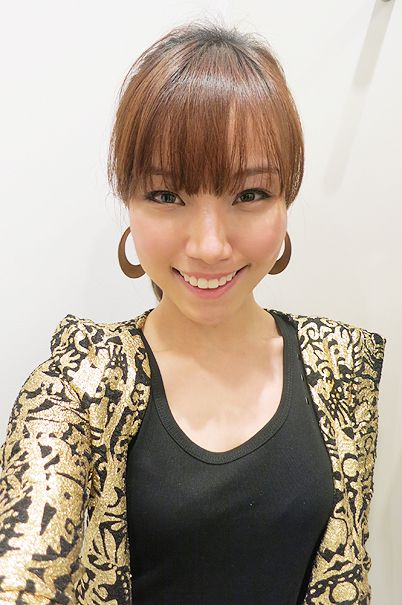 On a random note, make up for the day.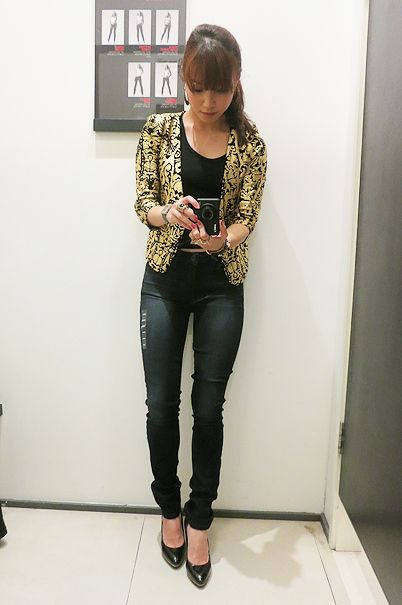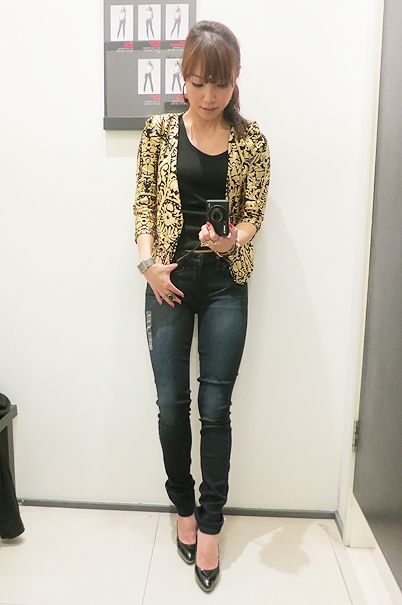 FIRST PAIR, think it was the Brittany Cut.
- Not exactly the perfect fit as it was too long for my legs. And the tie-dye patterns on the jean do not look very flattering for me.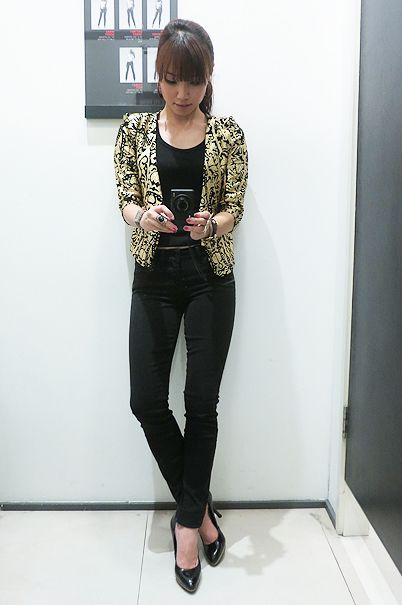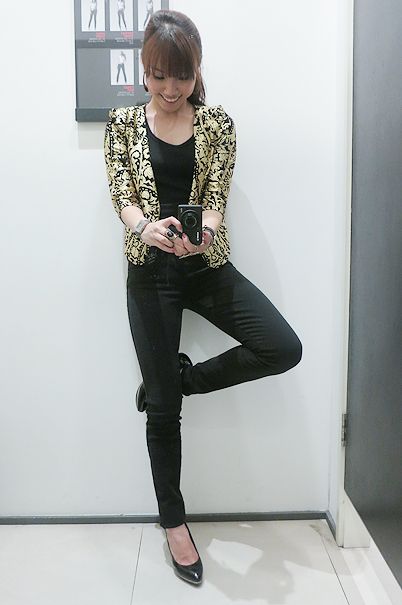 SECOND PAIR
- I LOVE. Love that it fits my legs nicely and that it's super stretchy – comfortable. Love the intricate lace details at the back pockets too. One of the 4 pairs which got me in a huge dilemma which to get.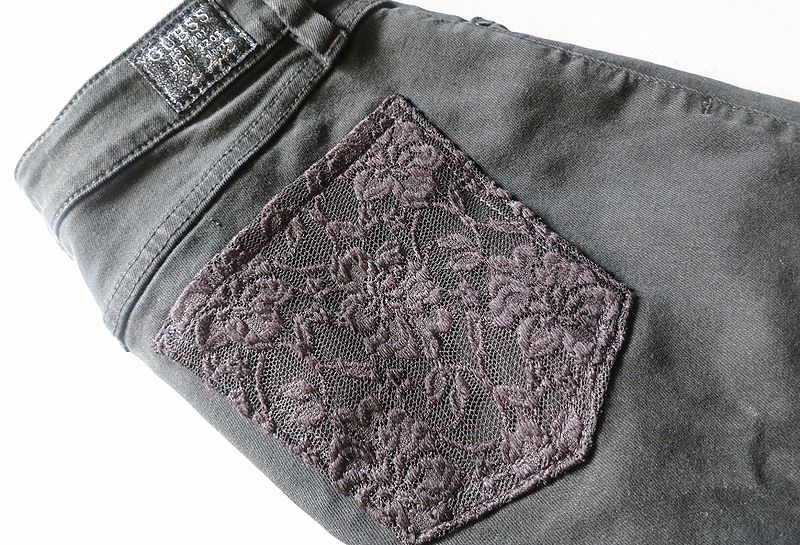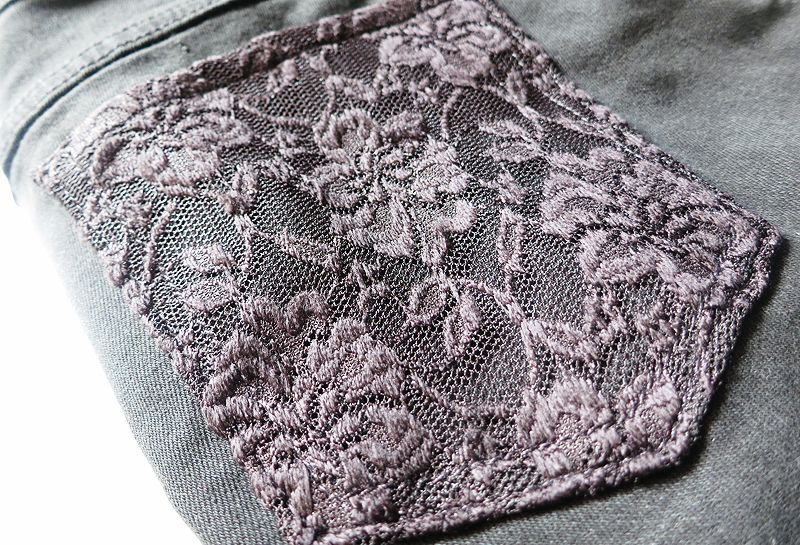 Did I mention that it's handicrafted too?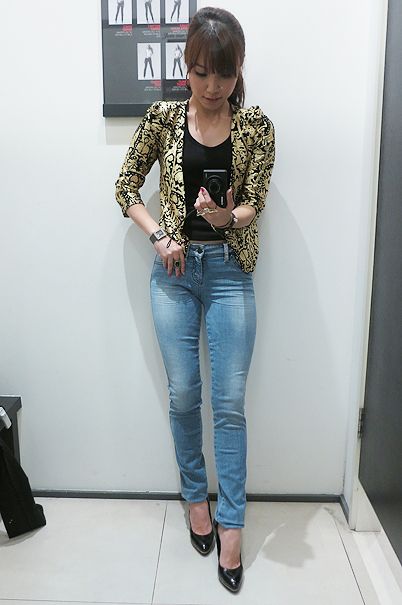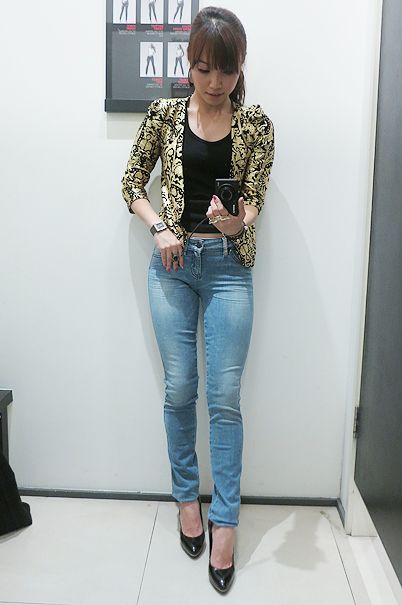 THIRD PAIR
- Not the best fit for me though, I think maybe it's the tie-dye patterns on the jeans, again.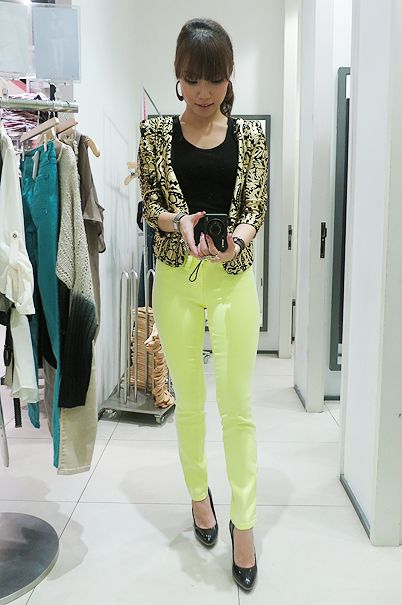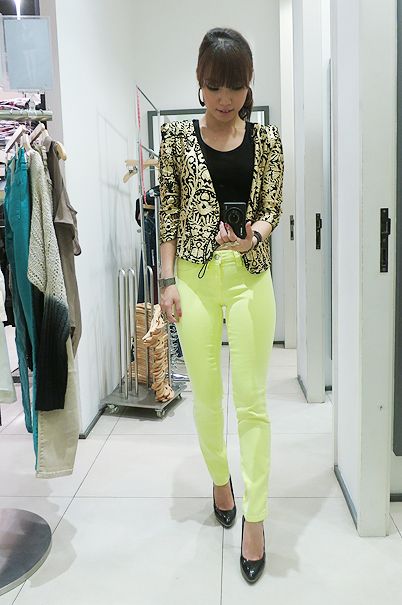 FOURTH PAIR
- I love love LOVE this pair! The fit is perfect and guess what? It's mid-rise, meaning it's better fitted for me who doesn't have long enough legs. Just see how the jeans fit my legs snugly and somehow the cut lengthens my legs. And if you realised, the length is just nice for me (in terms of Asian height). Last but not least, LOVE that it's neon in colour – one of my favourite shades this year. The second pair in the 4 pairs that I adore.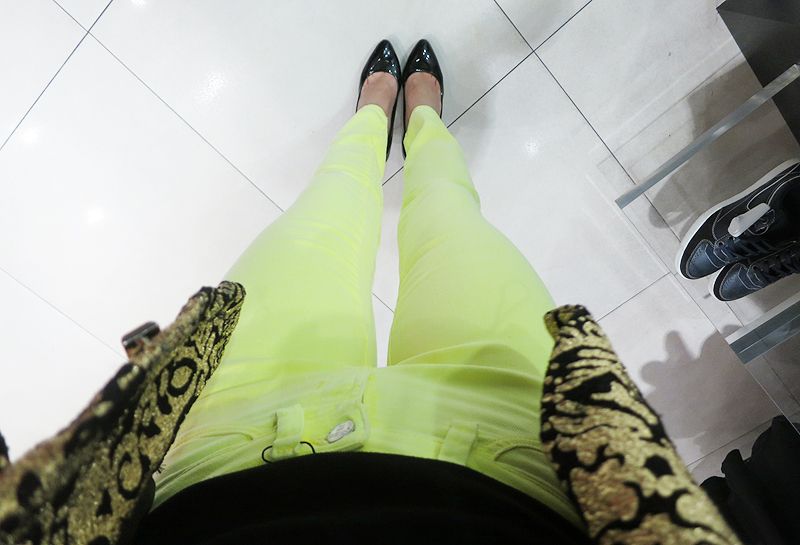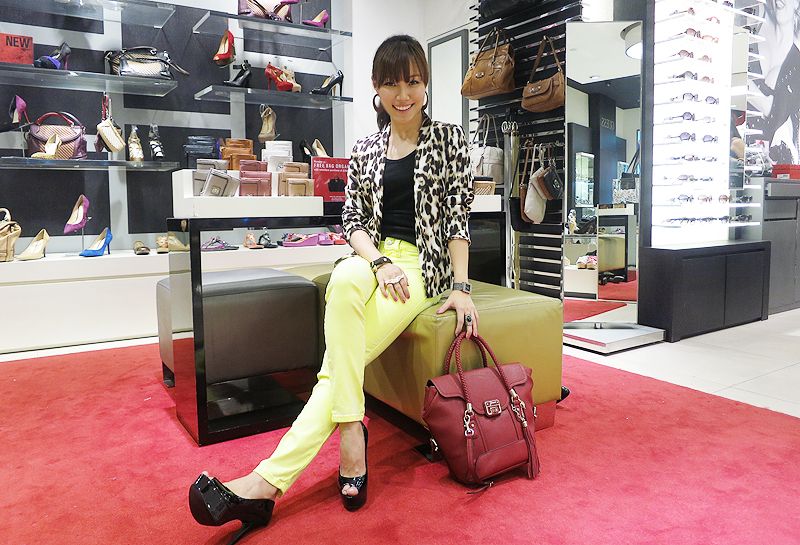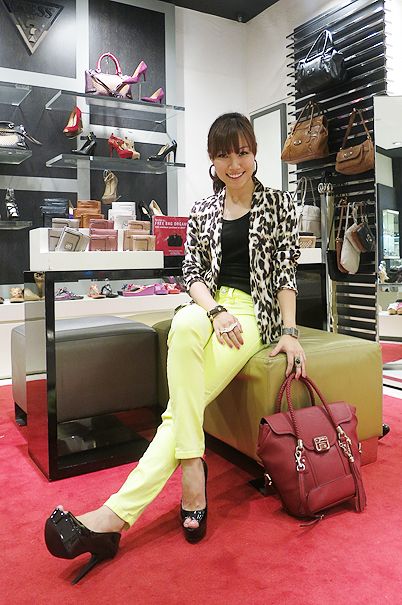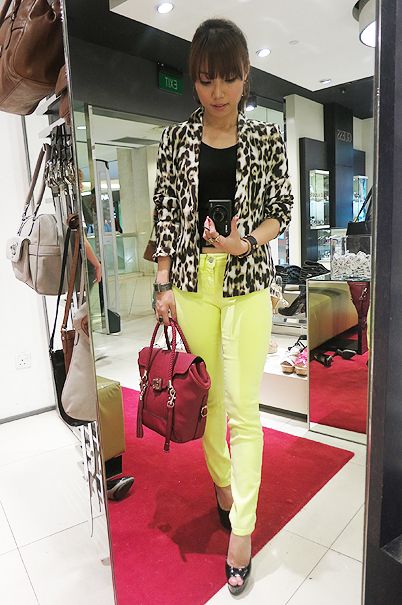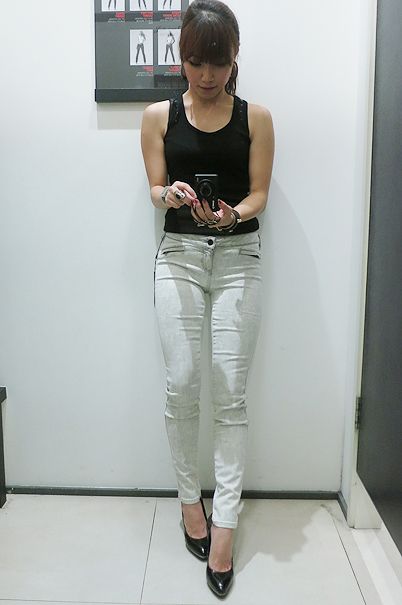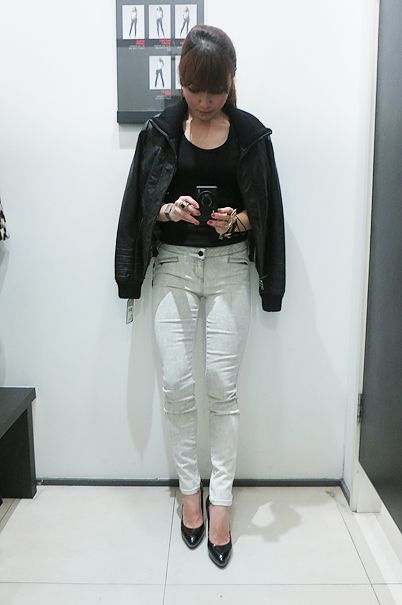 FIFTH PAIR
- This was the third pair in the 4 pairs of jeans. And I love the washed out denim shade and the length is perfect!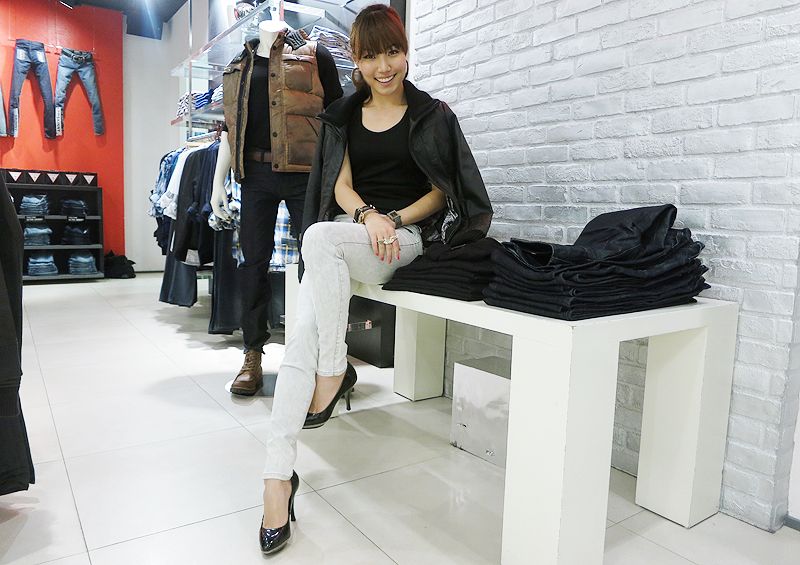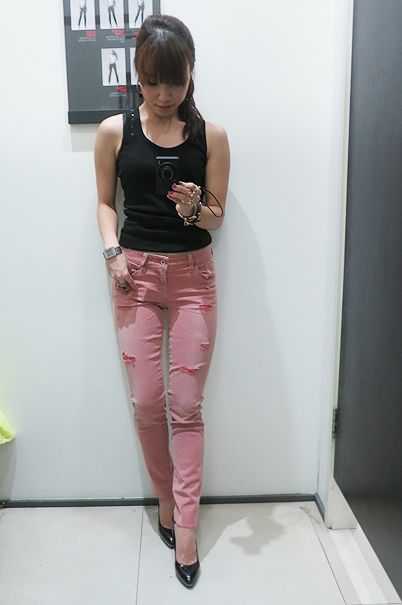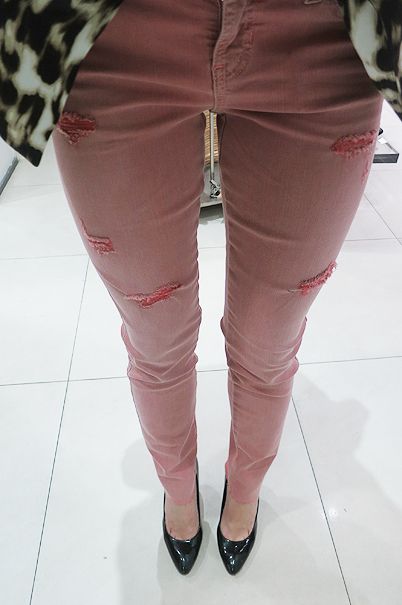 SIXTH PAIR
- This was the last pair in the 4 pairs. Completely in love with this pair, the shredded design, and bottom shredded cut, the fit, the mid-rise, the colour. All these sum up to a unique pair of jeans for sure. Matched it up with some outer jackets from GUESS too, love how versatile it is.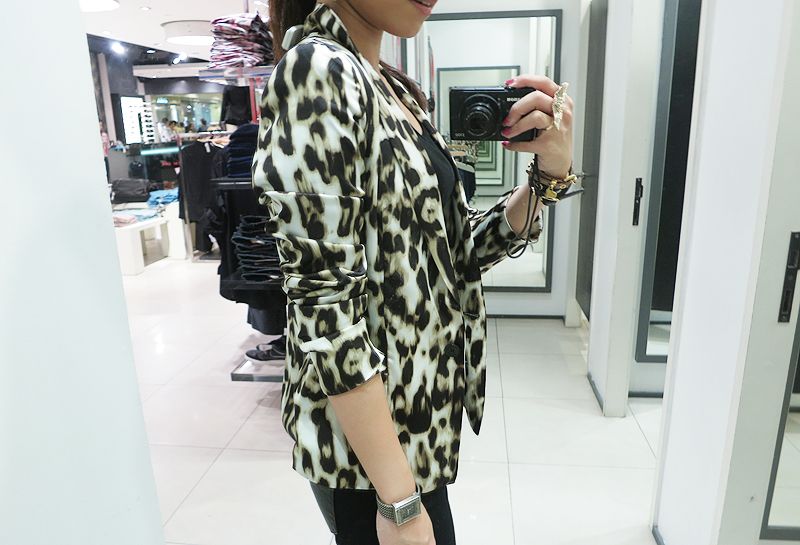 Supposed to concentrate on Jeans but i got carried away, and look at how gorgeous this leopard prints jacket is. <3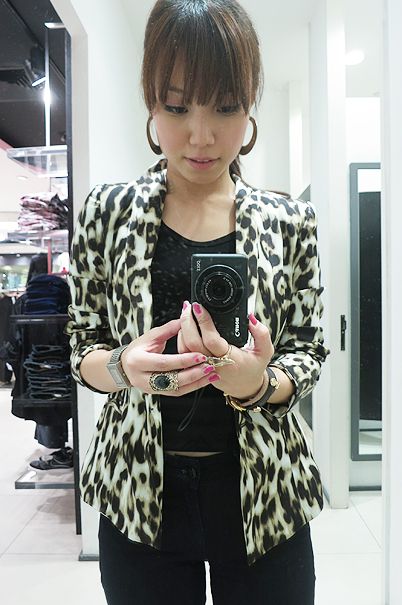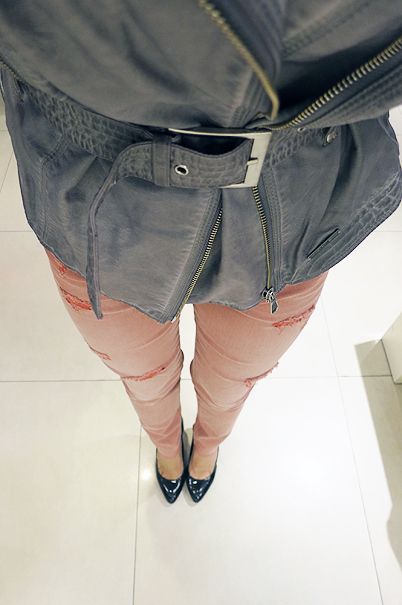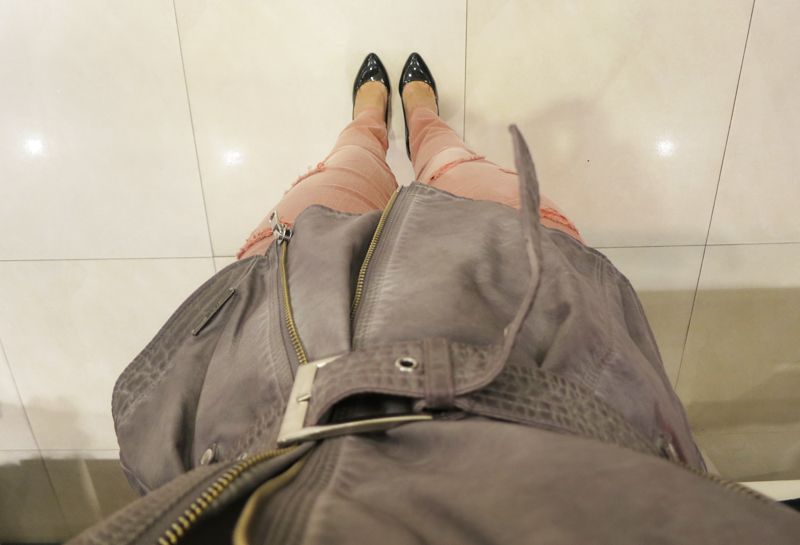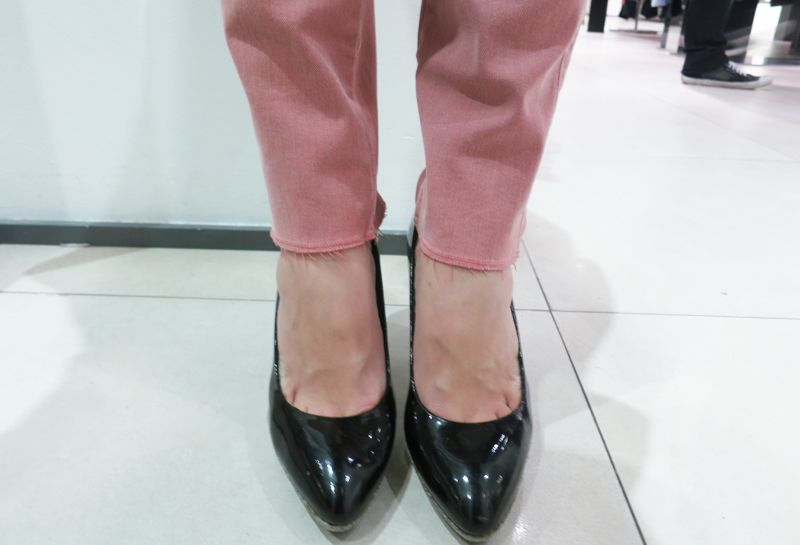 Love the shredded ends too.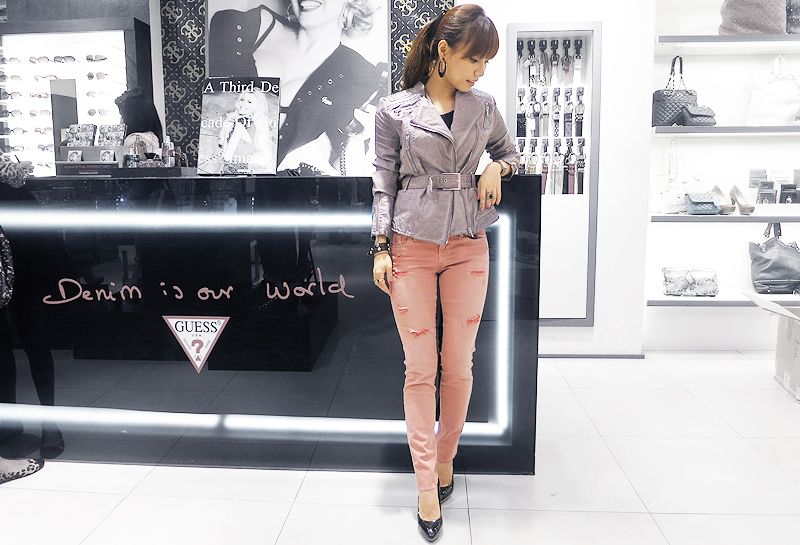 Guess which pair I confirmed and brought home in the end? Heh.
.
.
.
.
.
.
.
.
.
.
.
.
.
.
.
.
.
.
.
.
.
.
.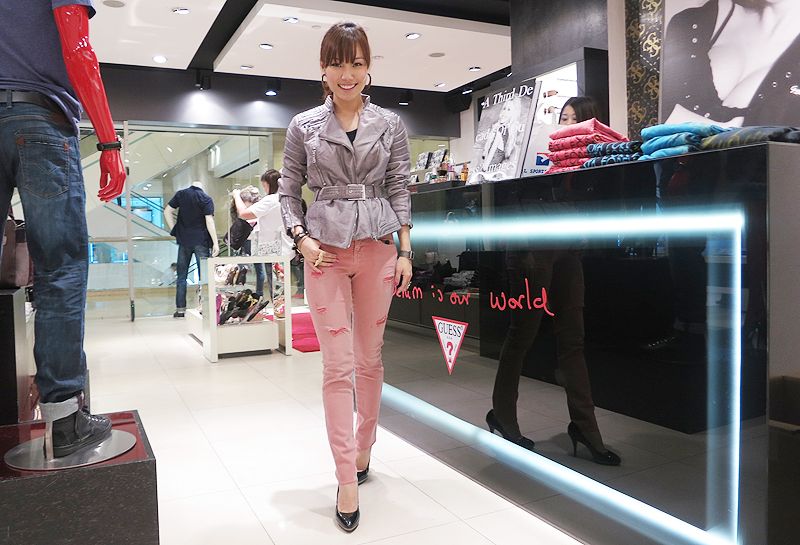 This dusty pink pair. Hee ;)
Zianna saw me in this pair of jeans that day and went on to try it as well, she loved it!
***
Now something special for you guys, courtesy of GUESS.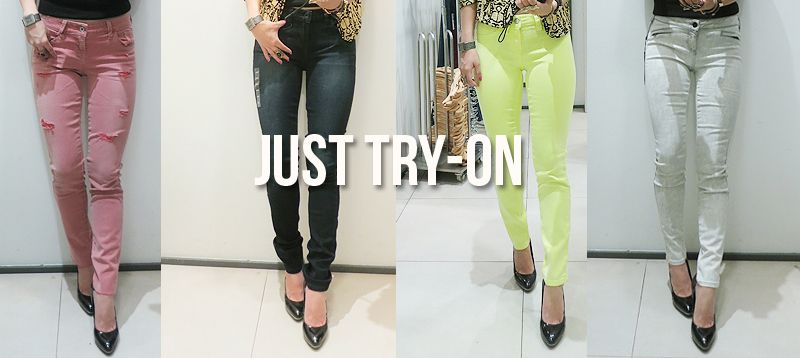 Just Try-on ANY pair of jeans in ANY Guess boutique and enjoy S$20 off your denim purchase. Promotion ends 30th September,so don't miss it!
Shall end of with two dear folks who were with me during the GUESS fitting.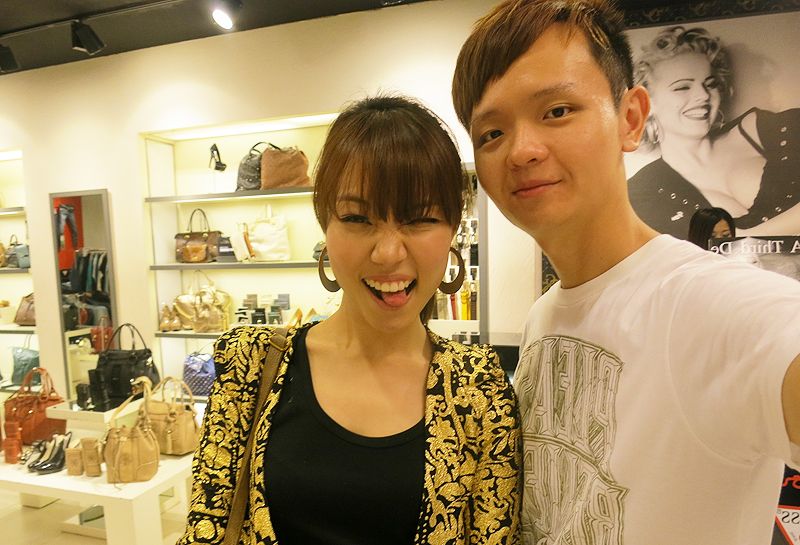 Thanks Braddy for helping me to capture those shots ;)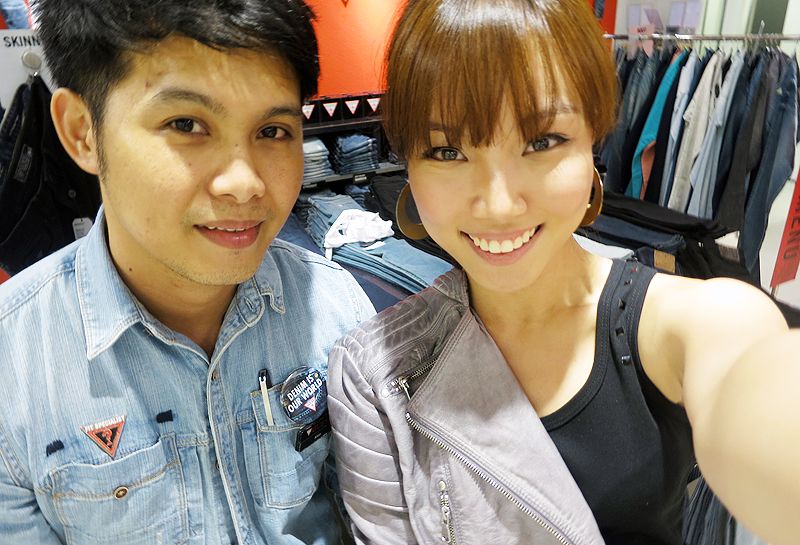 And the Denim specialist who patiently helped me the whole evening. ;)
Thank you guys!
***
Lastly, it's also GUESS'S 30TH BIRTHDAY!
They are going to celebrate their anniversary with a bang and it's a strictly-by-invite-only event. You can get the chance to be a part of this and I promise you that the night would be of great fun and surprises! I only have 3 pairs of tickets to give out so do refer to the below for more details.
TO WIN
Send in photos featuring yourself trying on GUESS denim and upload them in a tweet with hashtag #GuessJeansParty. Best photos will win the invites! (Please note that only public tweets can be seen. Tweets by locked accounts cannot be viewed)
Winners will be notified by 1st October.