5
October
TWENTYELEVEN
0310 HRS
This entire entry is dedicated to my dear bff Haslinda and her hubby, Yi Xiong for them to keep (they don't have a blog you see),
and as well as to all of us "crew members" behind the scenes on the happiest day of their lives.
After all these years of growing up together- mugging for exams tog, countless of meetups, travelling overseas, gamble together,
going through happy and tough times in relationships (not their relationship), talking about studies, jobs, future..
I'm still feel very amazed and surreal that my two dear friends have officially tied the knot on 25th September 2011, it was a Sunday.
And with my first girlfriend entering a new phase of life,
suddenly it feels like growing up is moving at an extremely fast pace..
and career will be one of the most important things you would think of before you get married, followed by kids. ( well, career has always been impt since you started studying)
Wouldn't say its bad, because you will just realize again,
if you want to lead a happy and blissful life like them, you gotta start thinking of what you want in life if you haven.
Afterall, we might not know what we like, but we know what we don't like.
Nuff said, before you decide to click away and stop reading this entry which i painstakingly put together all the gazilion amount of photos,
a video even, rearranging them and now writing. heh
*
It was my second time being a bridesmaid, and this time, we all were very involved in her entire planning together,
glad to be because this is definitely something i want to do for my beloved girlfriend (and for other girlfriends, when yours to come!) to hopefully get the dream wedding she wants.
No words can describe how heartwarming it is to see my girlfriend walking down the aisle with her husband on the actual day,
that's when you know everything is really worth it. :)
RISE AND SHINE!
The four bridesmaids, Kaimin, leney, myself and Apple got up to reach linny's place at 4.30AM in the morning in due for preparations on the actual day.
And we brought all our bridesmaids dresses to prepare at her house, and before that, thanks to leney,
she bought the ingredients (for gatecrashing) the day before and we gotta start making our special recipes out of them for yx who will be coming in a couple of hours.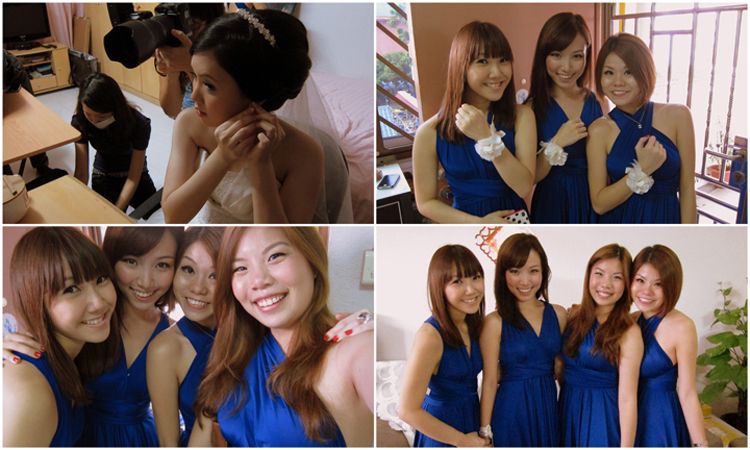 Haslinda looks even more beautiful that day, and it true that they say,
the bride is definitely the prettiest on the wedding day.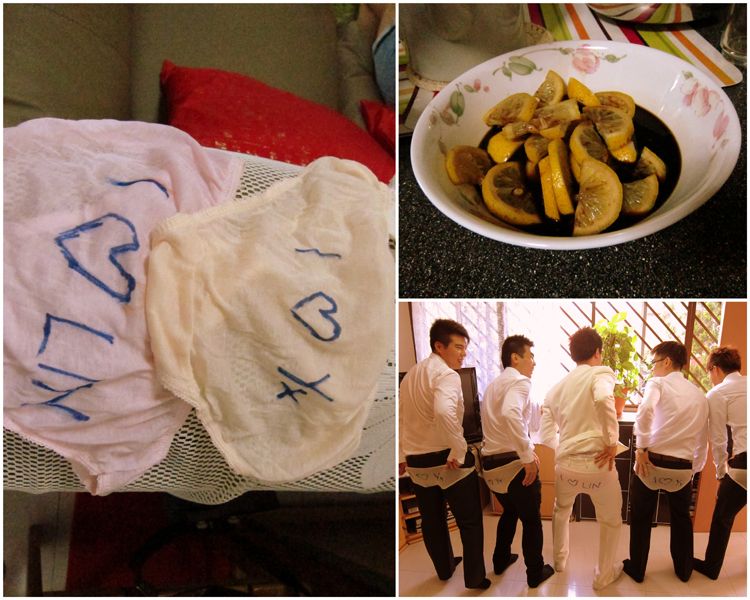 YX arrived at about 7.15AM, and we told them to stand downstairs before moving up first.
We made them shouted lovely dovely quotes to Linny right in front of the coffee shop!! teehee :p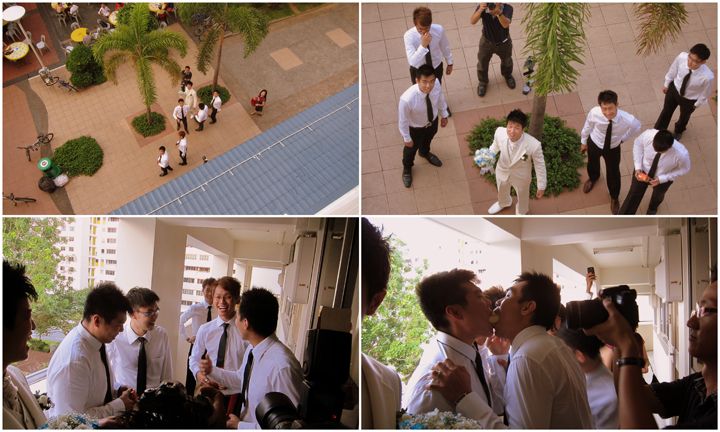 These were the gate crashing games (you can see more in the video later!),
didn't manage to take a lot of pictures cuz we were too busy but here's a breakdown of what we did –
We went by SUAN, TIAN, KU, LA (Sour, sweet, bitter, spicy) and other random games:
1. (SOUR) We had lemons soaked in vinegar for them to eat, making sure all the pulps were eaten down as well.
2. (SWEET) Gummy bears sweet to be put on the bestmen's body parts (eg. face, neck) and YX (yixiong) had to use his mouth to eat them without touching
3. (BITTER) Blended pure coffee powder + wheat (wanted bittergourd but didnt manage to get it) + celery as juice for them to drink within 30 seconds with a long straw (3 mcdonalds straws attached into one),
if not forfeit, and drink another cup
4. (SPICY) Buns with blajiam (chilli) and a pure long chilli as toppings to eat it mouth to mouth (pair by pair) without touching.
5. We had him to find the key to lin's room which was inside a pail of very ICED water using his feet only (they cheated!!)
6. Wearing disposable undies that wrote "I love lin" and do a dance.
7. Leney made an amazing ice cube that has a cherry tomato in the middle, he and bestmen had to lick it all up and get the tomato before proceeding to the next stage.


Didn't manage to play this game cuz we were running outta time,
had to do it after the tea ceremony ended to not waste leney's effort in freezing the ice up together. hahahah.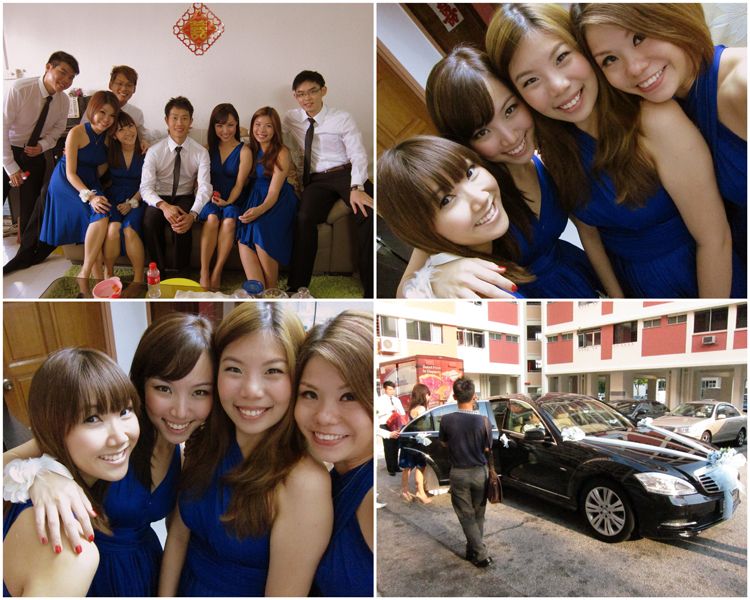 Moved on for tea ceremony at the groom's place, but before that we went outdoor to somewhere nice for a group shot.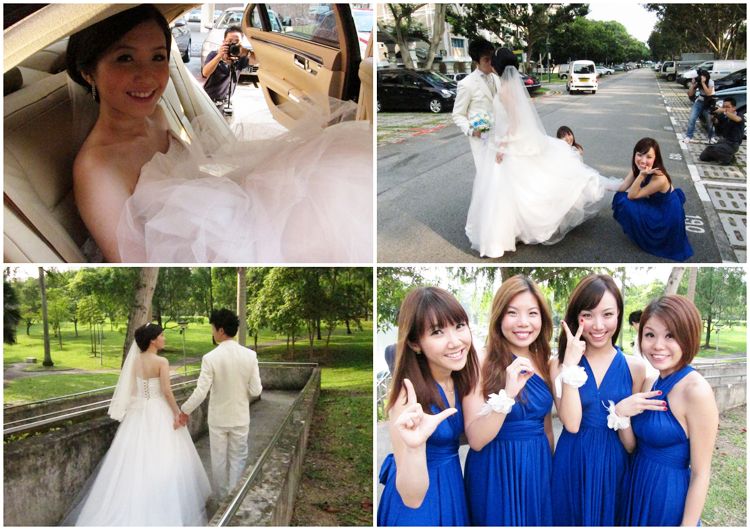 hahaha the photographer wanted to take some half shorts and we had to squat down to prevent ourselves from being inside the pics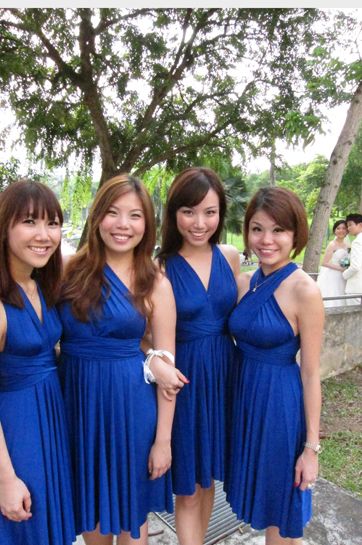 our bridesmaids dresses from Love,bonito :D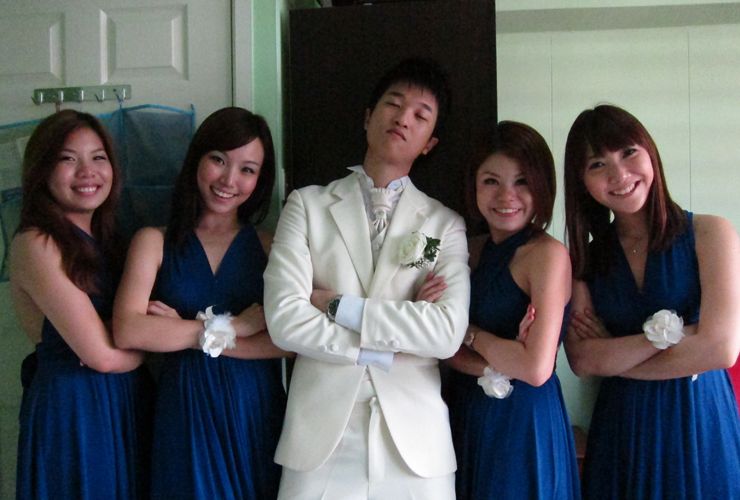 Headed to YX's place after phototaking and linny had to change to KUA.
My mom saw the pictures and asked me if YX is a cantonese.
I said i don't think so, and she told me only cantonese dilect group has to wear KUA for wedding customs.
Apparently YX is teochew, but linny mentioned that the wedding package includes KUA and YX's mom wld like her to wear, so might as well take it! so cute.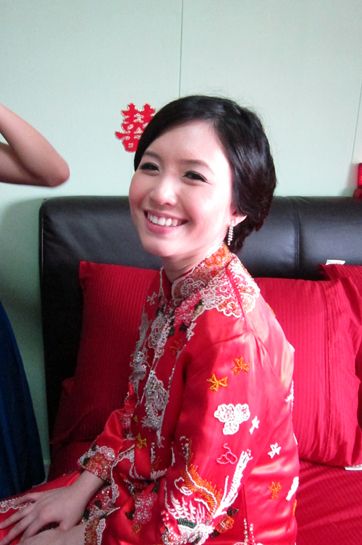 Pwetty in her KUA!! :)
After tea ceremony at linny's place as well, we headed to check into M Hotel @ Tanjong Pagar to rest and prepare for the dinner plans!
Awesome to know that linny got us bridesmaids a room and the bestmen another room, apart from the suite that YX and herself would be staying.
We girls thought we would wanna look glam-up for linny's wedding as well,
and I got to know a new make up artist recently – her name is Candy and she has been experienced in this field for quite a no of years.
She was really detailed and patience with my makeover, which includes hair- a gorgeous tied up bun as well and thanks to her, I got a beautiful makeover in the very afternoon.
Thank you Candy! :D


My makeover- told her i wanted korean make up! teehee smokey eyes. love the lashes she put on me, and more pinkish nude lips.
Not just myself,
but Candy gave my girlfriends makeovers too!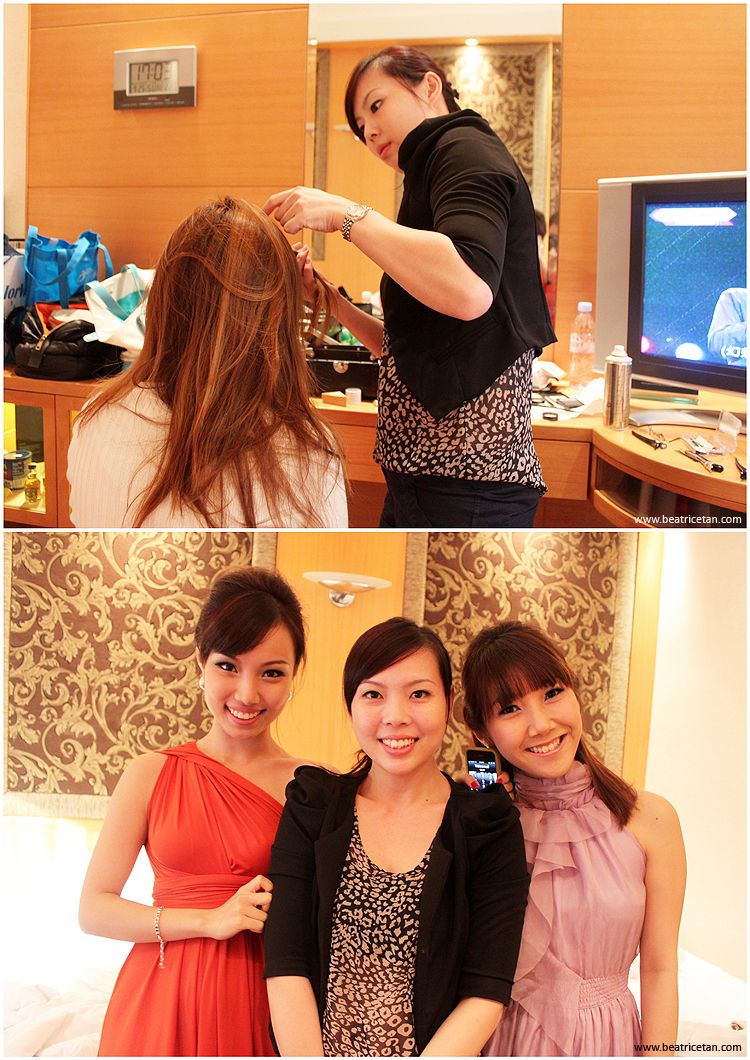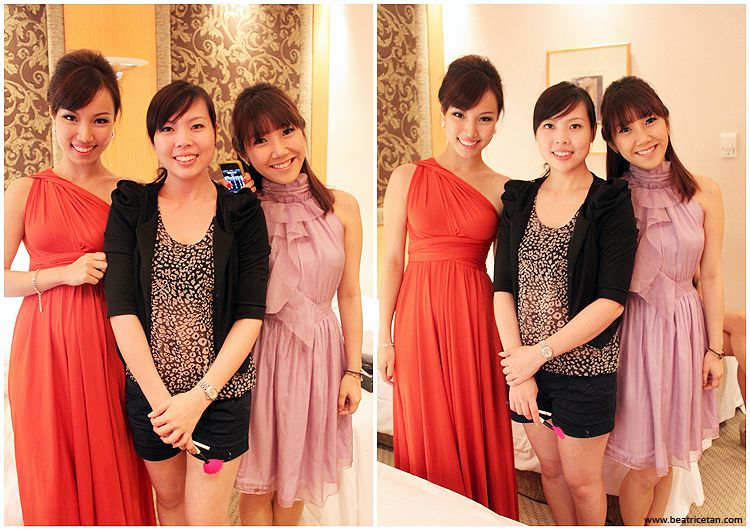 * Changed into our dinner outfits and am wearing the convertible maxi from Mylittlebow. Love how elegant looking it is!
Here's Candy for you, and two of us, kaimin and myself with our make up cum hair all done!
She does makeup and hair for weddings, ROMs, and also events like dinner and shoots,
if you are interested, you can hop over to see her portfolio and contact details HERE. :)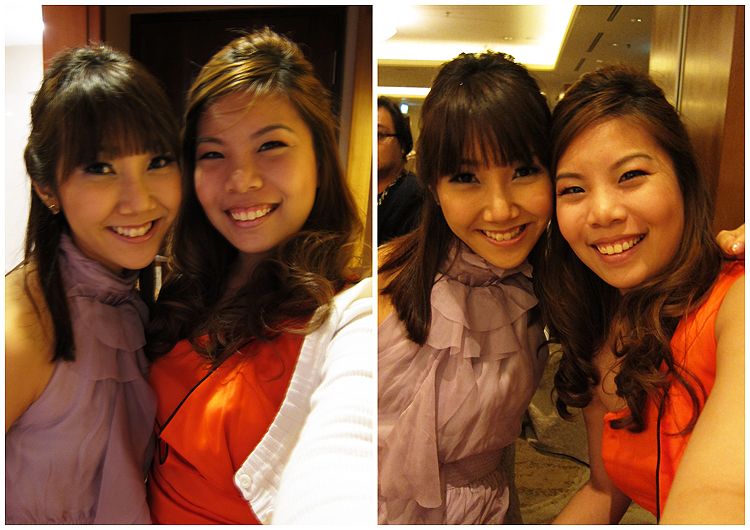 Kaimin and leney after their makeover, I love their hairstyles!

And apple has a very different cum loud hairstyle that day as well, courtesy of Candy too. ;)

we all liked Selene's hair, if only i got more volumized hair.

The receptionists!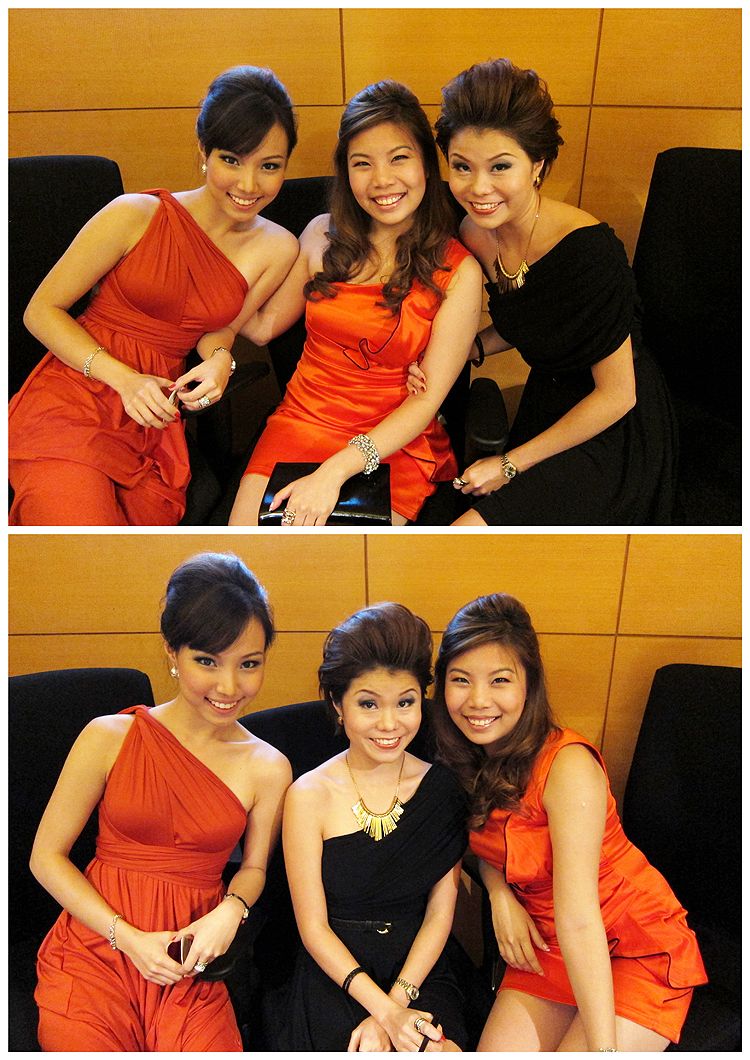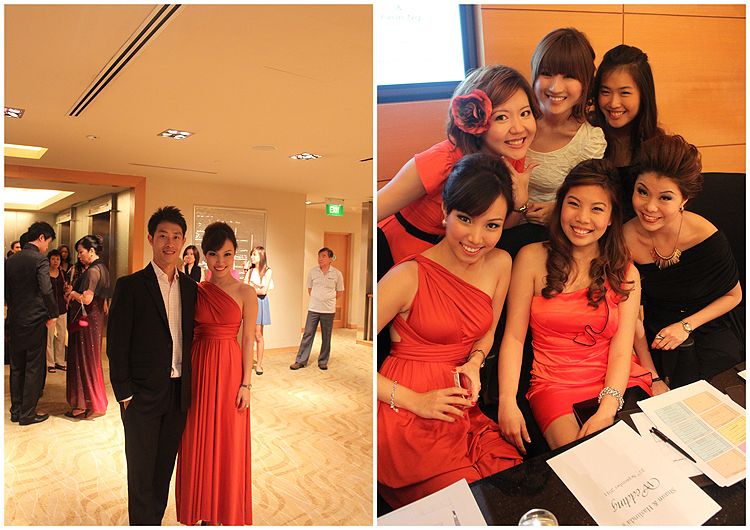 Orange/coral is the new colour! teehee.
Finally it was time to head into the ballroom..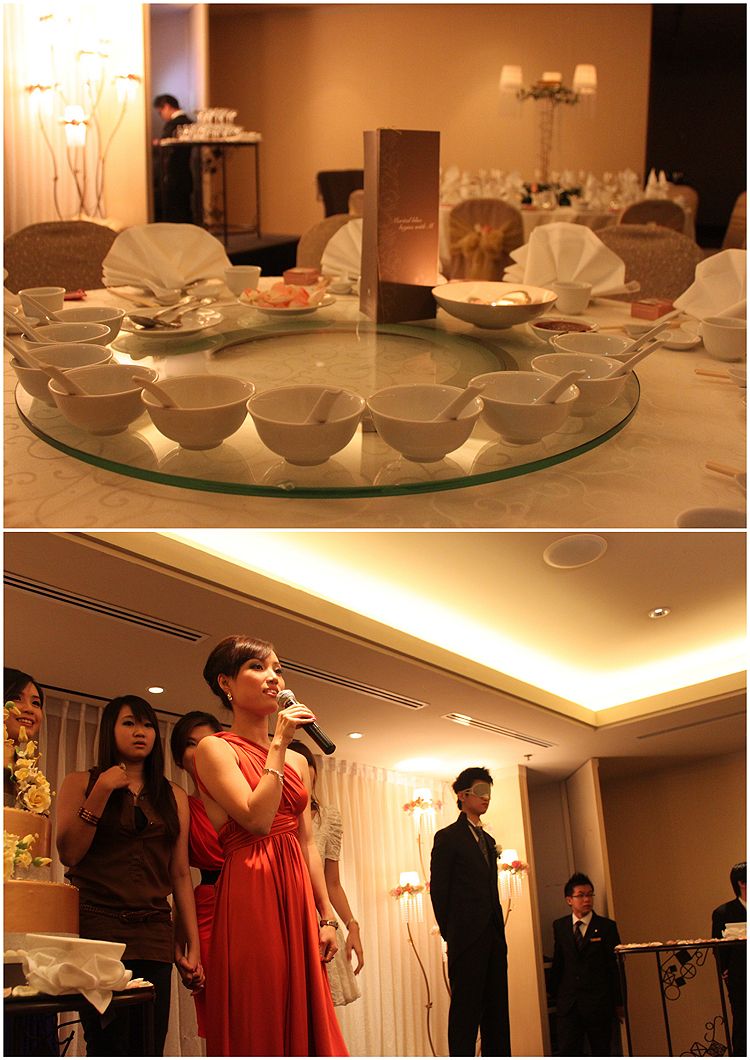 Yes, vincent and I were both the emcees for the night!
Did i tell you vincent won the 100.3 FM Mandarin DJ contest recently?! Awesome!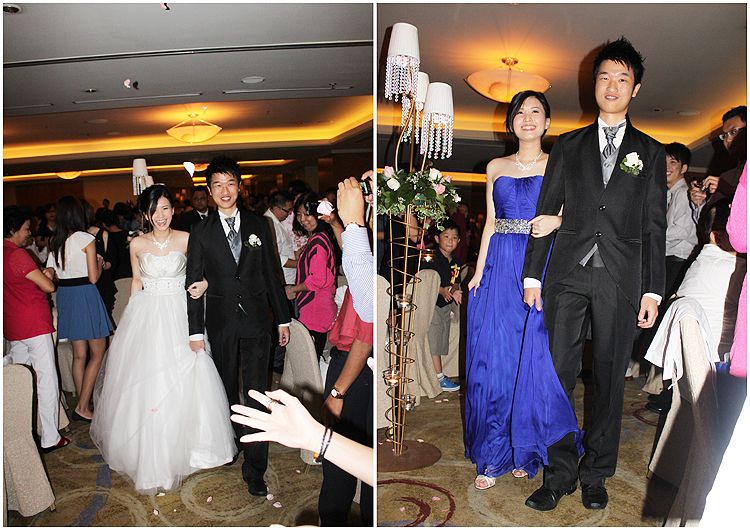 Our beautiful bride and handsome groom! :)))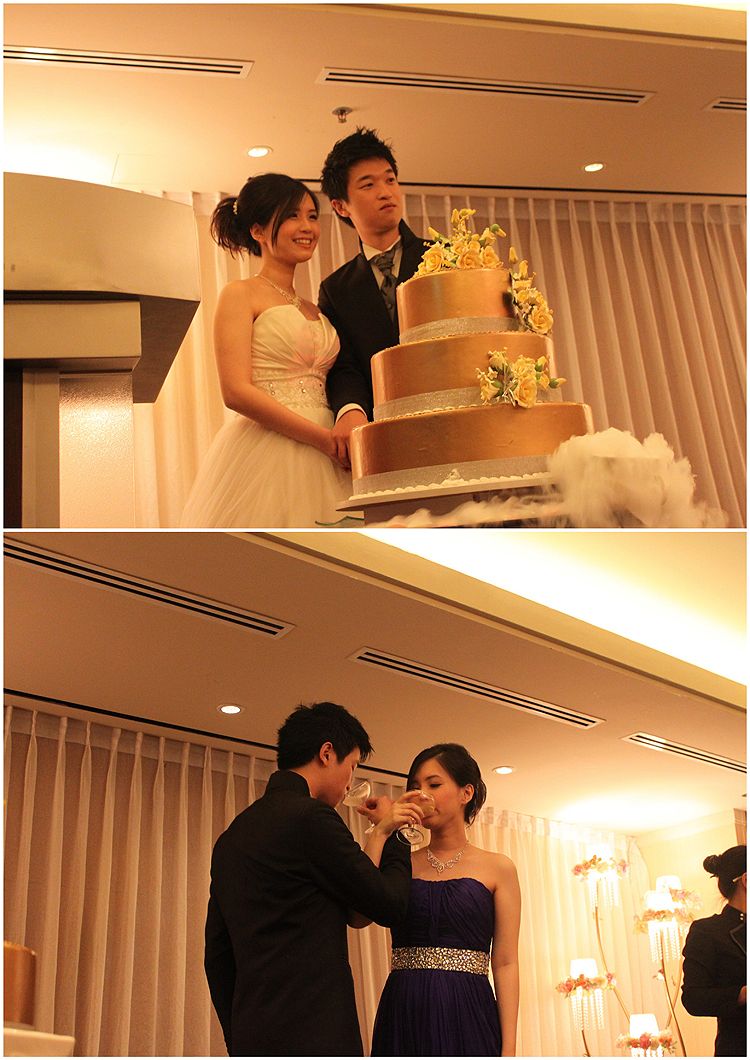 Love linny's gowns!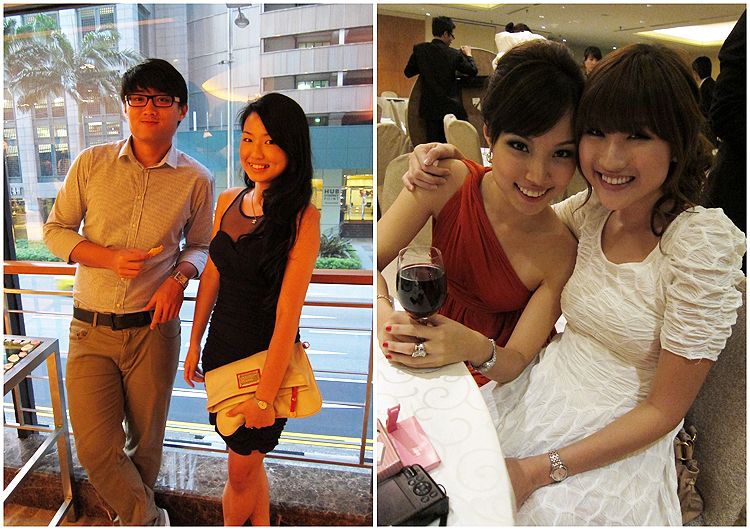 Pretty girls – Wanqian and Caleen.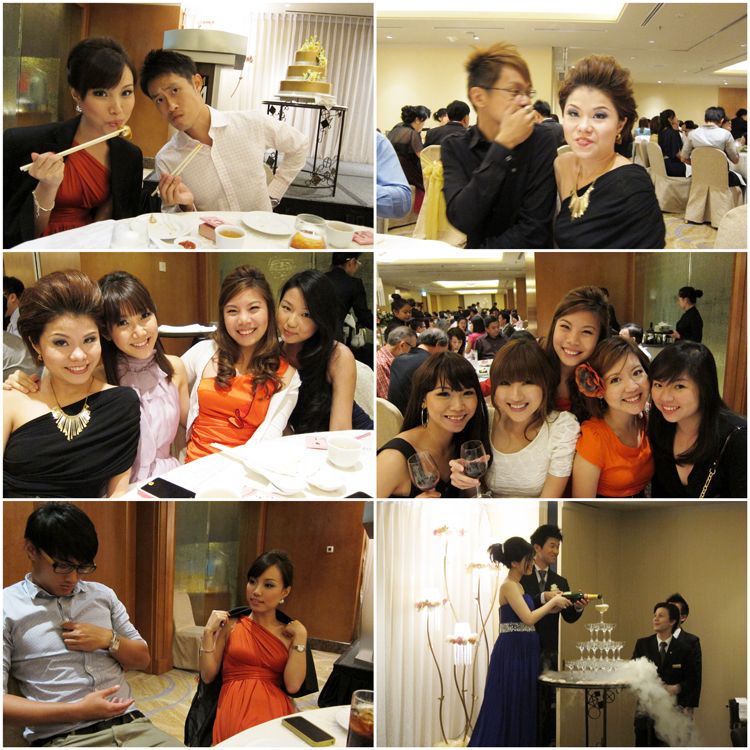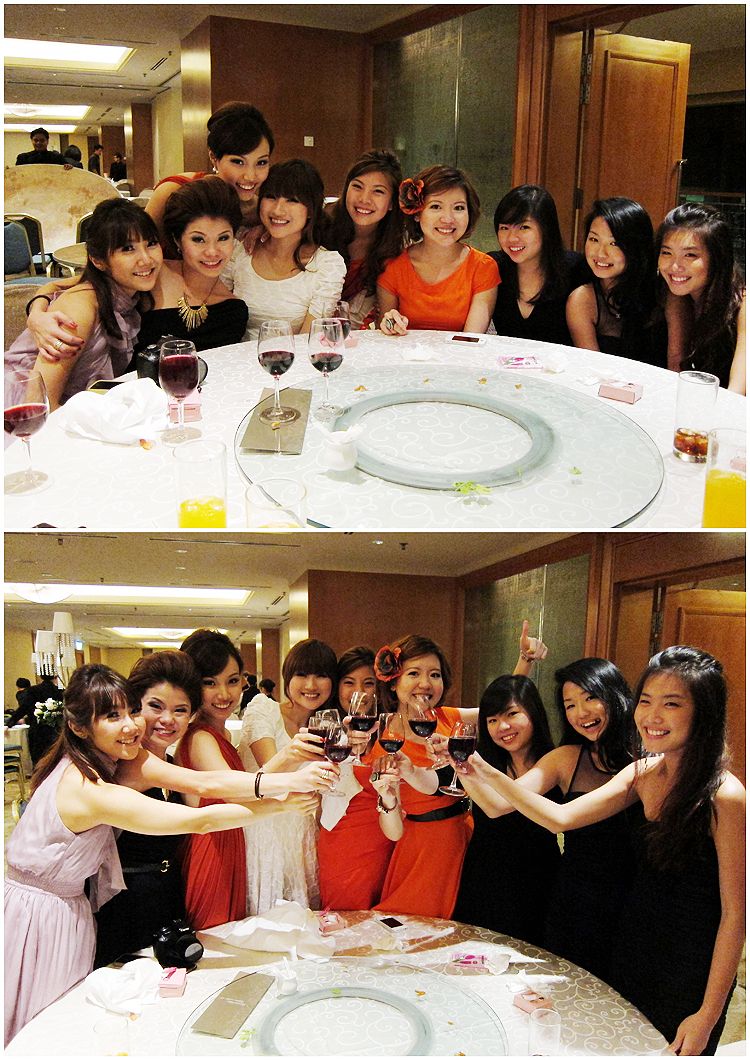 The lovely babes!! :)

And the ever so beautiful linny <3
Here's a video that the videographer she employed did,
check out what we did for the entire day eg. the gatecrashing teehee.
Haslinda's big day- 25th september 2011 from beatricetan on Vimeo.