2
August
TWENTYTEN
0808 HRS
SPONSORED POST


Can you comprehend this?
- Sitting in the car, increasing the volume when you heard your favourite song on the radio.
- Heard your favourite song/ or a nice new song on the radio, taking out your iphone, finding 'Shazam' and search for the song's name.
- Went home – still having the favourite song you heard on the radio just now, on the computer, youtube the song, (having trouble to find the mp3/official mtv version), set it on replay mode for the night.
- Googling and finding the mp3 version of your old/new found favourite song to download. But realized after that you download the unfinished trial version or the unclear 'recorded' version.
- Going on online platforms to try finding your favourite song, spent at least 15 minutes doing so, realized you have to pay for the full mp3 version of the song.
- Asking your good friend if she/he has the songs you want, and asking is she/he could send you via email tonight or one day, you will bring your portable harddisc/thumbdrive to her/his house to get the songs.
So specially to all iphone and Android phone users, I recently got to know of a way to make all the above MUCH easier and here it is.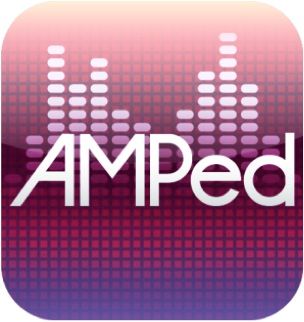 I was recommended by Selene previously to download this application on iphone, mentioning that it has a massive range of songs to download, all in perfect MP3 clear quality. I downloaded (without much persuasion in fact, because I was so excited when I got hold of iphone at first and went downloading too many apps) but went on exploring only recently after I was reminded and *bamp*, why did I only explore it only now?!
Just check out the platform, I love how interactive it is!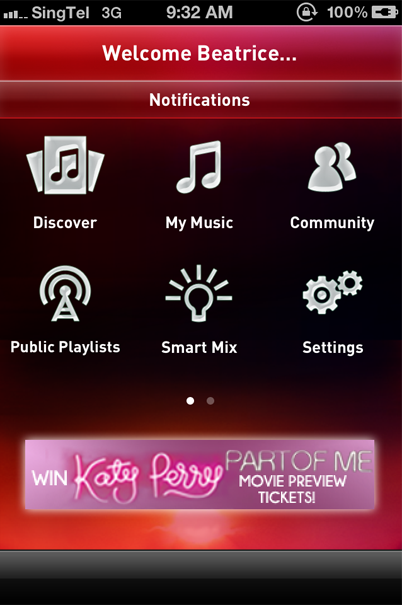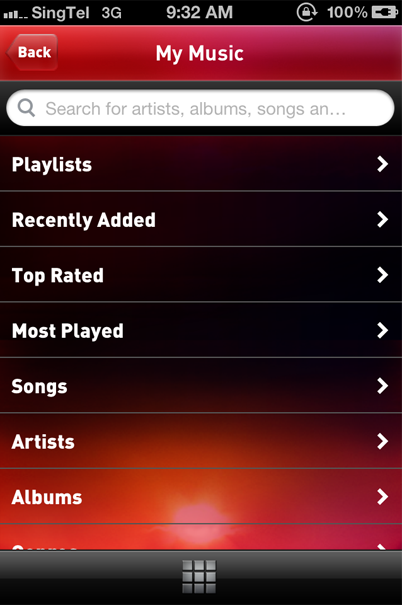 Left: Upon signing in, you get welcome to a menu page to manage your account
Right: Tap into 'My Music' and you get access to your downloaded songs in less than 3 seconds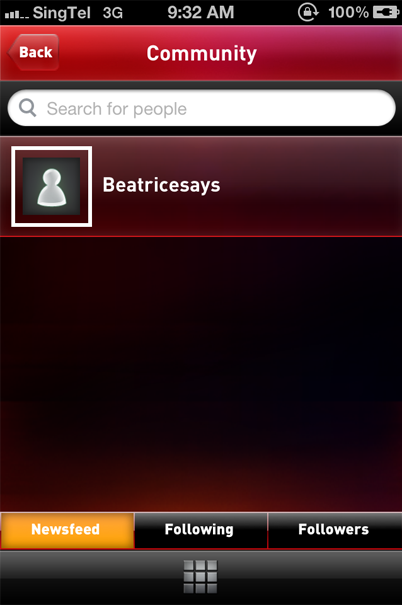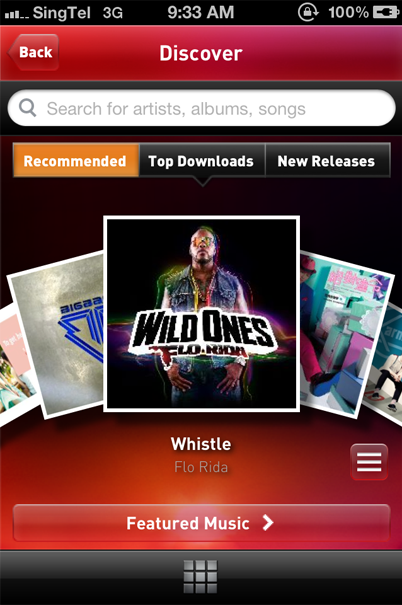 Left: There's a 'Community' function, where you manage your own page. This is where you get more interactive with your friends, or even virtual friends. Share your favourite songs, your recent favourite playlist etc. Instead of asking your friends to send you via email etc, you can simply share with them in a fuss-free way!
Right: Need to find new songs to do your (wedding) videos? Or simply just keeping in touch with the New Releases, there you go.
There are just so many things to explore in the AMPed App, but in summary, I have list down my five favourite aspects of SingTel AMPed App:
1. SMOOTH streaming of songs. No need to wait by the phone, looking at the streaming percentage before it plays. This is completely instant. Also a perfect way to stream new songs first before downloading so as to prevent unwanted songs for being in your playlist.
2.Download of songs has never been this easier. I was really surprised when I found about this, it's simply fuss-free and similarly, instantaneous. Furthermore, multiple playlists can be created especially for different moods/events – Exercising/Gym, going-to-work-or-home, washing-dishes etc. This will be awesome, I tend to like to listen to upbeat songs when I run, if you can't need my suggestion, please follow me! Will be creating one soon in due for my exercise regime ;)
3. Sharing & getting of songs. They have a growing library of 3 million songs!
4. The awesome, clear, official mp3 version of every single song.
5. Definitely their Unique Selling Point here. We get exclusive 'money can't buy experiences' like Lady Gaga Concerts, upcoming Nelly Furtado's Showcase – Yay, I'm going! You can get yours too, read more to find out ;)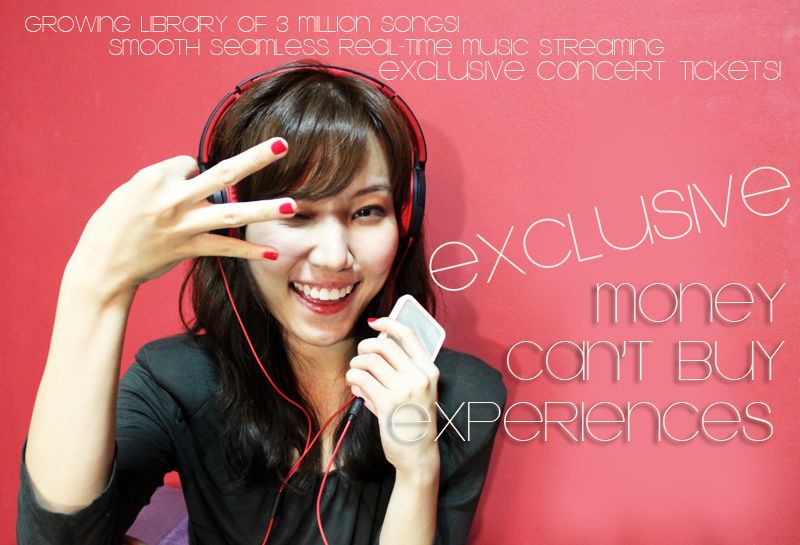 And of course, there's no free lunch in the world, but I do believe that there are good deals in the world, hee ;)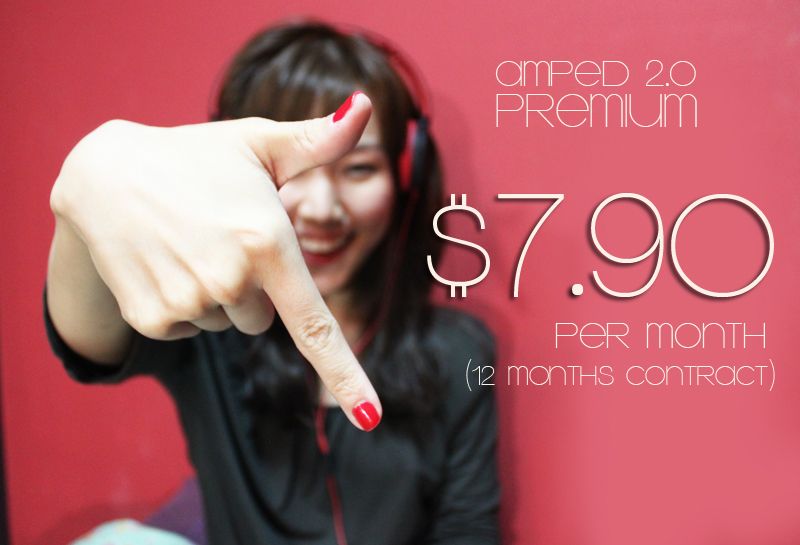 SingTel AMPed is priced at just $7.90 per month (on a 12-month contract) and you get absolutely awesome music benefits. One keyword you should know – Unlimited.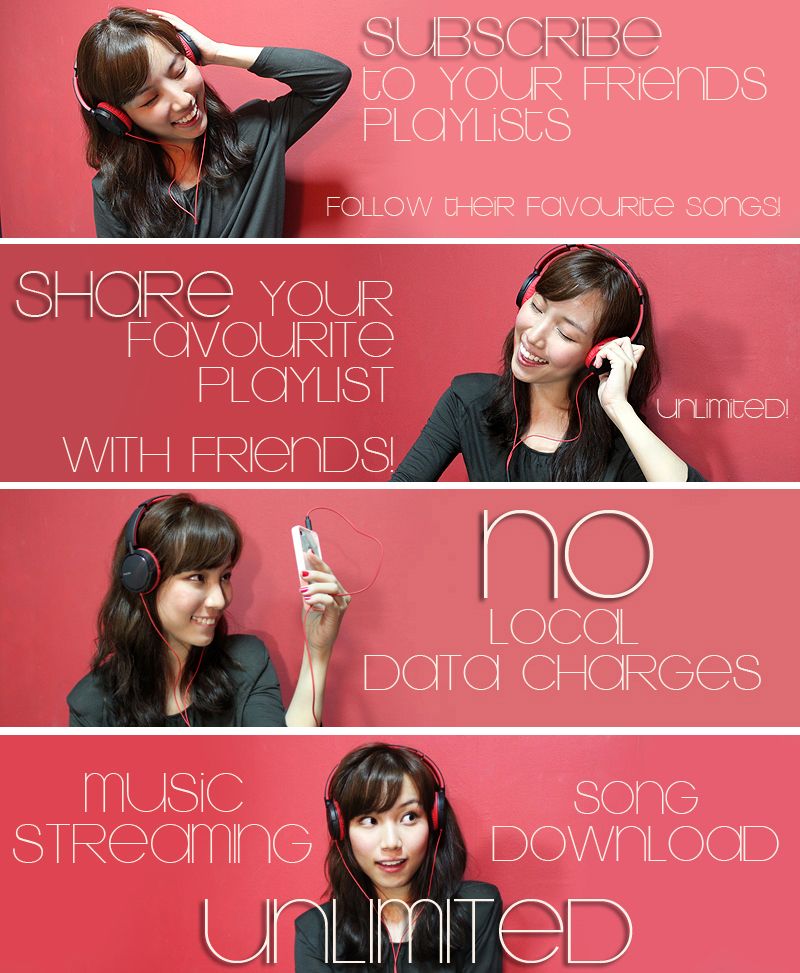 With $7.90 per month, you can all of the above, and as you can see, we get UNLIMITED real-time music streaming and song download with no additional data charges incurred. Go crazy as you wish! I always tend to go crazy downloading songs and thankfully AMPed has a clear platform to sort out my songs, nice.
But if you aren't too sure that you will need it monthly, you can subscribe on a no contract monthly basis for just $9.90/month , and access to the same benefits as you've seen above. But I personally think it's more worth it to get the contract and if you realized, the total amount of $7.90 x 12 months cost simply less than a concert ticket. And for today's special treat, for those who signed up for a 12-months contract ($7.90) per month, you get to enjoy all the above benefits AND you get a guaranteed pair of tickets to Nelly Furtado's Showcase!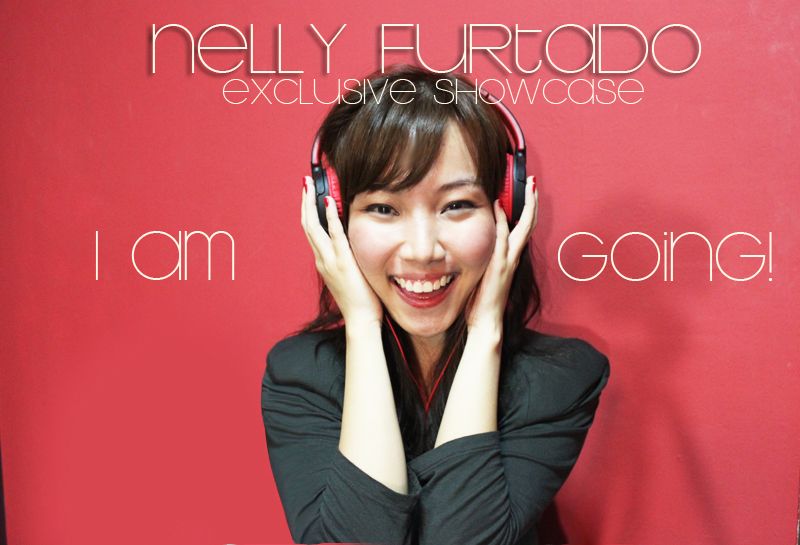 Can't believe it's Nelly Furtado's first time in Singapore, and you can't get these tickets anywhere else (not even sistic) because it's an exclusive SingTel AMPed showcase. Unfortunately, this is the only way you can get Nelly Furtado's Showcase tickets but if you seriously think about it, with the 12 months contract (which is even more affordable than her concert tickets), you get a year of unlimited downloads of songs on top of her showcase tickets. Trust me, it's a guaranteed pair of tickets because I signed up and got a pair myself ;)
But if you ain't too convinced yet or if you ain't a big fan of Nelly Furtado, but you are someone who download songs as frequently as I do, guess what SingTel has specially came up with? With just 10 cents, you get a complimentary 30 days trial of the AMPed 2.0 Premium, which also means you get to experience the entire premium features first before deciding. The only pity thing here is that there won't be Nelly Furtado's Showcase tickets to come along with this.
SingTel does have another package for AMPed, but it's the AMPed 2.0 LITE version instead. It has the above benefits except for two things:
1. Share/subscribe to only 3 playlist per month
2. Not unlimited. Limit to just 20 songs download though you still can stream unlimited songs.


I personally think there's a big difference in quantity with just a mere $2 decrease in price per month. But the catch is this is without contract, but I still think the $7.90 package is the most worth while.
Anyway, Nelly Furtado's showcase is happening in just 2 weeks time! And the 10cents promotion is ongoing, so if you are interested, you can subscribe by any of the following methods:
1. Visit any SingTel Shop (and you'll get Nelly Furtado's Showcase Tickets on the spot!)
2. Just Scan this QR Code (you'll be able to preview Nelly Furtado's songs and sign up for AMPed Premium contract)



3. Go to www.ampedsoundtrack.com via mobile
4. Dial *247, you will get a text immediately (Please note: This is only for those who have decided to get the 10cents trial)

Hope to see you guys in Nelly Furtado's Showcase! I'm excited about it already, and I'm sure it will be a night of great music and fun. ;)