SPONSORED POST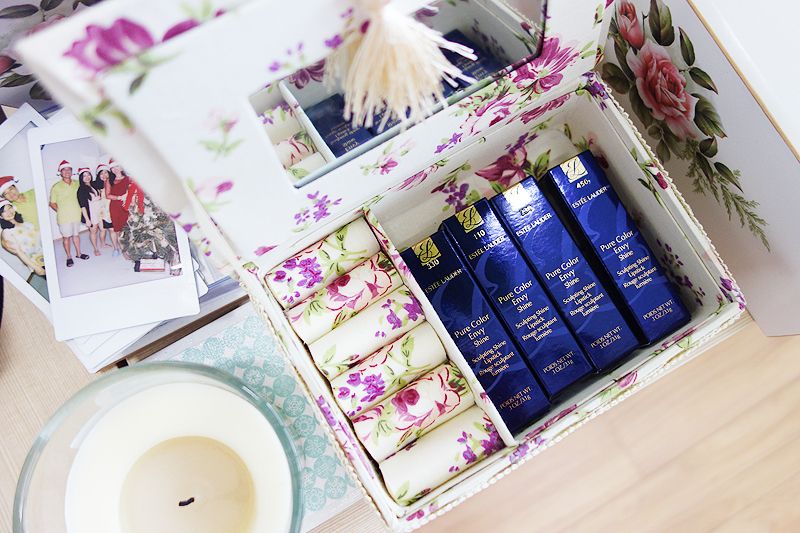 Guess what came in the mail the other day!
I always think events, anniversaries, functions and wedding dinners give us a reason to unbox/open a brand new set of make up, even though we might not have finished using the old sets – at least for me heh. #alwaysfullofexcuses So talking about that, I just attended a dear friend's wedding last week so that was a perfect time for me to test on these new Pure Colour Envy Shine Sculpting Lipsticks from Estée Lauder!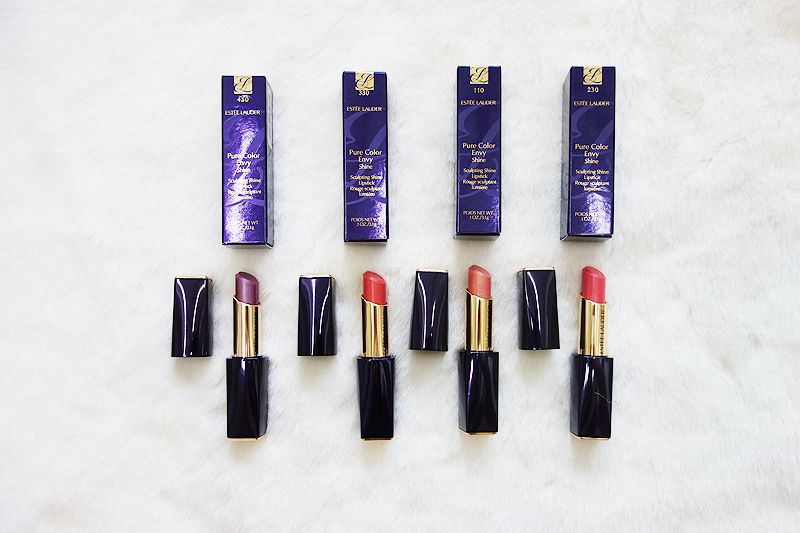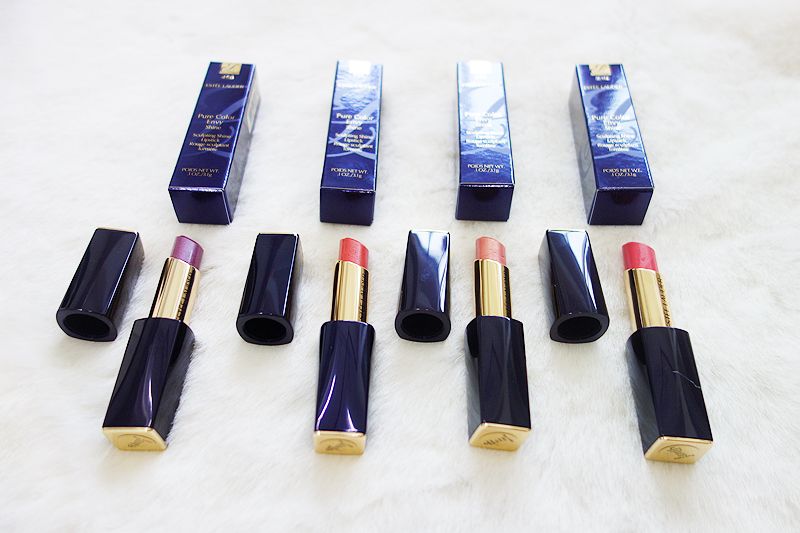 Thanks to the Estée Lauder team, I received four of the 16 cool and lovely shades namely (from left to right) to try:
1. 410 Mischievous Rose
2. 320 Surreal Sun
3. 110 Nude Angel
4. 210 Graceful
Kinda into all kinds of pink hues lately so my favourite shade of the lot would be the one on the extreme right – 210 Graceful. More pictures below to show you the shades!
You are probably thinking what's special about the Pure Colour Envy Shine Sculpting Lipstick, and as the name sounds, the highlights of this range are the shiny texture and that it is able to sculpt your lips naturally, smartly. The shine feature illuminates, sculpts and defines your lips, making them look fuller and at the same time, shiny for long hours. As for the sculpting feature, it introduces an advanced true vision technology which encompasses innovative sculpted pigments to provide colour that is multi-dimensional, giving your lips a sculpted look. With the Shine and Sculpting features, we will be able to have our lips shaped with a uniform layer of brilliant, fresh color with a high-shine finish.
Pure Colour Envy Shine Sculpting Lipstick range is developed with hyaluronic acid which helps to attract, capture and seal in moisture for continuous hydration! The lips will definitely feel softer, smoother, more supple and stay continuously moisturized throughout the day – especially for most of us who spend long hours outside at work.
Apart from the above mentioned, you'll be happy to know that the Pure Color Envy Shine Sculpting Lipsticks are designed specially for Asian women, with colours that are complement most of our skin-tones and enhance/brighten our complexion ;)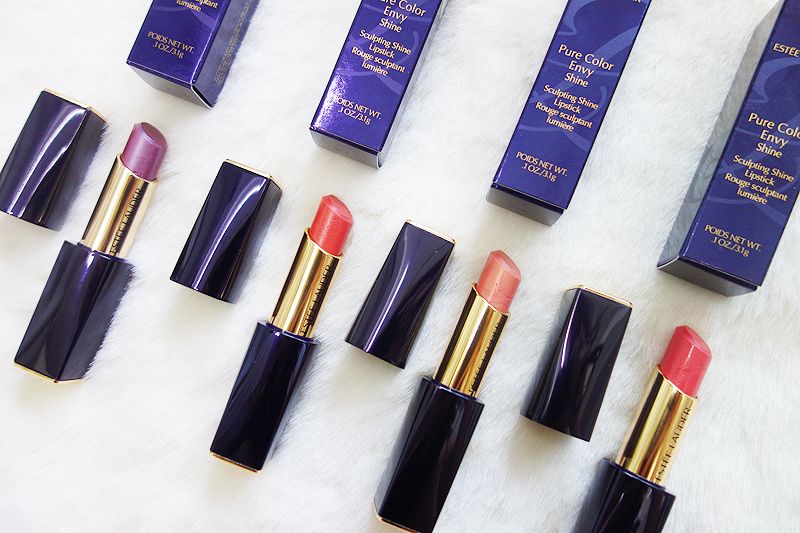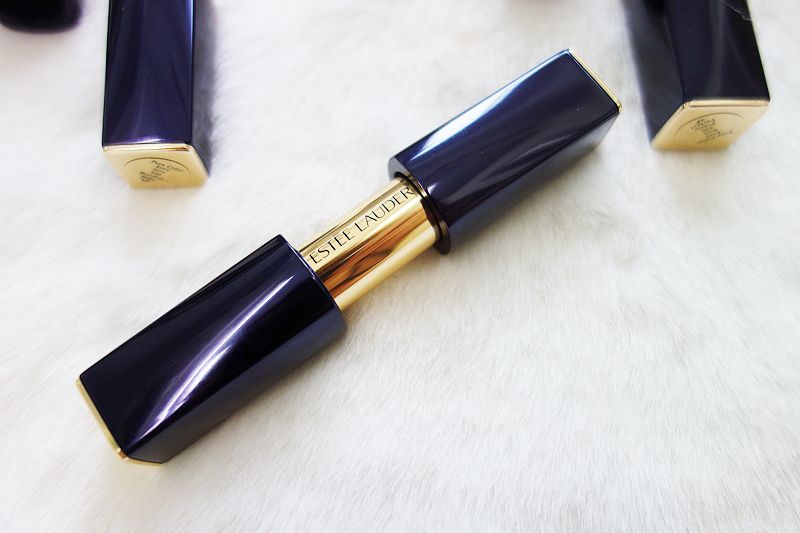 What I like about the Pure Colour Envy Shine Sculpting Lipstick is that it is housed in a new, enviable sleek, slim, luxurious lipstick case and additionally, it has an innovative magnetic closure. The latter helps to close the case perfectly, conveniently and most importantly, securely with a click. My old lippies somehow have caps that fall off easily when put together with my other beauty products and many a time, the lippies stained my entire pouch plus other products and I had a hard time clearing that up!
***
The lipstick shades were all very intense and I tested out three of my favourite shades amongst the four as these three shades are what I would wear on a daily basis!
Prepared for the wedding dinner and have gotten ready with full makeup except lippie. More below – showing you the three shades that I've tested out ;)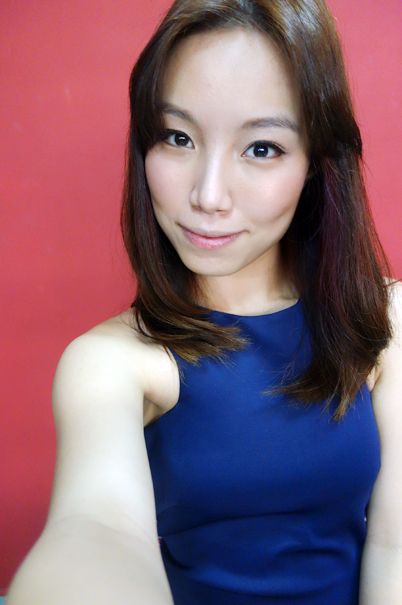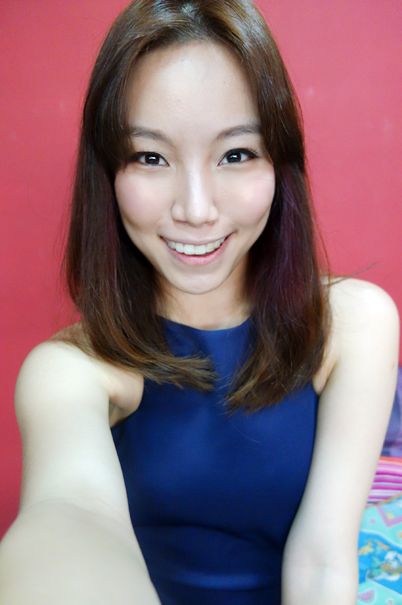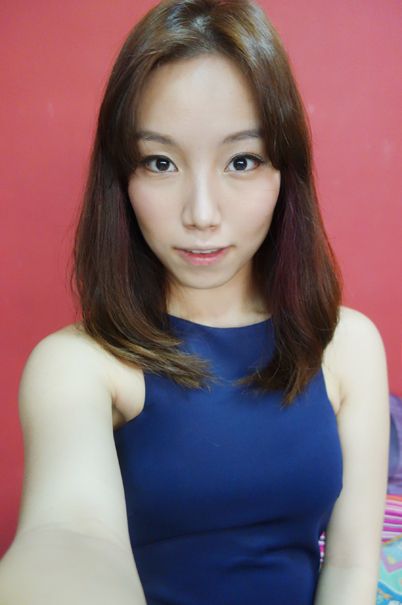 Pure Colour Envy Shine Sculpting Lipstick:
320 Surreal Sun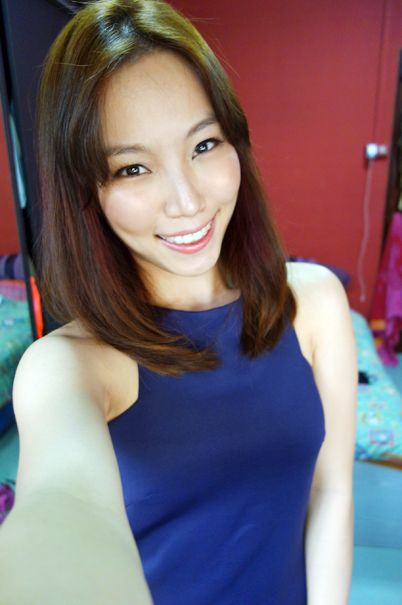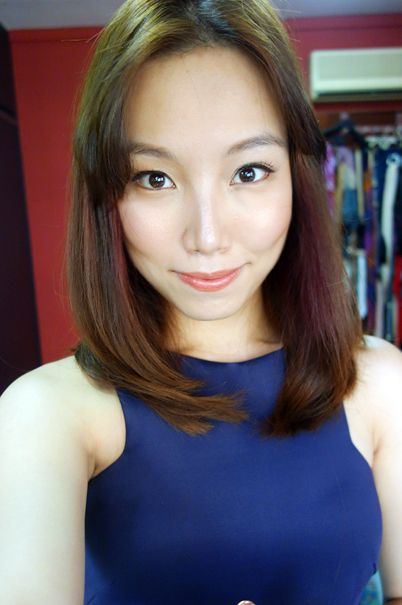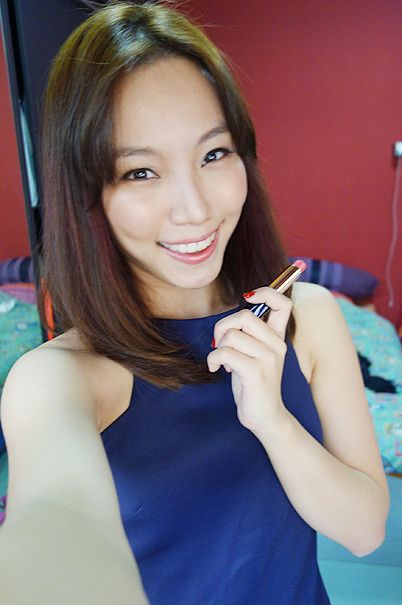 As the name sounds, the sun word says that it has a tinge of orange/coral hue and it sure does! When I was much tanner, I used to enjoy using orangey pink lippie and blusher as they gave the illusion of a tanned, glowing sunkissed skintone. Pink didn't blend in well for my dark skintone back then. Have stopped tanning for years so now I'm slightly fairer and from time to time, I still enjoy using orangey pink hues (but perhaps slightly more towards the pink like this 320 Surreal Sun shade) for make up especially for beach vacations as I think they can still be very helpful to create a sunkissed skintone!
Pure Colour Envy Shine Sculpting Lipstick:
210 Graceful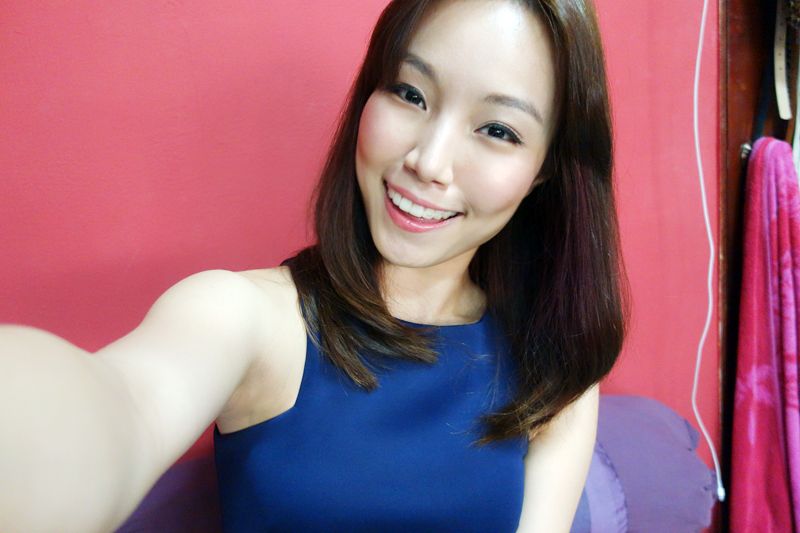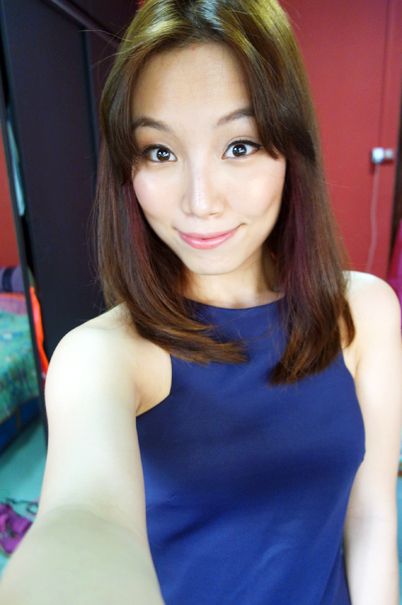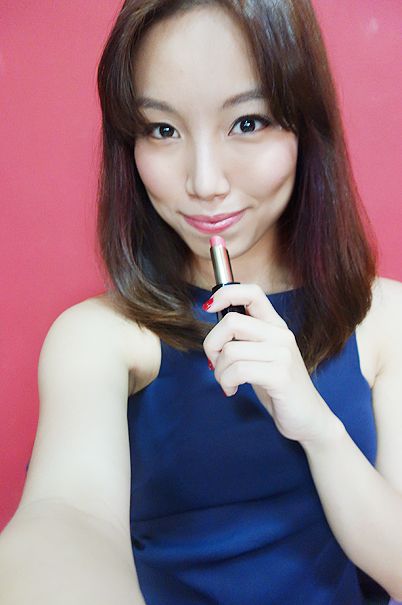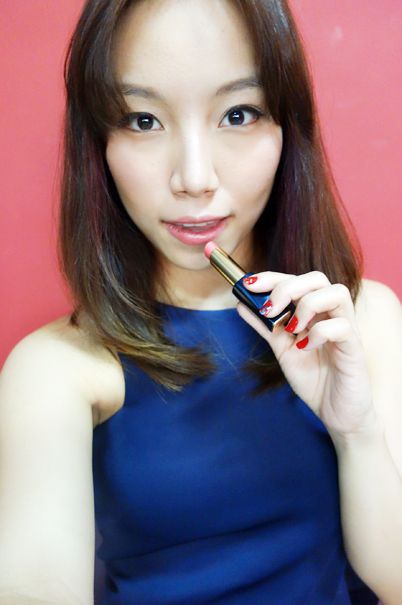 The K-Pop craze has got me interested in all things pink and especially pink lippies! After trying out these three shades, this 210 Graceful pink shade is my favourite out of all and I think it gives the skintone a contrast. Furthermore, I feel that it makes my not-so-fair skintone fairer!
Pure Colour Envy Shine Sculpting Lipstick:
110 Nude Angel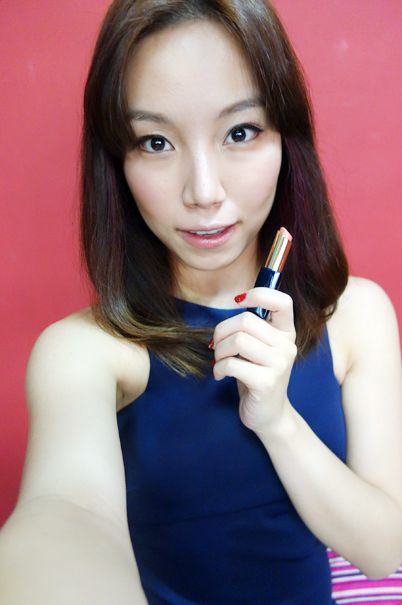 I kinda like how natural this shade is, yet giving your lips a glossy healthy finish. This is the most natural shade amongst the four but it is also the lightest shade – which I think some might prefer a more obvious colour. But this to me is good for days when I prefer to keep my makeup light and simple or this can be great for events whereby you go for the dark, fully lined eyes and balance out the heavy eye makeup by having a nude shade on your lips!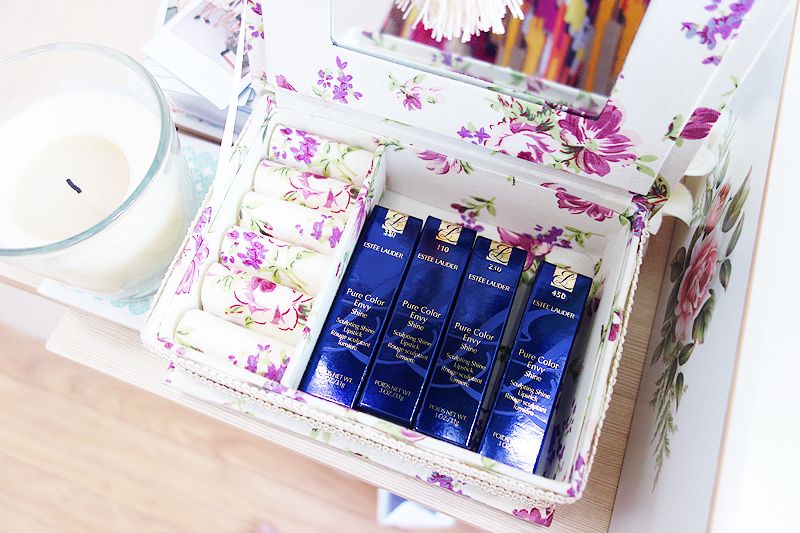 The Pure Colour Envy Shine Sculpting Lipstick is priced at SGD$45 each and is available at all Estée Lauder counters. You can click HERE to check out the store locator ;)
Hope you enjoyed the entry and last but not least, you can also join in the fun and win yourself a gift set with SGD$100 worth of Estée Lauder products! What you have to do is:
- Wear your favorite Envy Shine color
- Take a photo and upload it to Instagram
- Hashtag #LipstickEnvyShineSG
- From now till 30 April 2014.
10 lucky ladies will be chosen and announcement of winners will be on Estée Lauder's Facebook page on 10 May 2014. Do join in the contest and you never know you might just be one of the winners!