12
December
TWENTY
1212 HRS
[SPONSORED POST]
I think I'm a really lucky girl to be able to try out the new products in the market at times and this time, I'm very happy to receive a set of the NEW Biore Cotton Sheets and cheers to Faster and Gentler Makeup Removal! This product is no stranger to many of us and this product has also been a saviour to us ladies (at least for me) especially during late nights, travel, a long day at work etc.
Talk about travel for example, we are often stressed to pack light and it's almost impossible for me. Just the beauty stuff and skin care pouches probably take up a good 15 – 20% space of my luggage and amount to quite a substantial weight (those bottles!!). And when it comes to Makeup removal, I used to bring the huge bottle and it's somehow a hassle because I've to bring a pack of cotton pads ( always find it difficult to store the cotton pads because bringing the whole big pack is too big, and bringing the small pack is sometimes not enough. Had to store them in plastic pouches which took up a huge space albeit lightweight.) And forgetful me, sometimes I'll bring the makeup remover bottle but forgot to bring the cotton pads, or vice versa. So to summarize, bringing makeup removal is essential for us ladies during travel but can be huge hassle when it comes to packing. -_-
So I was involved in a campaign back in 2011 with Biore Cotton Sheets - two years ago when I started discovering how amazing Biore Cotton Sheets are and that I started becoming so, so reliant on them! These sheets have three different packaging and are retailing at pocket-friendly prices:

1. Regular Tub (44 sheets) $17.90 - The really pretty baby pink box below (top left), and it can fit in a refill pack nicely (right). This is the largest between the three packagings but in my opinion, it's already very compact and can be easily kept in luggages and average-sized bags.
2. Refill Pack (44 sheets) $15.60 – Easily refill the pink pretty box with another pack!
3. Handy Pack (10 sheets) $3.90 - Thank goodness for this packaging, very easy to store in small bags, eg clutches etc. And for short travel trips, this handy pack is perfect!
With all these packagings, I can easily do away with bringing bottles + cotton pads when I travel. These can be easily packed into the luggages, definitely convenient and fuss-free to bring out. The Biore Cotton Shees are indeed one of my essentials when it comes to travel and I'm also thankful for them after a long day out – small and easy to pack (yes, the handy pack!) in the bag and I'll start removing makeup in the cab on the way back to save time. heh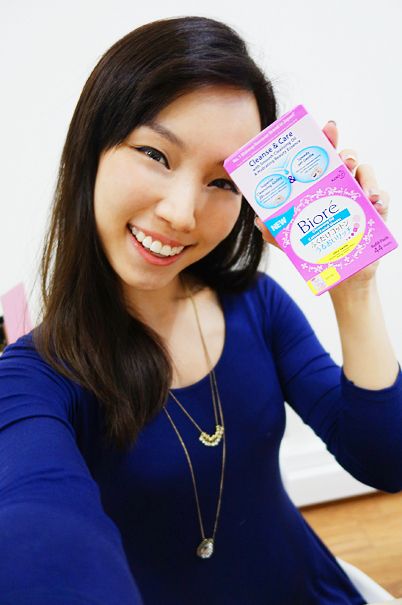 You are probably thinking what's the different between the NEW relaunched version and the old version. Basically, the new relaunched version has:
- 20% more cleansing oil in each Biore Cotton Sheet
- Minimizes repeated wiping by 50% on eye lashes, eye area and face
- 100% natural fibre sheets for a softer glide on skin
- Infused with Hydrating Beauty Essence for smooth, moisturised skin with no sticky or oily after feel
- Alcohol-free
- Colorant-free
- Allergy tested
With the improved version, we can expect gentler and more effective makeup removal, including waterproof and stubborn makeup. At the same time, ensuring better skin with moisturizing essence and less pulling of skin to prevent fine lines.
The highlight of this product to me, is the generous additional of 20% cleansing oil in each sheet. With the sheets being richer in cleansing oil, we can cleanse off our makeup in shorter time frame and get more beauty sleep!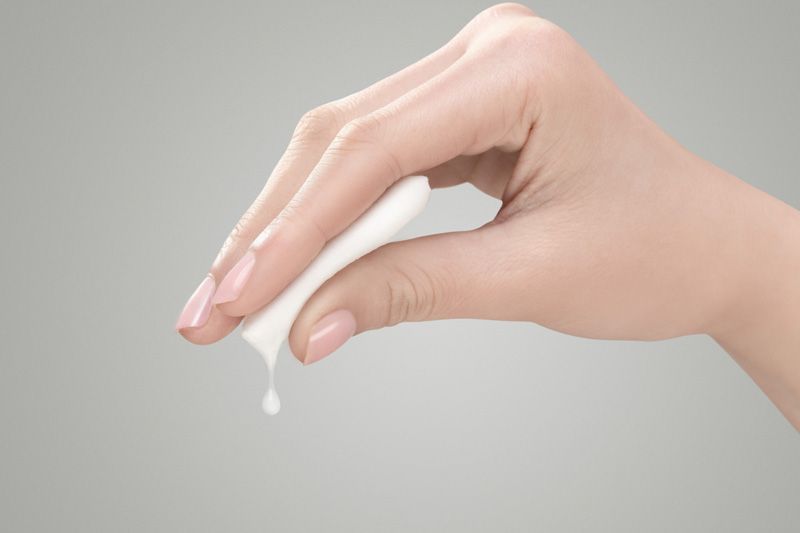 This is a shot taken from the website but I thought I should try it myself: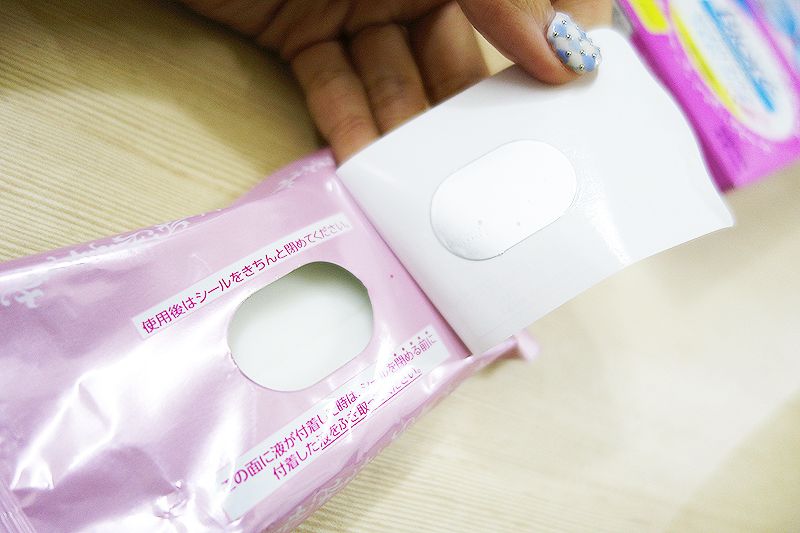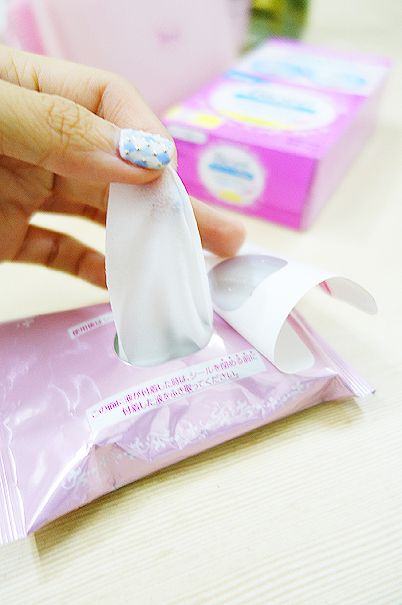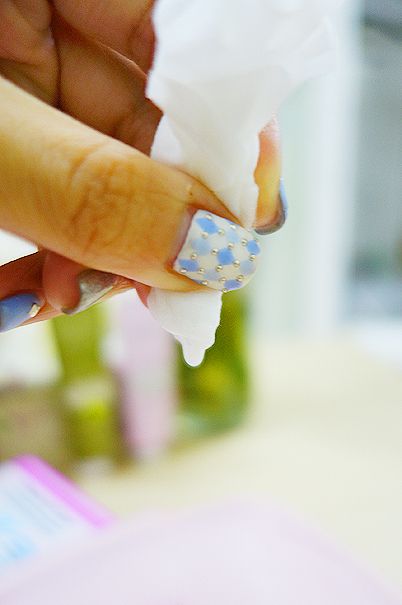 I'm impressed! I didn't expect so much juice to be squeezed out from the sheet and I felt that I was wasting the juice trying to capture the above shots because so much was dripped out!
Went on to remove my makeup: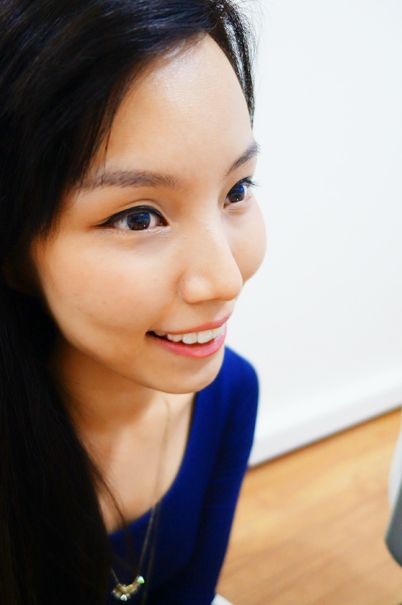 I usually start off by removing my eye makeup. One tip that I've learned to remove stubborn waterproof makeup (especially mascara) with the Biore Cotten Sheets for the delicate eye area, is to press the sheet for 5 seconds on eyes before wiping. Tried it a couple of times, and it works ;)


1, 2, 3, 4, 5…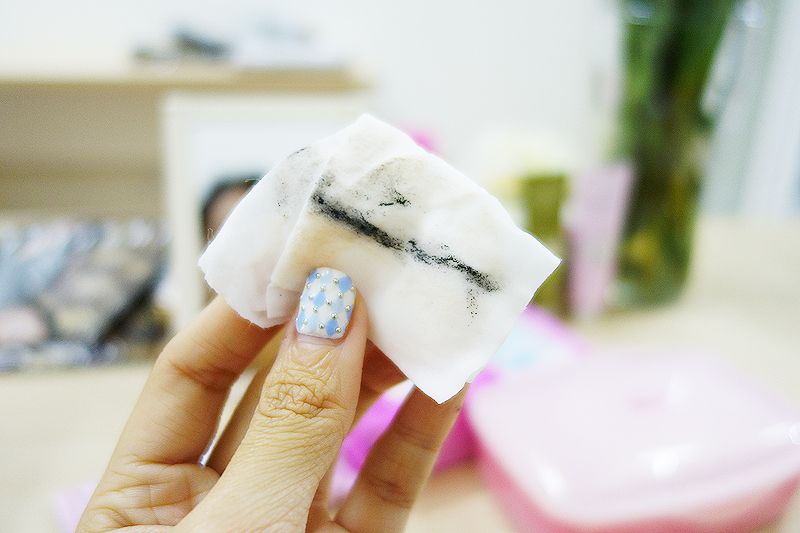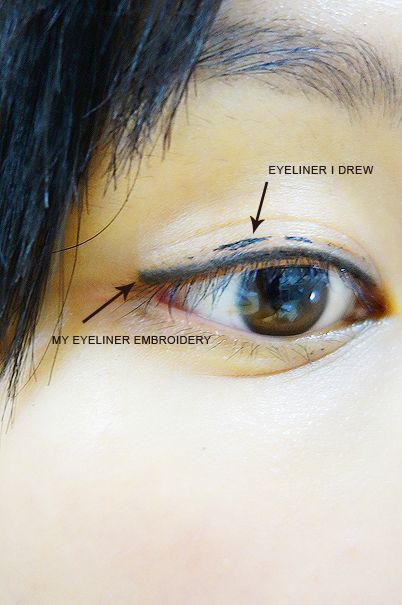 Just thought I should clarify that the neat black line wasn't the eyeliner I drew on but the eyeliner embroidery I did a while back! S as you can see, the eyeliner I drew on was almost removed! Hope you don't get confused. Heh

Just flip the sheet and wipe off the remaining makeup, very very easy.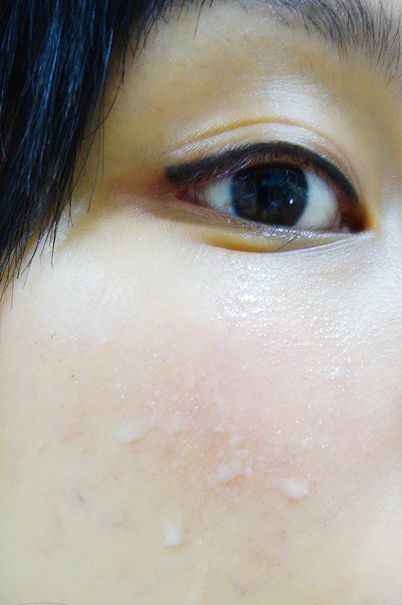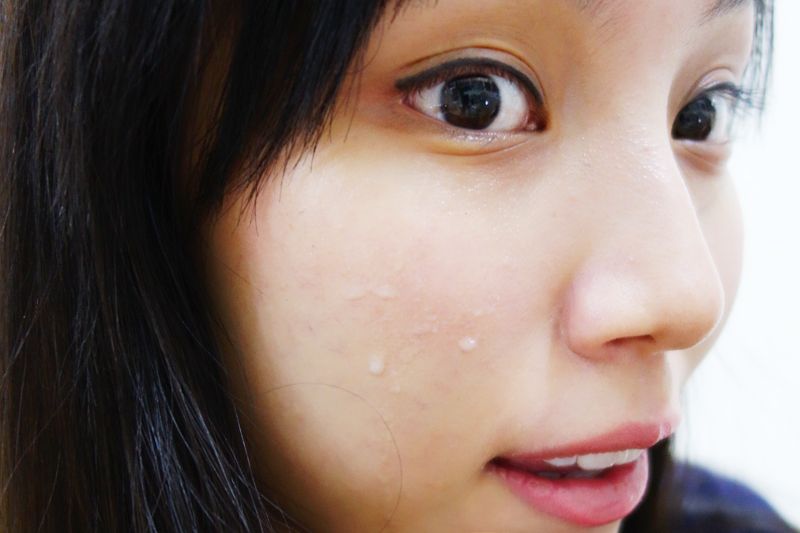 And trust me about the generous addition of cleansing oil on the sheets! The sheets were so moist that I felt I didn't have to use much force to swipe it across my face! Even after removing my makeup, my skin felt soft and moisturized (thanks to the sheets being infused with Hydrating Beauty Essence!) and it didn't feel sticky or oily at all!
Yay to us ladies for an improved version of Biore Cotton Sheets! The packs are available in all major super/hypermarkets and pharmacies. If you are concerned by the effectiveness of this, at least get a handy pack to try. You'll be convinced, I'm sure! ;)