24
August
TWENTYTEN
1008 HRS

From clockwise direction: Yalin, Wan Qian, Apple, Selene, Me-me, Caleen.
The six of us had a fantabulous Slumber Party last weekend and it was proudly organized by one of the most recognizable brands out there, sloggi! Am certainly thankful for this sponsored staycation because I got to invite five more girlfriends with me on this special sleepover at a prominent boutique hotel – Wanderlust, which I've heard so much about it. Not only that, the sloggi team specially decorated the room, prepared a candy corner, invited a manicurist and showered us with a $100 worth of goodie bag for the each of us. Just how loved & pampered we were for the night. ♥
I LOVE this first shot above and the second shot below, both taken by HaydenKhoo a.k.a Keong (Caleen's boyfriend whom does freelance photography for weddings) as he came to pay us a visit at night. He directed us and took some of these shots for us which totally blew our minds when we saw them. No doubt a talented, professional photographer.


Amazing how Keong came up with this concept and directed us for this shot. If you realised, we were grouped in pairs and we were told to "do our own things with the girlfriend". Love, love, LOVE this shot too. (Credits to HaydenKhoo)
We had an afternoon of fun with a pampering treatment of Manicure and catching up with each other comfortably on a huge comfortable bed over delectable sweet treats. We had this entire candy table filled with pretty nibbles all prepared before we even arrived, what more can we ask for? Shall let the pictures do the talking ;)


Welcomed into the 'princess' themed room, beautifully decorated with balloons.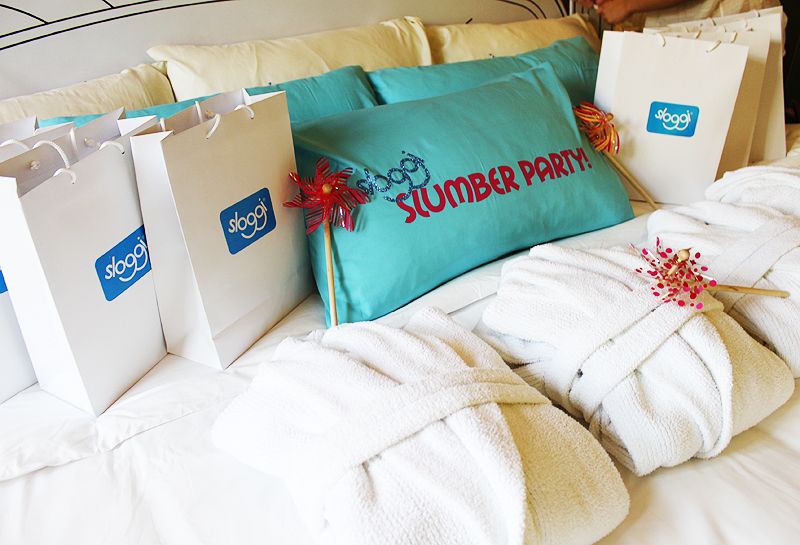 A wonderful surprise to spot those goodie bags neatly arranged on the King-Sized Bed!

We had an amazing French-inspired candy table prepared specially for us as well, and these greeted us when we stepped into the room. We had Macarons from Canele (One of the better Macarons places around, Cupcakes from Twelve Cupcakes (love their Red Velvet cupcakes!) and J.Co Mini Donuts all arranged beautifully on these stands awaiting for us. Basically they were everything we like, these definitely completed our Girly Slumber Party. Sloggi knows us girls well <3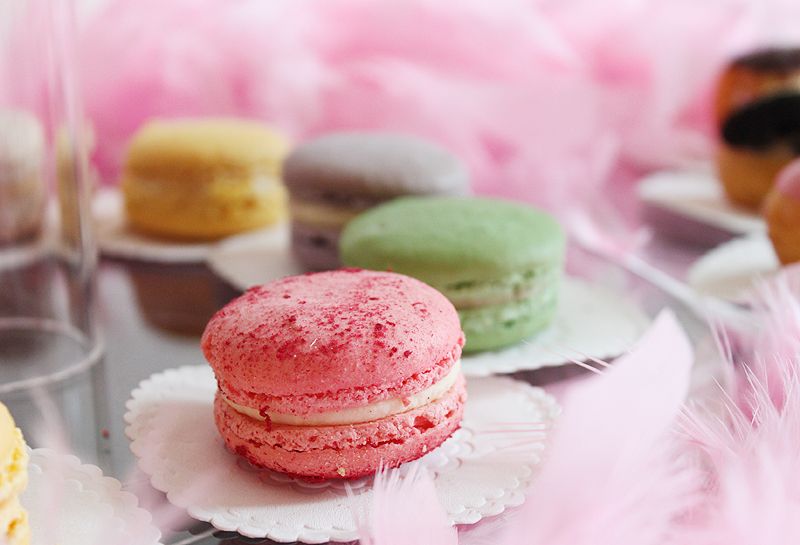 Never get enough of Macarons, just the perfect treats for the afternoon. They were looking absolutely pretty and totally irresistible too. Very picture-worthy and I had to stop my girlfriend from popping one into her mouth to make sure I get a good shot of these treats on the table!

Pretty cupcakes from Twelve Cupcakes. ♥
More snacks to keep us through the afternoon and night. We had these while waiting for our turns for manicure, watching teevee and while catching up with each other on the bed.


♥ shaped cookies, m&m and pretzels.

How thoughtful of sloggi to prepare popcorns for us too for our late night movie during the staycation!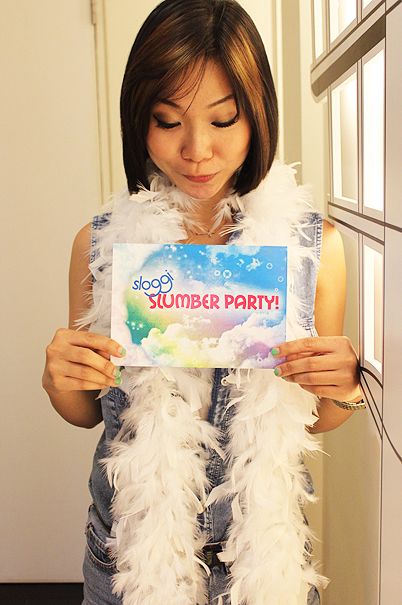 Our Slumber Party official invitations!
Each invitation comes with a personalized goodie bag.

Gifts in the goodie bag. We each received a Sloggi inner wear set and sleepover essentials. This set of inner wear ain't mine but I adore this design the most, especially its intricate lace eyelet trimmings!

Our 'Infits' for the day. From left to right, Wan Qian's, Selene's & Yalin's.

From left to right, Caleen's, Mine & Apple.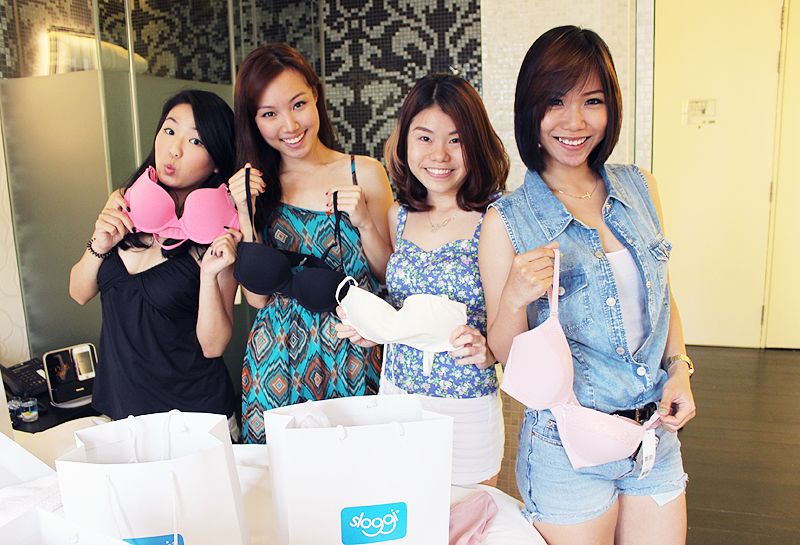 Happy with our gifts!
We changed into these infits with our slumber party outfits almost immediately after we opened up our goodie bag, and these infits are of the Cotton Range. Haven't owned any Sloggi inner wear prior to this and surprisingly, they fit really well and are indeed comfortable! Like it that it comes in many lovely shades and especially the classy cutting, and the Brassiere does have an opening which we can remove/insert the extra padding. You never know when you need/don't need those push ups pads. ;)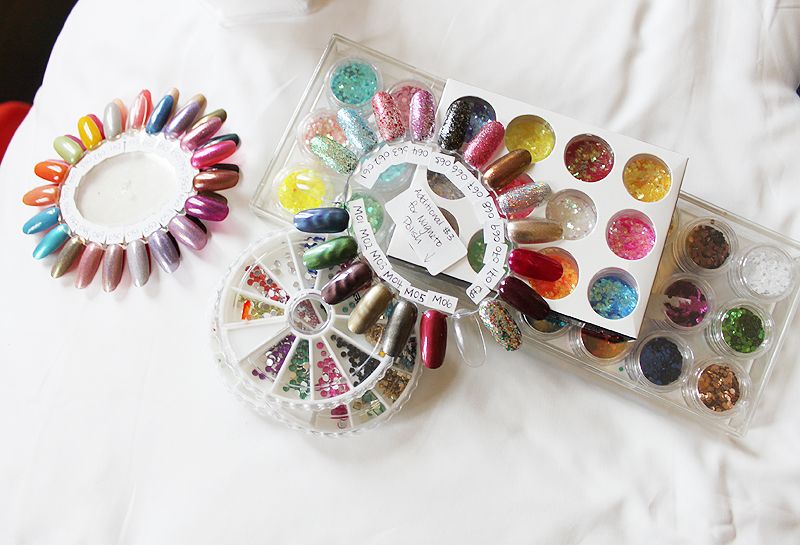 sloggi arranged an in-house manicurist, Veron, to come shortly after checkup, and you should see how excited the girlfriends are! They were already actively flipping through those nail designs book while Veron was setting up her little cozy 'station'.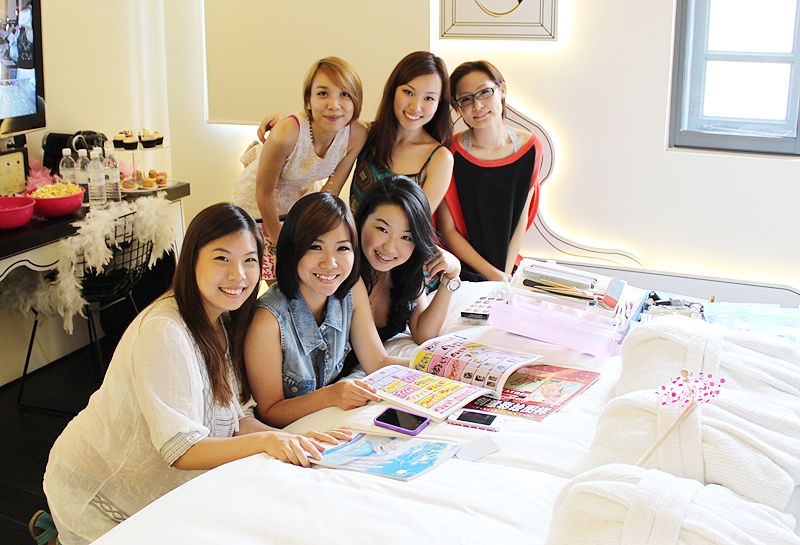 Here's us with Veron ;)
She's has some great skills there, and check out some of the designs for the day:


This picture just made me giggled. We were trying to find new angles to take nail pictures and Wan Qian was just going to eat the macaroon when I shouted a 'STOP' to snap this.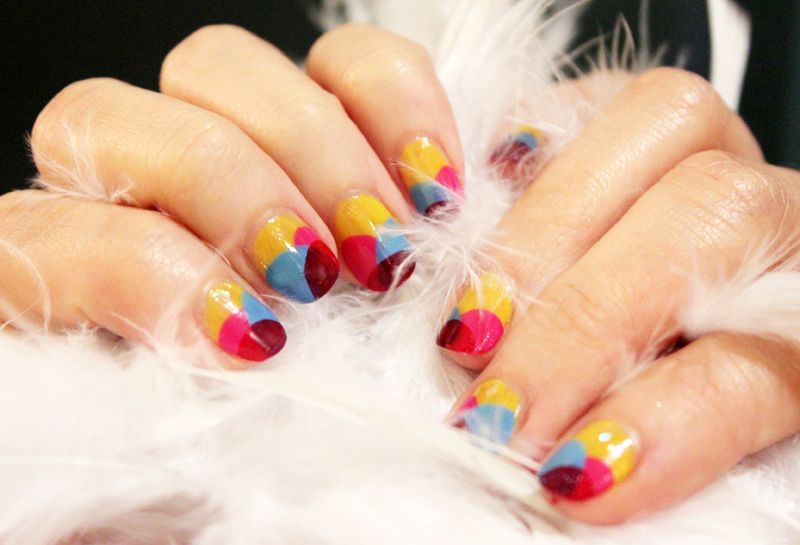 The pleased and happy girlfriends showing off their new nails!
Thanks to Veron, who patiently did our nails for almost 3-4 hours straight, we had beautiful neat nails to match our slumber outfits. We had a crazy boisterous night being silly with each other using those props and can't believe we received a complain from the concierge mentioning that we were too loud, oops. We never fail to get this every time we have a staycation I realised. Not only that, I will usually go home with at least 2 GB worth of photos if we spent a good few hours together. How insane we can be!
Things girls do when they come together on a Staycation: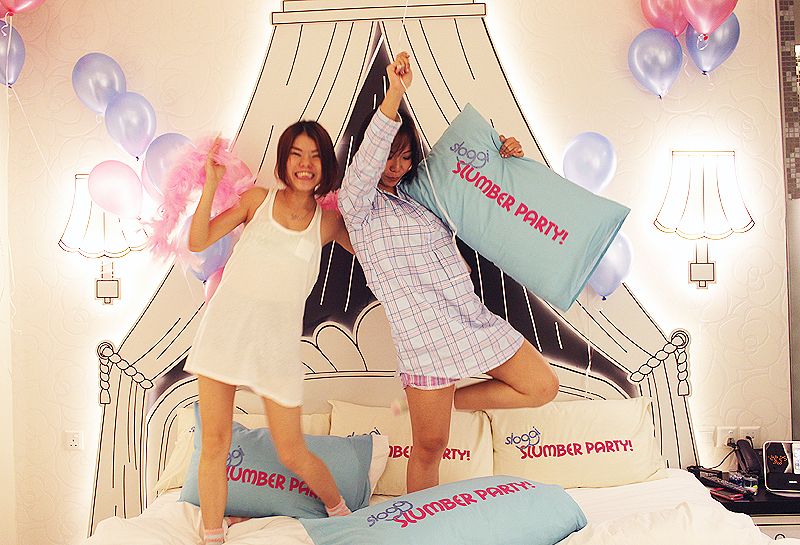 Dancing around with the pillow. (Thanks to the Iphone dock provided by Wanderlust – at the right side, we blasted songs from Selene's Iphone for almost the entire night)

Sleepwear couldn't get any more comfy and trendy *winks

Eye Shades are good headbands too *Giggles*

Pillow fight guess who got caught at the end?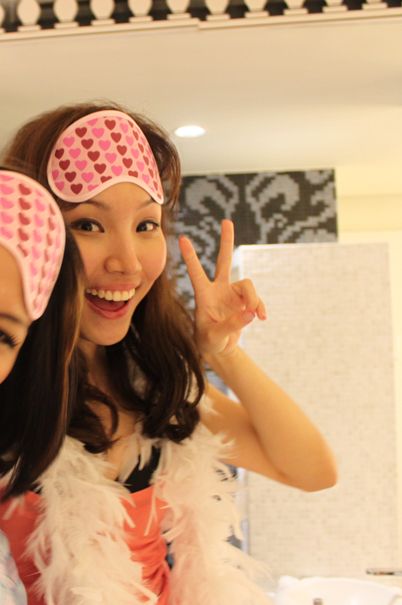 These four shots below are taken by Keong. He adjusted the whitebalance and our shots turned out bright and clear. Ahhh, I should have done that much earlier. Anyways, love the contrast and colours in these pictures ;)


The beautiful girlfriends. All dressed up in comfortable & chic sleepwear.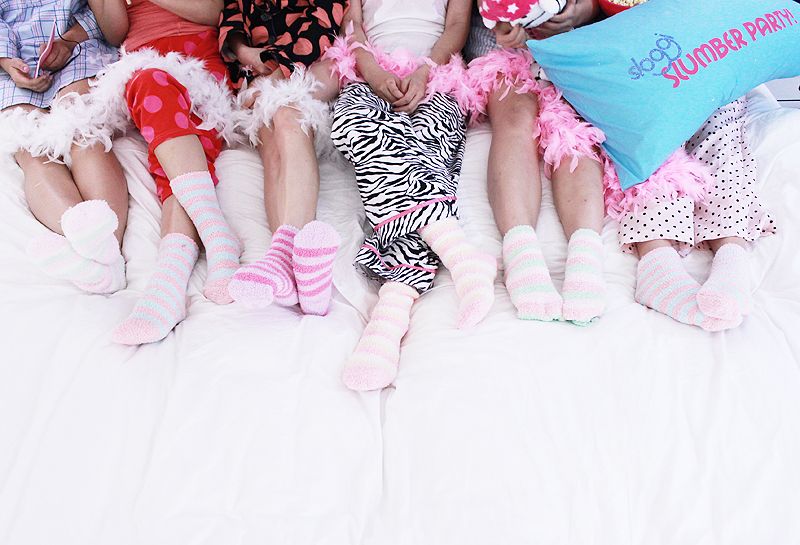 These pretty yet practical leg warmers that came in the sloggi's goodie bag came in handy for the night in the cold air conditioned room.
And the night continued with snacks and fun! Sometimes, I'm just amazed at how much energy we girls can garner when it comes to taking pictures. It's never-ending and we are always willing to go the mile to make sure we get decent shots! Hee. Enjoy the pictures ;)

Casting for sloggi's next top model.

Making sure none of us get through the casting. Teehee.

These balloons what sloggi prepared were perfect props for a photoshoot!

Night was insane with the girlfriends!

Two of us were the most energetic ones throughout the night!

Ended the night with our Hello Kitty Masks in bed to rejuvenate our skin since we slept pretty late that day. Don't these masks look so cute? Couldn't bear to use them but we did in the end, figuring that we will use it sooner or later.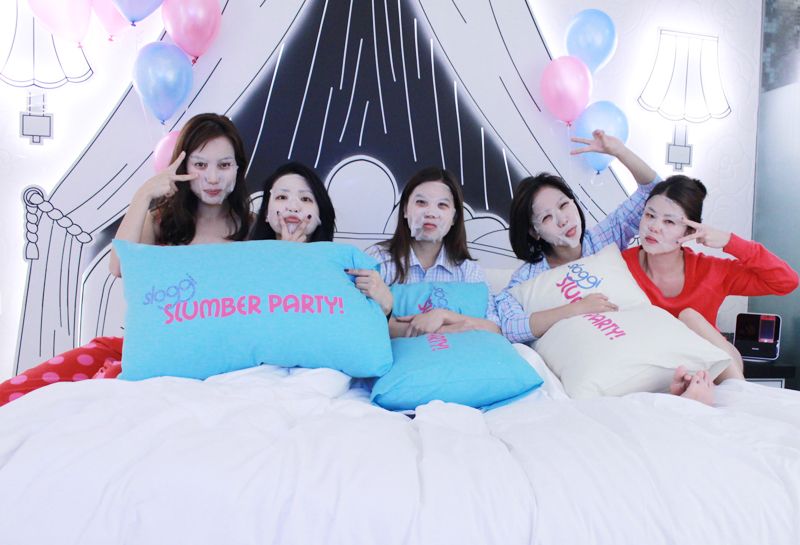 Here's us saying goodnight ;)
I'm a sucker when it comes to pretty and sweet things, and my friends know i'm crazy over buying undergarments as well. I always can't resist those gorgeous pretty inner pieces and Sloggi does have its share of pretty designs! Furthermore, prices are affordable and most importantly of all, fit is definitely at ease. To check out more on sloggi's inner wear, do visit any of their outlets ;)
Thank you sloggi for the wonderful staycation prepared for us girls, and we had such a splendid time bonding together. Glad to have my girlfriends there for the staycation and these are absolutely precious memories to be kept for life. Definitely more to come!
And thanks to sloggi, now you can also get to win a slumber party with your girlfriends too!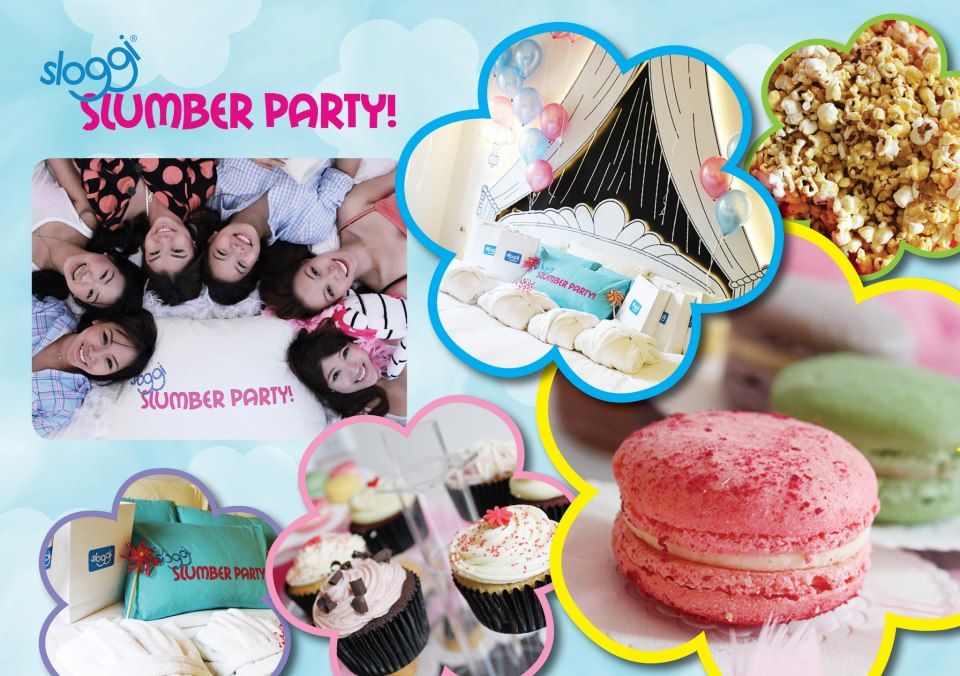 Just click HERE to take a look, and good luck! It's very simple, trust me and you might be one of the next 3 lucky ladies to get an ALL-PAID Slumber Party with another 4 of your girlfriends!